Dillon Battistini has stopped talking about winning the Indy Lights championship and is concentrating on regaining third following a tough weekend at the Infineon Raceway that saw him drop to fifth in the title hunt.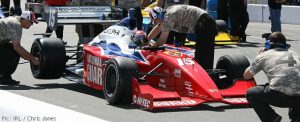 The Panther Racing rookie, who has won more races this season than any other driver, could only finish 18th and 15th in the two contests held at the northern California track.
Franck Perera won the first race, the Carneros 100, with pre-race championship leaders Raphael Matos and Richard Antinucci second and third.
The second race, the Valley of the Moon 100, was won by Pablo Donoso, competing for his third different team this season. Matos and Antinucci bounced off each other on the way to sixth and seventh.
Matos now leads Antinucci by three points with one race left. Ana Beatriz is third, 63 points back, with J.R. Hildebrand fourth, 71 behind Matos. Battistini and Arie Luyendyk Jr are both 94 points behind the leader.
Afterwards, Battistini said: "I am going to put this weekend behind me. I am looking forward to putting on a strong performance in Chicago.
"I'll be aiming for my fifth win of the season, and hopefully I will be able to reclaim third position in the championship. The season has gone well to date, and winning the season finale would be fantastic."