Ryan Briscoe took pole at the Milwaukee Mile as his team-mate Helio Castroneves came down to earth with a bump following his Indy 500 win by crashing in qualifying.
Castroneves will start the ABC Supply/AJ Foyt 225 last of the 20-strong field – a position from which he has specialised in scoring podiums and wins in recent races. "The car snapped a little bit," he said. "I thought I saved it, but then it just slid and brushed the wall. When you're going for it, sometimes things like that happen."
Briscoe, who won last year after qualifying 11th, said: "He always seems to win the races when they put him in the back, so I'll be looking for him in my mirrors."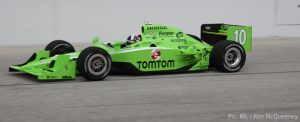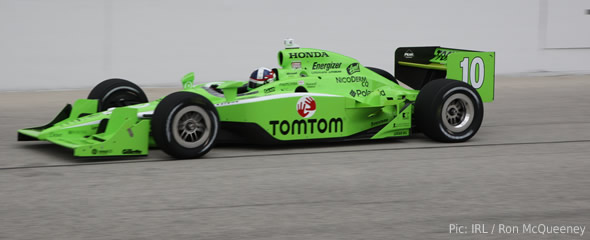 Highest-placed Brit was the TomTom GPS-sponsored Dario Franchitti, who lost his way in qualifying and could only take eighth. He remains optimistic about the race, however, saying "It's not where we want to be, but we can get it done from there."
He explained: "The first lap was pretty terrible; loose in the middle of turns one and two, and in three and four it was a really big understeer. I just worked with what I had in the car and got it with a better balance for the second lap. And the third and fourth laps were better."
An impressive 11th was Dreyer & Reinbold's Mike Conway, whose difficult and crash-strewn season seemed to fall into place part-way through the Indy 100. He ran as high as 10th at the Brickyard, and looks to have learned a lot about running on ovals from the experience.
He said: "Our qualifying session went well. We worked on the car a little bit and didn't change the car much between practice and qualifying. We are in a pretty good starting position, and we will work hard to get the Roll Coater car to the front."
The team preview said: "Conway proved last weekend that he was officially ready to take on ovals. The 25 year-old had an impressive run at the Indianapolis 500 where he scored the second fastest race lap of the race on lap 169 with a 221.919 miles per hour.
"This weekend marks the first time to compete at the famed Milwaukee Mile circuit for Conway. Not to worry, the Englishman was shown the track in style. His first laps around the one mile oval was as a passenger in the Indy Racing Experience two-seater driven by his Indianapolis 500 teammate, Davey Hamilton. The veteran driver pointed out the various aspects of the track to help aid in Conway's preparation."
Conway said: "It was really helpful – he showed me what lines you can run and pointed out things like bumps in the pit lane, pit entry, pit out, and bumps on the track. It was pretty handy to be able to get a feel for what it will be like."
The advice helped him out-qualify Indy 500 runner-up Dan Wheldon, who seems to be experiencing a return of the niggling problems that have plagued his entire season outside of race weekend at Indianapolis.
The Englishman took 14th place for today's race and called it "reasonable". He said: "Probably with a little more confidence going in, I would have done better, but that's one of those things. We've had a difficult weekend already. It's just difficult when you don't get a lot of running, but we've made a lot of improvements in the car since then, and certainly (the qualification run) was a big improvement.
"We're moving in the right direction, and that's very positive for tomorrow. We had an issue and missed the first session and really only had the second session to work on the National Guard Panther Racing car, and that set us back. But the guys did a great job in the pits last weekend, and I'm sure they'll do the same for me here again in Milwaukee."
Wheldon starts a place ahead of Justin Wilson, who is looking forward t the race despite being three-quarters of the way down the field in 15th.
He said: "I was pleased with the setup, and I thought the No. 18 Z-Line Designs team did a terrific job of making adjustments to the car in very windy conditions today. I'm looking forward to the race tomorrow as I think I can keep fine-tuning the car during the race. I love the flat turns at The Milwaukee Mile, and it should be an exciting drive."