There are now less than five weeks to go until this year's 2009 Festival of Speed, so if you're thinking about going but haven't got tickets, it's definitely time to act.
The Festival takes place on July 3-5 and organisers have confirmed more than 75 motorsport greats attending – including one or two Brits that you might just have heard of.
A top draw is certain to be Lewis Hamilton when, for the first time in its 17-year history, the festival plays host to both the reigning Formula One and the World Rally Championship title holders.
Hamilton is due to demonstrate the 1988 McLaren MP4-4 turbo, driven by his hero Ayrton Senna, on the legendary 1.2-mile hillclimb course.
The Lewis Hamilton Foundation is this year's official charity and will be raising money to improve the lives and opportunities of children and young people living in ill health or poverty around the world. More here.
Hamilton will be joined by five-time WRC champion Sebastian Loeb – who, despite this and his current Race of Champions title, has never visited Goodwood before.
Also on the F1 rota is Red Bull's Mark Webber and Toyota's Timo Glock, along with cars from championship leaders Brawn GP, Red Bull, Toyota, McLaren and Ferrari – oh, and some chap called Jenson Button, apparently, whoever he is…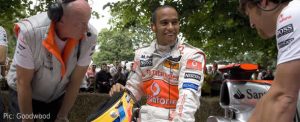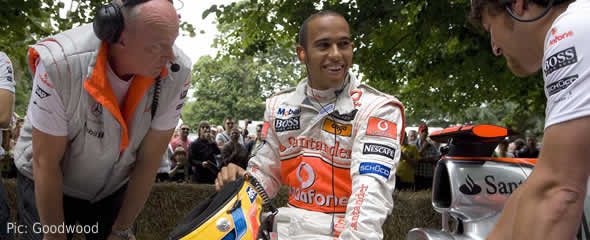 The theme of this year's festival is feats of racing endurance – from Jackie Stewart's victory at the 1968 German Grand Prix wth a broken wrist to Mick Doohan's return to motorcycle racing in 1992 without full use of his right leg.
This means 24 Hours of Le Mans cars will be particularly well-represented, including the Aston Martin DBR1 that won the race 50 years ago – a feat that is likely to be on David Richards' mind just now.
Also present will be Richard Attwood's famous Porsche 917K, a paddock full of supercars and historic racers including a tribute to Audi in its centenary year.
Rally fans will be entertained by drivers including Walter Rohl, Bjorn Waldegaard, Stig Blomqvist, Hannu Mikkola, and Rauno Aaltonen on a specially-constructed rally stage.
Those funny people who prefer two-wheel action get to watch former World Champions Mick Doohan and Max Biaggi, and current World Superbike and World Supersport title contenders including Leon Haslam, Troy Bayliss and Broc Parkes.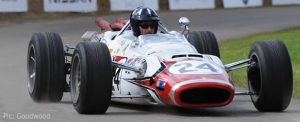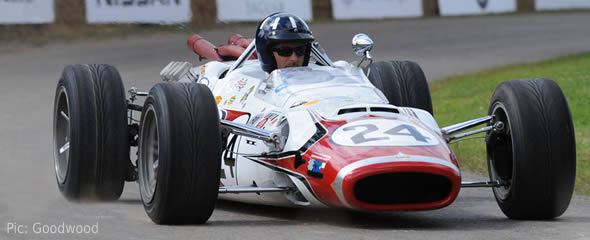 Famous names from motor racing's past both recent and distant will include Sir Stirling Moss, Sir Jackie Stewart, Eddie Irvine, David Coulthard, John Surtees and Takuma Sato. Other celebs to look out for include American talk show host Jay Leno, acting legend Peter Fonda, rock musician Nick Mason and celebrity chef James Martin.
The RAF's Typhoon display team will be along to entertain and the festival will also be celebrating the 50th anniversary of the Mini, and the Swinging Sixties, largely by getting a crowd of young women to pose in eponymous short skirts. Two more cheeks to powder, and so on.
Right. Those are the attractions, and here's the stuff you need to know. Firstly, there are no tickets available on the gate – you must book in advance. Prices start at £33 for a Friday ticket and stretch to £103 for the full weekend (grandstand entry extra).
To order advance tickets, call the Ticket Hotline on (01243) 755055, fax your request to (01243) 755058 or email bookings@goodwood.com. Or you can visit the ticket section on the Goodwood website.
You can find a downloadable PDF guide to the festival here.
We're delighted that Goodwood has launched its own YouTube channel since last year, because they make great videos of their events and we've been dying to embed them. And now we have. Thanks for listening, folks.