Australia's Will Power shrugged off a torrential rainstorm, the best efforts of Ryan Hunter-Reay and any lingering effects of the broken back that ended his 2009 season to take victory in a chaotically entertaining IndyCar season opener in Brazil.
[youtube:v=c553Arr-07M]
The Sao Paulo Indy 300 was red-flagged for 45 minutes just before half distance when it was hit by rain heavy enough to black out the timing and scoring systems, plunge the media centre into darkness and send sheets of water flowing across the 2.5mile street course.
When it restarted the drivers with an advantage proved to be those who had risked slick tyres despite the standing water on the track, and Hunter-Reay battled for the lead with Penske's Ryan Briscoe while Power tracked them both closely.
Just when it seemed Briscoe had made a decisive break he miscalculated and hit the tyre barrier, returning the lead to his Andretti Autosport rival until Power was able to make the race-winning overtake with four minutes left in what had become a timed contest because of the rain interruption.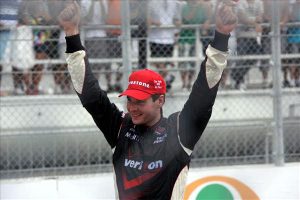 "It was probably the most mixed up race that I have ever been in," said Power. "I think it is just a really good day for racing – if you were fast you could pass, because there is such a good track layout here. I'm pretty sure it was an exciting race for the fans."
The beginning of the race had been equally dramatic, clouds of dust from the freshly re-ground start/finish straight obscuring the leaders as they slowed for the first corners.
A hard-charging Takuma Sato, already late on his brakes, ploughed in among them and triggered a five-car accident which ended with Mario Moraes parked on top of Marco Andretti's car, trapping the young Andretti Autosport driver in his cockpit until the KV Racing machine could be winched off him.
The pair have a history of on-track incidents, including on lap one of last year's Indianapolis 500, and when an unharmed Andretti was later asked what had gone through his head during the accident he simply replied "Moraes".
At the restart, polesitter Dario Franchitti began to build a patient lead from Alex Tagliani, whose newly-minted and co-owned FAZZT Racing team had been written off as a vanity project up until the moment he qualified in second place.
The defending champion remained in front until all but one of the field peeled into the pits during a caution period prompted by Milka Duno parking her Dale Coyne machine on the racing line in lap 20. Highly-touted rookie Simona de Silvestro had only just pitted and so stayed out, inherited the lead, and defended it successfully from Franchitti on the restart.
But Hunter-Reay, who is funded by the series' title sponsor IZOD but does not have a full-season drive, soon overtook the pair of them and retained the lead until the rain came – at which point the field fragmented, many cars spinning, with the lack of timing systems leaving onlookers with no idea who was leading.
A red flag was inevitable until the rainstorm disappeared as fast as it had appeared and the organisers mopped clear most of the puddles, setting the stage for Power's victory over Hunter-Reay.
Behind them the home crowd were able to cheer on two of their own, Vitor Meira passing fellow Brazilian Raphael Matos late in the race to secure third place. Like Power, Meira was making his return to the series after his 2009 season ended with a crash and broken vertebrae.
He said: "It couldn't be much better than that. I think Will can relate to it with a back injury and all that – it gets pretty uncertain at times and having a team behind you, making sure the seat is available, makes a big difference during the recovery. "
Panther's Dan Wheldon took fifth place after running strongly all day – bar a brief miscalculation where he hit Tagliani, ending his race and wrecking that of Tony Kanaan.
He said: "It's really great for all of us at Panther Racing to start the season with a top-five, but first I have to apologise for taking Tag and TK out of the race. If we keep coming in the top five we're going to break into Victory Lane. We were really strong today – the car was really nice to drive and I was able to dive down inside people. It was an exciting race, and it's going to be an exciting IZOD IndyCar Series season."
The Target Chip Ganassi Racing cars of Scott Dixon and Franchitti were among those who got their tyre choice wrong after the rain, finishing sixth and seventh. "If I had my crystal ball it would have been easier," said the Scot. "We get it right quite often here at Team Target but we had a lot of unknowns with the weather. We played it as best we could, so I can't be too disappointed."
Qualifying had been cancelled on Saturday and moved to Sunday in order to allow the regrinding of the track, making this the first-ever IndyCar race with same-day qualifying.
During practice, cars had been unable to hold a straight line along the start / finish straight, spinning without warning. The straight is known as the Sambadrome and is often used for festivals. Reportedly, it had recently been painted and – although scrubbed back to bare concrete – no longer offered any sort of grip until it was re-ground.
"The improvements they did to the track last night were like night and day," said Power. "Not a problem at all going down the front straight."
Behind Franchitti and Tagliani on the grid was Justin Wilson, making his debut for Dreyer & Reinbold, and his team-mate Mike Conway might have been there with him had he not caused an accident in qualifying and been punished by having his best times wiped.
In the race, Wilson was one of the victims of the first-corner crash, being forced into the pits with a cut tyre and eventually finishing 11th. Conway ran with the leaders after the rain break, but on the wrong tyres, and dropped back when he changed them. Nevertheless his eighth-placed finish was an encouraging sign after his troubles last season.
Alex Lloyd, driving the Boy Scouts of America car for Dale Coyne Racing, was one of the victims of the torrid laps immediately before the red flag, hitting water and aquaplaning into the barriers.