Red Bull's Mark Webber gave Australian sports fans something to talk about besides the cricket by shrugging off a drive-through penalty at the Nurburgring and cruising to his first-ever Formula One victory.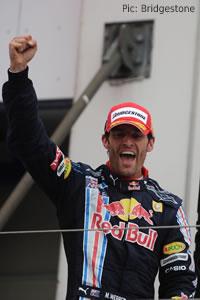 A dramatic start to the German Grand Prix saw Webber side-swipe Brawn GP's Rubens Barrichello as the pair battled for the lead, then moments later survive a surging attempt at a pass by the KERS-equipped Lewis Hamilton.
The reigning world champion clipped Webber's car as he passed it, suffering a puncture that forced him wide off the track. By the time he'd limped around to the pits for a new tyre he was a lap down and doomed to finish last.
Barrichello, meanwhile, had taken the lead but could not build a safe margin over the faster Webber – although behind them Heikki Kovalainen in third place was backing up the rest of the field, taking the pressure off the leaders.
Webber was ordered into the pits for a drive-through penalty for causing a collision with Barrichello, but before he took it the Brazilian pitted for the first of his planned three stops, meaning Webber retained the lead even after his penalty.
And by the time he took his first real pitstop, emerging seventh behind several cars out of position on different strategies, Barrichello was bottled up behind Felipe Massa and unable to take advantage.
The disadvantageous three-stop strategy, combined with a faulty fuel rig that delayed his second stop, led Barrichello to make a brutal post-race attack on his team for giving a master-class on how to throw a race away.
"It was a good show from the team of how to lose a race today – I am terribly upset with how it's gone," he said. "I did all I had to do today, I was first on the first corner, they made me lose the race. To be very honest with you I wish I could get on the plane and go home right now. I don't want to talk to anybody in the team because I don't want to understand, there will be a lot of 'blah blah blah blah blah' and I don't want to hear that."
Ross Brawn handled the outburst diplomatically – in public, anyway – by accepting the team had underperformed: "Rubens has a point, in that it wasn't a great race for us. We probably tried too hard to compensate for a lack of performance. Rubens had the 11th fastest time of the race, you can't win a race with that speed."
With Hamilton and Barrichello removed as threats, and Jenson Button held back by tyre management and his own three-stop strategy, there was nothing except the weather left to challenge Webber for the win – and when it stayed dry he duly wrapped up his maiden victory, shouting and howling with joy as he crossed the line.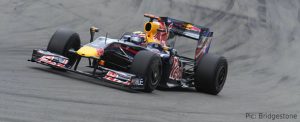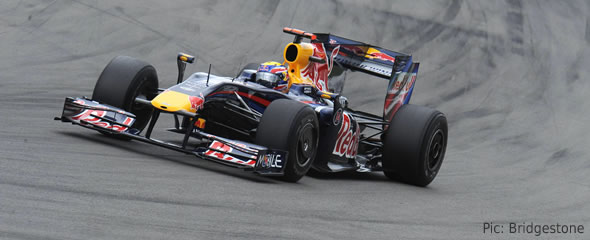 Webber, whose career looked under threat after a badly-broken leg during the off-season, said: "It is an incredible day for me. I wanted to win so badly after Silverstone – I thought I had a good chance there. After pole I knew I was in a good position to win the race this year, I thought the only thing that could beat me or test me even more was the rain, but that held off."
He said the incident that cost him the drive-through penalty had happened because he lost track of where Barrichello had gone: "I lost Rubens off the start, I thought he had gone to the left but he went right and I banged into him. I knew my start was not absolutely fantastic – I moved across a little bit and as soon as I hit him I was surprised. I also clipped Lewis, with these KERS cars and the way the mirrors are set up on these cars everyone is in a similar situation."
Team-mate Sebastian Vettel had a quiet day in coming home third from Massa, the Williams of Nico Rosberg took fourth, and the Brawns survived some very ragged rear tyres to successfully defend fifth and sixth from a determined Fernando Alonso, Button finishing the better of the pair. Kovalainen took the last point.
Unluckiest driver of the day was undoubtedly Force India's Adrian Sutil, who was on his way to a decent haul of points when his nemesis from Monaco, Kimi Raikkonen, struck. The pair hit each other as Sutil emerged from the pits, wrecking the German's nose and forcing him to make a second stop to replace it.
Stewards announced a post-race investigation, although Raikkonen later retired from the race with engine failure and no penalty was ultimately imposed. Under-fire Sebastien Bourdais was the only other retirement, suffering a hydraulics failure.
The result – the first of the season with no Brawn car on the podium – helped both Red Bull drivers overtake Barrichello in the championship standings while the team also closed the gap in the constuctors' hunt.
Button now leads by 21 over Vettel, with Webber a point and a half further back and Barrichello an equal distance behind in fourth. Brawn's lead in the constructors' championship is now 19.5 points.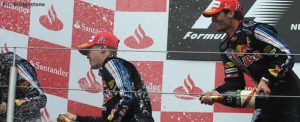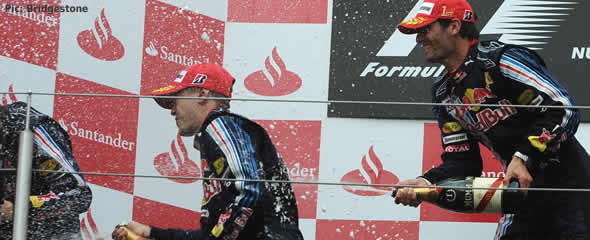 "My championship lead has stayed the same, although it's over a different person now," said Button. He said a Webber victory was better than the alternative: "Vettel's now got him right behind him in the championship, and they'll be taking points off each other. If Vettel had won here it would have been a disaster."
He said it had not been possible for him to run competitively: "The start was bad, cars all around me and people outbraking themselves. I got a few places back and got up to fourth with Massa and Kovalainen, but their pace was way off and there was no way through, so it made it a difficult race.
"Then I spent some time behind Rubens and his pace on the prime tyre wasn't good. And my pace on the option tyre was bad because, with the track being quite cool, I struggled to keep the heat in them. Then I had graining and big degradation. I thought we could have been on the podium behind the Red Bulls, but it was not possible."
Hamilton was encouraged by the success of the upgrades to his McLaren that had suddenly made him competitive again, despite the disappointment from the race itself: "My race was effectively over at turn one. I had quite a good launch down to it and was braking when I felt a tap from the rear and went straight on. I think the flat tyre had damaged the rear floor and it felt like I was out there driving on ice.
"I suggested to the team that we save the engine and gearbox for the future because there's a lot more potential ahead of us than we'd anticipated before this weekend.
"But that's racing and we'll move on. The best thing about this weekend was that our updates were successful. The team has done a fantastic job over the last few weeks and I'm already looking forward to the next race."
2009 German Grand Prix result
Mark Webber, Red Bull
Sebastian Vettel, Red Bull
Felipe Massa, Ferrari
Nico Rosberg, Williams
Jenson Button, Brawn
Rubens Barrichello, Brawn
Fernando Alonso, Renault
Heikki Kovalainen, McLaren
Timo Glock, Toyota
Nick Heidfeld, BMW
Giancarlo Fisichella, Force India
Kazuki Nakajima, Williams
Nelson Piquet Jnr, Renault
Robert Kubica, BMW
Adrian Sutil, Force India
Sebastien Buemi, Toro Rosso
Jarno Trulli, Toyota
Lewis Hamilton, McLaren
Did not finish
Kimi Raikkonen, Ferrari
Sebastien Bourdais, Toro Rosso
Drivers' championship
Jenson Button, 68
Sebastian Vettel, 47
Mark Webber, 45.5
Rubens Barrichello, 44
Felipe Massa, 22
Jarno Trulli, 21.5
Nico Rosberg, 20.5
Fernando Alonso, 13
Timo Glock, 13
Kimi Raikkonen, 10
Lewis Hamilton, 9
Nick Heidfeld, 6
Heikki Kovalainen, 5
Sebastien Buemi, 3
Sebastien Bourdais, 2
Robert Kubica, 2
Giancarlo Fisichella, 0
Adrian Sutil, 0
Nelson Piquet Jnr, 0
Kazuki Nakajima, 0
Constructors' championship
Brawn, 112
Red Bull, 92.5
Toyota, 34.5
Ferrari, 32
Williams, 20.5
McLaren, 14
Renault, 13
BMW, 8
Toro Rosso, 5
Force India, 0