Brits on Pole is an open wheel racing fansite but, at times like this, who cares about fine distinctions? Motorsport has too few genuine legends not to mourn the loss of a driver of Colin McRae's calibre.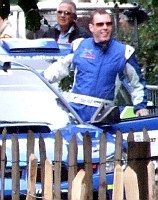 Britain's first-ever world rallying champion died on Saturday in a helicopter crash near his Lanark home, along with his son Johnny, aged five, Johnny's six-year-old friend Ben Porcelli, and McRae's former schoolfriend Graeme Duncan.
Confirmation of the 39-year-old's death did not finally emerge until during the F1 Belgian Grand Prix the next day.
McRae's father Jimmy, a five-time British Rally champion, said in a statement released on behalf of the entire family: "It is unbelievable that Colin and Johnny's lives have been taken so prematurely and in such a tragic manner.
"Colin was a great son, a loving husband to Alison and a fantastic father to Johnny and his big sister Hollie. Johnny was a great wee guy, spending every spare minute with his dad, and even at this early stage it looked like he had the potential to carry on the family dynasty.
"Our thoughts are also very much with the families of Ben Porcelli and Graeme Duncan. Ben was a great buddy of Johnny's and they had always spent a lot of time together both in and out of school. Graeme, who now resides in France, had been a close friend of Colin's since their schooldays and was back in Lanark on holiday.
"We are thankful for the overwhelming number of messages of support we have received from all around the world. Colin was very much an inspiration and role model to motorsport fans the world over."
Among his fans who paid tribute today was Renault F1 driver Heikki Kovalainen, who told BBC Sport: "The first time I met him was the Rally of Finland in 1995, when he rolled his Subaru twice. I went to ask for his autograph, and I still have it.
"It's really, really sad to hear the news. His driving style and his way of even living was what captured people's imagination. He was really daring, always pushing it further."
MotoGP star Valentino Rossi was another who counted McRae as an inspiration. Racing at at Estoril, he returned to the podium with a brilliant win and immediately dedicated the victory to him.
He said: "He was one of my big idols when I was very young and it's because of him I have a big passion for rally. It is a very sad day for motorsport and I am glad that I could win for him today."
McRae's fellow Scot David Coulthard, who was due to partner him in Scotland's team for December's Race of Champions at Wembley Stadium, said the whole F1 paddock was in a state of disbelief at the news and the "tragic circumstances" surrounding the deaths.
He said: "Colin was a friend, as is his lovely wife Alison and the family. I cannot imagine one without the other."
"He was fearless, flamboyant, blindingly quick in the car. He was very down-to-earth, matter-of-fact that he was so good. He had all the good Scottish traits.
"I competed in the Race of Champions with him because of my respect for him – I remember him urging me on, telling to get the finger out for Scotland. We had some great times and his passing is a terrible blow."
In his official Red Bull race notes from the Belgian Grand Prix he added: "Colin was a remarkable man who wore his heart on this sleeve and was the epitome of a racer; fearless and attacking, yet he remained true to his roots and grounded despite the international fame and recognition that he achieved. The world is a sorrier place without him."
Richard Taylor, chief of McRae's former rally team Subaru, said in a statement: "Colin was Subaru's first World Champion and a man who almost single-handedly brought the sport of rallying to the attention of millions around the world.
"He was an inspiration to motorsport fans and remained a close friend to many of us in the team. At this terribly sad time our thoughts are with Alison and the rest of Colin's family."
McRae's former boss at Subaru, Dave Richards, praised his versatility: "You could throw any car at him in any recognised motorsport and he would do well."
The ex-principal of British American Racing, due to make a return to F1 next season with Prodrive, said: "I remember when I put him in a Formula One car at Silverstone and how great he was in that straightaway. It could have been a sports car, touring car, Paris-Dakar, you name it.
"It's unusual to call somebody a legend, but it's very appropriate for Colin."
Richards said that he was piloting his own helicopter to the Belgian Grand Prix when 1981 World Rally champion Ari Vatanen called to tell him the news.
"He didn't tell me until I landed. He said 'just carry on and I'll tell you when you land'", he told the Daily Mail.
And worse was to come for Richards – flying home from Spa with his wife he was forced to make an emergency landing near to North Weald Airfield in Essex after mechanical problems. A spokesman said: "David and Colin were great friends and it's an amazing coincidence that this has happened. We are just thankful he and Karen are OK."
* The photo on this post was taken by Matthew Exley at this year's Festival of Speed and can be viewed on Flickr. Some rights reserved under a Creative Commons licence.