Racing journalist Louise Goodman, young drivers such as Sarah Moore and Alice Powell, and Brits on Pole co-owner LJ Hutchins joined more than 50 women from across motorsport to celebrate International Women's Day at Silverstone last week.
Many drivers brought their cars, and a colourful collection of vehicles was assembled on the run-off area at Brooklands for a photocall that included racers and their crews, journalists, team bosses, motorsport business owners, administrators, volunteers and marshals.
There were glamorous steel-haired veterans, fresh-faced schoolgirl stars of tomorrow, cheerful marshals, smart suits and oily overalls, and at least one mum who brought a baby in a pram alongside a gleaming blue single-seater racecar. Cars ranged from a kart to a historic Benetton F1 machine by way of a Ginetta and a drag racer.
Powell, 17, who started karting aged eight and now competes in the Formula Renault UK championship, told Brits on Pole: "It has been a really good day, and great to see such a wide range of women racing – those who are our age and those who are older, across so many different series."
Goodman said: "It was a fabulous experience to come together with all these other women involved in the sport to show that motor sport is not just for the men. I really hope that this inspires more girls to consider the sport – one of them might just turn out to be the new Jenson Button."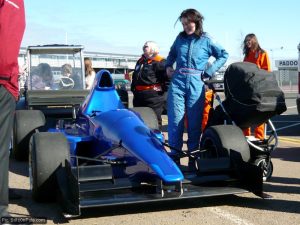 Motorsport is one of the few sporting activities in which men and women compete alongside each other on an equal footing but, as they make up only eight per cent of registered licence holders, women are hugely under-represented among motor sport drivers.
This is beginning to change, said Motor Sports Association chief executive Colin Hilton said: "We are seeing a substantial increase in female participation among the junior ranks, especially with the Let's Go Karting initiative that gives young people a first experience of karting for just five pounds. Similarly, the Go Motorsport message that we are taking to schools across the county is aimed equally at girls and boys."
Despite the lack of drivers, there are an estimated 50,000 women actively involved in British motor sport, organising events, running clubs and associations, timekeeping, marshalling and fulfilling a host of other support roles without which the sport itself could not continue.
Sue Sanders, Chairman of the MSA Women in Motorsport Group, said: "Today has been a fantastic opportunity to demonstrate the diverse range of roles that women undertake within the sport at all levels. We believe that motor sport is truly fair and equal but there is plenty of room for more women. We hope that this gathering will celebrate those already involved and stimulate others that may be interested in getting started."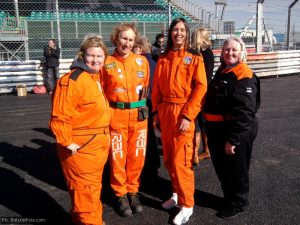 Among the women present were a cluster of marshals, who not only took part in the photocall but also rolled their sleeves to help move the cars and set it up. One, Jean Whitebread said marshalling offered an easy non-technical way for women to get involved.
She said: "It's about being involved in motorsport, about getting about as close as you can to the racing, and the adrenaline boost you get from doing it can be amazing. It can be a challenge and you must be able to cope with things and get on with it if something does go wrong.
"You do not have to be specially talented, enthusiasm is far more important and you meet a lot of great people. Just go along and talk to the marshals, ask them how they got involved and what they recommend. There are lots of organisations that you can approach to get more information and that can be a very good place to start."
She recommends contacting the British Motorsport Marshals Club, the British Automobile Racing Club or GoMotorsport for more information.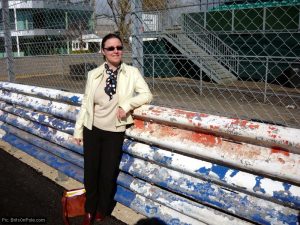 Summing up the day, Hutchins said: "The most impressive thing was the sheer range of women that attended. Racers in their 60s were lining up alongside teenagers. Every kind of car from karts to dragsters was represented.
"And it's not only the women behind the wheel – it was inspiring to meet the marshals, officials and volunteers who keep the whole show on the road and give racing fans so many hours of enjoyment.
"I'm expecting the profile of women in motorsport to get dramatically higher over the next few years. Girls now take up karting before the age of ten, exactly as boys do, and are graduating in increasing numbers to junior open-wheel racing formulas – and many other kinds of racing.
"It should be an exciting time for motorsport and we are looking forward to reporting on these young women's successful racing careers on Brits on Pole."
This story was intended to be published last week but was delayed by illness.