Three races remain in Firestone Indy Lights and Surrey's Dillon Battistini remains a good outside bet to bring home a third consecutive British victory in the highly-competitive feeder series for the IRL.
It may be only his first season competing on ovals, but the Panther Racing rookie's victory under the Kentucky floodlights means he has now won more races than anyone else this season.
A mid-season slump in form means that he is only third in the title hunt – but a good pair of results at Infineon Raceway in Sonoma this weekend would go a long way towards closing the 57-point gap that separates him from leader Richard Antinucci, with Raphael Matos four points behind Antinucci.
Battistini said: "It's not too close of a gap but it's not that big, either. It only takes them to crash into each other once, and I could be right back in the hunt. They have already done it in practice once, so it would not surprise me if it happens again.
"So that's really what I need to hope for – and also just focus on making sure that our road course performance at Sonoma is as good as what I've shown that I can do on the ovals. Neither of the two championship leaders have won on an oval yet, and I've shown I'm the guy to beat on the ovals this year."
Battistini was quick out of the blocks this season, winning the opening race at Homestead-Miami despite his inexperience on ovals.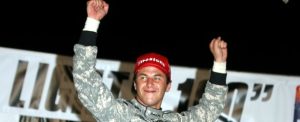 He said: "I came into the season with an open mind – I wasn't really too sure what to expect.
"I knew it was very competitive, with a lot of great drivers driving in the series this year. So I knew it was going to be difficult. And the way that my deal came together, it was signed before the first week at Homestead, I didn't do any preseason testing.
"So I didn't expect to do quite so well so soon, although I was hopeful that I would win a few races this year."
Despite having spent most of his career on road courses, he had no problem getting the hang of the fast, wheel-to-wheel action of oval racing: "I seemed to adapt to ovals straight away.
"I remember the first time I got in a car and drove on an oval. It was the week before the first race at Homestead. It just felt really fast and dangerous even at first. But then once you get into race mode you focus so much on going as fast as possible, that it doesn't feel quick anymore.
"I guess you just get familiar with the drivers around you and begin to know what to expect from the others, and you feel more and more confident with racing in traffic."
With past champions Alex Lloyd (2007) and Jay Howard (2006) languishing on the sidelines this year, winning the title is no guarantee of a promotion to a full-time IndyCar drive – but Panther Racing is known to be impressed and has promised him an outing or two with the big boys before the season ends.
Before then, there's the road course at Infineon to look forward to. Coming out of the Indianapolis round of the championship, Battistini led the series – but then he hit a run of bad results on road courses.
He doesn't expect that to set a precedent in Sonoma County this weekend: "The results make it look worse than it really was. Our road courses this year have been weaker than the oval performances, for sure. But look at the facts.
"I had an engine blow up in the first race at St. Petersburg and I had to start in the back in the second one and I finished fourth; and then in Watkins Glen, we missed the test beforehand, and I didn't even get to learn the track until qualifying. We didn't have a very good setup, so we were on the back foot the whole weekend there.
"And then in Ohio I struggled in the first race with a problem, but in the second race I went from 18th to fifth before a spinning car took me out of the race. So the results make it look worse than it really is, and I'm hopeful when we go to Sonoma we are going to be quite strong."