A1GP's planned season opener at Ferrari's Mugello circuit has been postponed after its newly-designed car failed in testing, causing a crash that left driver Patrick Friesacher with three crushed vertebrae.
The disruption will be highly embarrassing to the ambitious young series, which has been aggressively promoting its links to the motorsport legends with a "powered by Ferrari" slogan in the run-up to its fourth season – for example, in the launch video included in this story.
The series switched to Ferrari engines following three years using a Zytek-powered Lola chassis – and the Italian company also provided consultancy for the design of a new car based on Michael Schumacher's 2004 F1 championship-winning vehicle.
But after 5000km of successful testing, the car suffered a right-rear top wishbone failure as Friesacher took the Estoril corner at Magny-Cours.
This brought an abrupt end to the planned four-day testing session, and had a knock-on effect on all the other tests planned in advance of the scheduled season opener at Mugello on September 21.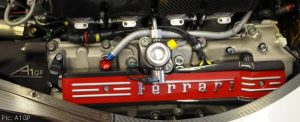 The circuit is a new addition to the A1GP calendar and would have offered the opportunity to start the season with a celebration of the links between the series and Ferrari.
Instead, the season will now start with what had been planned as the second race weekend, at Zandvoort in the Netherlands on October 4-5.
The calendar currently available on the A1GP website does not offer a new date for the Mugello round of the championship, instead listing just nine races – two of which are still without a published venue. The original calendar also included a race on March 29, with no country specified – that has also dropped off the published schedule.
A1GP CEO Pete da Silva said the series knew it had set itself a tough target when it chose to design, build and test a new car in just 11 months: "It was always going to be an optimistic programme but we were confident we could achieve it.
"This in no way reflects on the work undertaken by the technical team and our partners, as it was due to circumstances beyond their control. I also want to thank all our technical partners for their support during our intensive testing programme, and especially Ferrari for the supply of engines.
"We now have to concentrate on what we have ahead of us rather than behind. We still have some great announcements to make. In the near future we shall be able to announce our full race calendar, as well as some deals that will enhance the overall package we are presenting to our fans for Season Four."