David Coulthard's Formula One career ended on the first corner at Interlagos when he found himself buffeted by the two cars of his former boss Sir Frank Williams.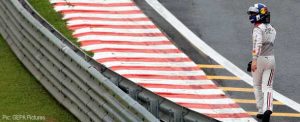 Despite taking the corner carefully to avoid trouble, he was hit by Nico Rosberg's car and shunted into the path of Kazuki Nakajima – not the first time this season he and the Japanese driver have made contact.
But despite the bitter disappointment of the sudden end to his final race, he said the overwhelming good wishes of the F1 community that had showered down on him in the run-up to the race were a good way to go out.
He said: "I've been overwhelmed by the level of support I've had from the paddock this weekend, it means a great deal to me that so many people have taken the time to say 'nice career and good luck with the future'.
"And, in the absence of a World Championship, I think if I can leave with that, then that's a good ending."
There were precious few good memories to take with him from the race, where his secret plan of risking the wrath of the FIA by doing donuts at the end of the race were dashed from the start.
He said afterwards: "I'm pretty gutted, it's not how I wanted to end my career.
"If I had qualified a bit higher up the grid then maybe it would have helped – but no, I took a cautious approach into Turn One, left plenty of room for the car on the inside and then unfortunately Rosberg hit me in Turn Two and spun me around.
"I thought it would be okay, but then Nakajima and I finished off our crashing love affair, and he took off my front corner."
But, ever philosophical, he concluded: "Still, I still can't complain – I've had a good career. I want to say 'thank you' to everyone who supported me over the years."