Duncan Tappy says his next goal in his inaugural Auto GP season is to win races after a series of steadily-improving performances saw him on the podium at the recent Imola event.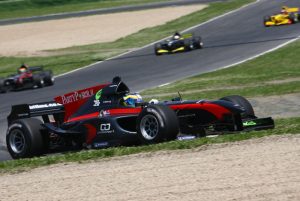 And he's also keen to keep himself in the title hunt in the series' six-event, 12-race 2010 season.
The Surrey driver scored a fifth place in the first race at Brno in April. But he lost the chance of a good finish in the second thanks to a drive-through penalty which saw him cross the line 11th. Then, in the season's second event at Imola he was fourth in Race 1 and third in Race 2.
In a Q&A for the series website Tappy was asked whether he thought he had a shot at the title, given that he is fourth in the championship, tied on 13 points with Luca Filippi but behind him thanks to the Italian's race win. His DAMS team leads the championship on 39 points.
He replied: "Given that my performances and my feeling for the car is growing race by race, I think that I'm among the title-runners.
"Keeping this momentum, a win should be just around the corner, and that would be a big boost for my chances. I will do my best".
He described how his strategy in every championship he has contested so far has been to learn the car step by step – even more necessary for a challenging car like Auto GP's.
"Losing the grip on the championship is very easy. That's why I opted for a more cautious approach, working on the feeling of the car session by session, and it seems it's working.
"Analysing the first two events, I'm really happy with how I coped with the odds in Brno. People see me as an experienced driver, but the truth is that budget problems prevented me from contesting a whole championship in the last two seasons.
"Brno was my debut in a new series, with a new car and on a track that was unknown for me; furthermore the volcano problem forced me to drive to Czech Republic from England, and I was really tired when I got to the track. Luckily, I got on really well with DAMS, and the weekend was good."
Talking about May's Imola meeting he said that racing at the famous circuit, which he had never competed at before, was a thrill.
"It's a wonderful track and one of the most difficult to learn. The two hours of testing on Friday morning were really useful.
"Speaking about race 2, I was a lot faster than Celso, and I really wanted second place. I tried to overtake him twice and he managed to close the door. The only option to pass him was trying harder, taking some more risks.
"The stakes were high, but I didn't want to throw the race away, because P3 meant important points and prize money."
Asked if coaching younger drivers helped him to be more thoughtful when racing himself, he said: "Yeah, it helps a bit. Telling the guys what mistakes they must avoid helps me in avoiding them myself when I'm driving.
"It makes me think a bit more when I'm in the car. Anyway, on a racetrack, things often happen in a moment, and the driver's instinct is vital."
The next event is due to take place at Spa-Francorchamps on June 26-27, a circuit that will be another first for Tappy: "Spa is a dream track for every driver, one of the most challenging circuits to put talent to the test.
"For me it will be even more difficult because I will have just two 30-minute sessions to learn the track ahead of qualifying. I will try some laps on the simulator, but frankly I'm just looking forward to being there."
You can follow the AutoGP season via its website here.