Is there something you've always been dying to know about how Formula One is fuelled – the rules, science and technology that surround what the world's most expensive race cars put in their tanks?
Maybe you're interested in the chemistry of it – the mix of compounds that make the difference between the fastest car on the grid and the slowest cloth-cap driver's Vauxhall Astra.
Perhaps it's the logistics – how the stuff is kept pure during transport, how it's protected from being tampered with, how it's kept stable enough to be safe in close proximity to a roaring hot engine in the Malaysian or Bahraini heat?
Could be you want to know about the rules – what new challenges have the refuelling ban thrown up for the scientists and the teams?
Or maybe you just want to know if there's a job going.
Now's your chance.
Brits on Pole has been given the opportunity to put your questions to the people who design and make the fuel that powers Ferrari's cars at every single Grand Prix weekend.
As well as its link-up with Ferrari in F1, Shell V-Power has in recent years also worked with Audi at Le Mans, Ducati in Moto GP and World Super Bikes and Richard Childress Racing in NASCAR.
For more than a year now, the company has been working to build up its profile with the F1 fan base and aiming to create a better understanding of its role during race weekends.
As a result, we have able to bring you a behind-the-scenes report on Shell and Ferrari at last year's British Grand Prix, find out how the refuelling ban has affected fuel manufacturers, and learn a bit about how companies such as Shell approach motorsport from a marketing viewpoint.
Now the company is embarking on a new project – shooting a video on fuel technology that puts the spotlight on how it's manufactured, how it affects the racing and how work at the racetrack benefits everyday drivers out in the real world.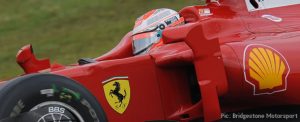 And it is asking Brits on Pole's readers to submit their questions, to be put to fuel scientist Jo Smith, Shell's very own 'Dr Fuel'. So get your thinking caps on and let's have some good ones.
The company has promised that as many of your questions as possible will be answered and that we should be able to run the answers on the site.
Submit your questions by Friday June 18 using our contact form, or via Facebook or Twitter, and we'll pass them on to 'Dr Fuel'.