Brits on Pole's roving reporter Scott McCarthy was at the Hungarian Grand Prix to witness first-hand a thrilling contest and Jenson Button's victory in his 200th Formula One race. Here's his fan's-eye report.
It's 5am as I wait in the departure lounge at Heathrow airport for a flight to Budapest via Frankfurt. Anyone who thinks F1 is all glamour and money has only ever seen it from the drivers' and sponsors' perspective. I am neither, but I do belong to another group which is critically important to the success of Formula 1.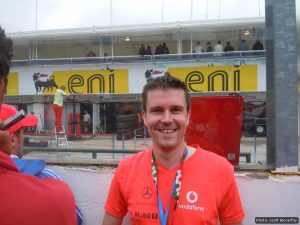 I'm an F1 fan.
When you're an F1 fan, a trip to a Grand Prix can be as glamorous as your budget will allow. The fact that I'm getting a flight at some ungodly hour, connecting in Frankfurt (because direct flights between London and Budapest this weekend are about 300% higher than any other weekend) and sharing a 2* hotel room with three friends tells you all you need to know about my budget.
But is this going to affect my enjoyment of the weekend? Not one iota!
Another difference between an F1 trip and a regular holiday comes when you check the weather forecast for your destination. As I leave for Hungary the forecast is for light rain on Sunday. For a regular holiday this would be most frustrating but, for an F1 trip, it's just raised the excitement levels another notch. Although I then remember that I didn't pack an umbrella.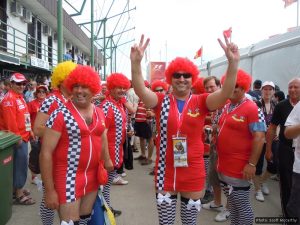 Last year I wrote about my trip to Istanbul and I mentioned how, for the locals, the race might as well have been in another country. Most Turks couldn't care less, which was a real shame. While I can't really say that Budapest is rocking to the F1 beat, there are certainly a lot more F1 banners up, fans wandering around and counterfeit merchandise on sale for every team you can think of. Including Minardi.
On the way to the track on Saturday morning, we're all talking about the BBC/Sky deal announced over the weekend. I already have Sky Sports, but I'm still disappointed at the news.
The BBC does a superb job with its coverage. I'm not saying that Sky won't, but I suspect it will be the same over-hyped build-ups they do with every other sport they cover. I also doubt too many people will want to pay around £40 a race, so I don't see a significant increase in Sky subscribers as a result.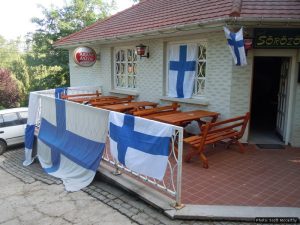 Anyway, the deal is done, so the fans need to decide whether to pay, or watch on delay.
The first thing we see on the walk from the train station to the track is a house covered in Finnish flags. I'll be honest, I don't share their optimism for a Kovalainen victory. As we continue our walk, we find a real mix of team colours. No single team really dominates.
What I particularly like is the number of classic drivers that are still being supported. One person has an Ayrton Senna flag, another a Gerhard Berger hat. There are several Kubica banners and flags too, which is a nice touch. I even find some Damon Hill graffiti on the perimeter wall.
We arrive just in time for the F1 practice session. Even though I say this every time, the noise is just extraordinary. It seems louder this year too. Perhaps we're just closer to the track than in previous races, but I also think the off-throttle blown diffuser has meant the cars make more noise when off the throttle. The Lotus Renaults in particular sound horrible as they go around the final few corners.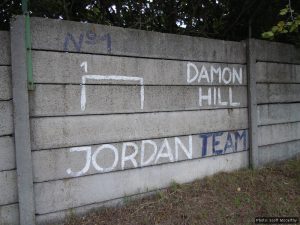 Our seats are on the last corner, and we have an excellent view. We can see the cars coming down the hill in the distance and, although they dip out of view through the penultimate hairpin, we see them again before the final bend and can follow them right down the main straight until they disappear down into the first corner.
The weather on Saturday is baking hot. Plenty of sun cream and water needed for anyone hoping to survive until the last race finishes at around 6pm. The food at the Hungaroring is certainly authentic and not that expensive. Large meat fritters and goulash is readily available, and tasty too – makes a nice change from chips.
There is a fantastic atmosphere for qualifying as Vettel gets himself yet another pole. Plenty of support for the German, especially from the designated "Red Bull" grandstand to our left.
A few fans leave after F1 qualifying, but most stay to watch the GP2 race. iSport's Marcus Ericsson must feel robbed of victory after a drive-through for an unsafe pit-stop release hands the win to Romain Grosjean.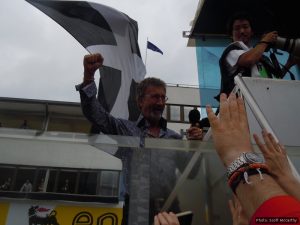 This weekend I've rented a "FanVision" handset, formerly known as Kangaroo TV. It's a small hand-held device which allows you to watch the F1 coverage while at the track, and it's the first time I've used one.
This might sound like a strange thing to want to do, but once the cars whizz past the bit of the track you're sat next to, it can be quite difficult to know what's going on elsewhere.
It also has live timing screens and a record of every announcement from race control. This is how I learn that Ericsson has been given a drive-through. I mostly just use the timing screens and listen to the BBC 5-Live commentary. You also get to feel smug when you announce things to the people around you they weren't aware of!
We leave after the GP3 race to head back to the centre of Budapest. I can't comment on the traffic, but the train is a fully pain-free way to get to and from the track. A 20 minute wait for one, but only because we just miss one. We all have seats and are back in no time. This really is the easiest F1 commute I've had from the four F1 tracks I've been to.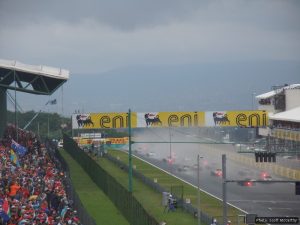 We wake early on Sunday morning and walk out the front door of the hotel. We were met with a surprise, until we remember the weather forecast – it has been raining overnight. It's also a lot colder and as we head for the metro station we can feel spots of rain.
We arrive in time for GP2 race two, where a damp track makes for an exciting contest. The conditions are right on the line between dry and wet tyres and the teams must try to second-guess the weather when deciding what tyres to put on and when. Stefano Coletti and his team Trident Racing do the best job as he takes the victory.
While the rain is welcome because it increases the prospect of an exciting F1 race, we are now starting to feel pretty cold with the steady drizzle. The F1 drivers don't look much warmer as they do the drivers parade on the back of a Mercedes truck. Some local Hungarian F1 fans help us out by sharing around the bottle of whisky they'd smuggled in and soon we aren't feeling the chill quite so much…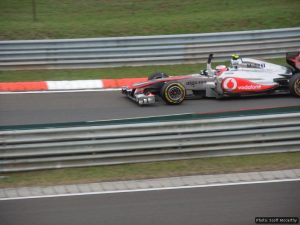 With the track still damp, we are treated to a truly fantastic race. We realise just how many McLaren fans are around us when Hamilton eventually makes it past Vettel. Interestingly several of the cheers come from the "Red Bull" grandstand to our left – quite right, too, as the last thing I want to see is segregation in F1 like we have in football.
There's something about the F1 races I go to that seems to cause the McLaren drivers to go crazy. Just as in Istanbul last year, Lewis and Jenson are swapping places so frequently I can barely tell which is which. It is such a shame that a badly-timed stop for Lewis prevents a McLaren 1-2, but witnessing Jenson Button winning his 200th grand Prix is very special indeed.
After the race finishes there's a stampede to get onto the track to watch the podium celebrations. Unfortunately I'm not quick enough, but do catch the back of Jake Humphrey's head as he interviews Martin Whitmarsh. Not to mention Eddie Jordan posing for the crowd.
Slowly the crowds wander away. I have to return my FanVision handset and some last minute merchandise purchases need to be made. I spot BBC 5-Live commentator Anthony Davidson walking along the commentary gantry above me, and shamelessly shout up a 'hello'.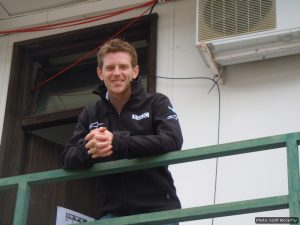 I ask him what he thought of the race and he replies: "I thought it was fantastic – it's supposed to be dull here, isn't it?"
I can't pass up the chance to ask him about the BBC/Sky Sports deal, and he's quick to remind me that all races are still on 5-Live next season free of charge.
So we wander back to the train. A fantastic race, a British victory and, in place of sunburn, we'll have to make do with possible irreversible hearing damage.
Now, where shall we go next year?
Photo gallery
All photos by and copyright Scott McCarthy