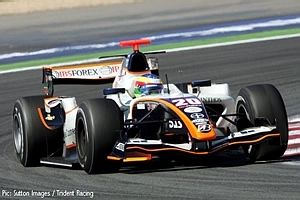 Mike Conway racing to eighth at Magny-Cours
Twice in GP2's French feature race the leader retired with mechanical problems – gifting Giorgio Pantano the win and Mike Conway the eighth place that will put him on pole for the sprint race.
Polesitter Bruno Senna lost the lead on lap 20 when his clutch failed, allowing Romain Grosjean through ahead of him. But Grosjean hit trouble just seven laps later, a hydraulic problem sending him limping back to the pits.
"Grosjean came past me on the straight while the engine was going 'woaaaah', and that was it," lamented Senna. Grosjean added: "I had no clutch, no gearbox, no everything. It's a shame, in front of all these French people too. It went from a really good day to a really bad one very quickly."
Pantano's victory means he regains the series lead that he lost thanks to a pair of retirements in Monaco.
Mike Conway, victor in the second Monaco race, briefly inherited the lead at Magny-Cours by staying out longer than any of the other leaders for his mandatory pit stop. His eventual pace was good enough for the eighth place that gifts him pole position when the grid is reversed for the second, shorter, race.
He said: "My start was good – and my whole race was too. I've had a really good car since qualifying, but I lost one spot in the pits to Jerome D`Ambrosio. Today's eighth place is a good starting point for tomorrow, as I'll be sitting on pole. I think I'll have a good chance to clinch a really positive result. I hope to try and get another great ending like at Monte Carlo."
Durango's Ben Hanley was unable to complete the race and will start the sprint from row 10. He suffered from an overheating clutch during the early stages of the race and was forced to slow down to cool it – then, fighting to recover some of the places he'd lost, ended his race on lap 24 because of a contact.
Race results
Pantano – Racing Engineering
Di Grassi – Barwa Campos Team
Maldonado – Piquet Sports
Petrov – Barwa Campos Team
Zuber – Piquet Sports
D'ambrosio – Dams
Chandhok – iSport International
Conway – Trident Racing
Parente – Super Nova Racing
Filippi – ART Grand Prix
Nunes – DPR
Buurman – Trust Team Arden
Soucek – Super Nova Racing
Villa – Racing Engineering
Valles – BCN Competicion
Iaconelli – BCN Competicion
Valerio – Durango
Did not finish:
Grosjean – ART Grand Prix – lap 34
Rodriguez – FMS International – lap 33
Buemi – Trust Team Arden – lap 28
Hanley – Durango – lap 24
Senna – iSport International – lap 22
Herck – DPR – lap 16
Tung – Trident Racing – lap 14
Kobayashi – Dams – lap 0