Team Pakistan remain one of a handful of nations yet to score a point in A1GP after two "chaotic" Chinese races in which driver Adam Khan posted a pair of 14th places.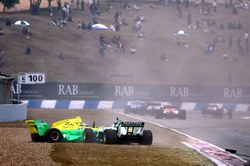 There were plenty of positives to take away from an improved performance, however, as Khan scored his results on the back of qualifying 21st of 22 for the sprint race and 17th for the longer feature event.
Khan, from Bridlington in Yorkshire, showed maturity in the sprint race by avoiding the chaos of an early crash to jump from 21st to 15th, gaining one extra place by the flag.
In the feature event he made a racy start, taking the Czech and Lebanese cars, but overcommitted and ended up on the grass where he was hit by the Australian car and had to pit for a new nose cone and front wing.
He emerged in 18th, overtook Portugal, and then benefited from retirements ahead of him to finish in 14th.
Afterwards, he said: "I had a great start, unfortunately there was a bit of action mid-field, and two cars spun ahead of me. I had to take avoiding action, and was forced onto the grass, and then I think it was Australia who cut right across me and took off the front wing.
"By the time I had stopped for a new nose cone, I was already a lap behind, so the race was really over by then. Its just luck of the draw really – that's racing. At least my pace was there; we were putting in competitive laps towards the end of the race.
"I think in future races, we need to focus on qualifying and start higher up the grid. Then we'll be able to get the results rather than just talk about them."
Team owner Arif Husain added, "Unfortunately, we were a little too close to the action in the feature race and the damage done to the car on the first lap undoubtedly ruined any chances of a good finish.
"Nevertheless, the team are continuing to improve and Adam showed good pace today. We'll be building on this progress in New Zealand where hopefully we will move further up the finishing order."