Scott Dixon and Ryan Briscoe did their best to liven up a deathly dull IndyCar season finale with a tooth-and-nail battle for the lead – but it was Dario Franchitti, jogging along behind them for most of the 200 laps, who came through to win both the race and the championship.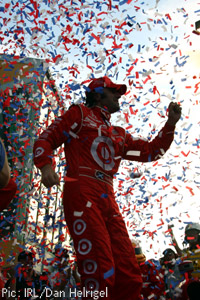 The Edinburgh driver discovered early in the Firestone Indy 300 that he could not match his two rivals for speed, so he settled back into fuel-saving mode while the other two championship contenders burned ethanol swapping the lead between each other.
It was a cautious, danger-free approach – but it paid off when first Dixon and then Briscoe peeled into the pits for a top-up with a handful of laps left, leaving Franchitti to inherit the lead and cruise home carefully for his second title in three years.
His strategy would have been wrecked by a yellow flag caution period, as his faster rivals could have also saved some fuel behind a safety car and avoided taking their final stops – but for the first time in IndyCar history a race went from start to finish without a single disruption.
The narrow margin of his victory was underlined when he ran out of fuel doing celebratory post-race donuts and the #10 Target Chip Ganassi Racing car had to be pushed to Victory Lane for the celebrations.
Franchitti, who won his previous title when Dixon ran out of fuel as they duelled in the final lap of the season, said: "Scott and I raced each other the whole season and it just came down to this. I'm bloody delighted right now.
"Like 2007, I just had to try to save some fuel and stay on strategy. The car was a bit imbalanced on the first stint and that allowed Scott and Ryan to get away a little bit.
"Pretty early on I decided my only option was going to be – I couldn't stay with them, so I was going to have to start thinking about saving fuel. Luckily, Chip [Ganassi] and the boys in the stand were having the same thought. The first stint we pitted, and we made an adjustment. It was a small adjustment.
"From then on the car was great, and the track came to us a little cooler, but we were already four seconds back. So from pretty much from that point on we were save fuel, save fuel, yeah, that's a good lap speed."
Both Dixon, who set the fastest lap of the race, and Briscoe, who earned the bonus points for leading the most laps, were bitterly disappointed that their struggle throughout the race had proved irrelevant.
Briscoe said: "It's pretty frustrating. It was one of the best races I've ever run. I just hate that it came down to fuel strategy. I thought it was going to be between me and Scott, definitely. I guess the 10 car had the advantage.
"I really thought Scott had the stronger car today. I knew that to get the championship, if I won, expecting him to come second, I needed to lead the most laps as well. We were racing really hard throughout the whole race trying to lead the most laps and so on.
"I can't believe there wasn't a yellow. I wish there was. But no, it was a great race, and it's just unfortunate for us that Dario and the 10 car had maybe a smarter strategy today and saved a bit of fuel and got home on three stints."
Dixon added: "At the start of the race I didn't think it would be wise to go out and burn a lot of fuel – and that ended being the fact. You always think there's always going to be a yellow.
"On a full tank you can really only do about 48 laps or 47 laps when you're full, and that was what threw us into the battle, fighting over those extra points back and forth all day, and that might have been what killed us in the end.
"At the end of the year, you'd think the fastest car is going to win, but several times, it hasn't. I think Briscoe and I had a pretty good race going on, but we got what we got.
"We just ran the wrong strategy, and it's frustrating. I think about midway through the race the team came on to me and told me that Dario had gone for the ultimate strategy to try and save fuel. You've got to give them credit – they put it out there, they tried it.
"It sucks to finish second and third in the race today, second in the championship. But that's the way it goes sometimes, and you've got to take it on the chin."
The dominance of the three title contenders was such that they all lapped the rest of the field, up to and including fourth-placed Tony Kanaan. He said: "It looks like those three guys were in another league – I think it was an A-league and a B-league. But we tried, we did what we could. The car was OK, it was just not fast enough, so I guess we'll take the fourth place."
Fifth in the race, and fourth in the overall standings, was Helio Castroneves. The popular Brazilian has had a season of dramatic ups and downs, opening it in a courtroom facing a career-ended tax evasion charge but winning both the case and the Indianapolis 500.
He said: "It was two races – there was those three guys and then the rest of the field, it's a shame. But fifth is definitely good for us. Fourth in the championship. And I have nothing complain about this year, it was a fantastic year. It was a bit difficult, but I have to thank the fans that supported me all the way through."
Danica Patrick successfully defended fifth in the championship, despite a pitlane tangle with Dan Wheldon that knocked him out of the race and left her 15 laps down on the leaders. Her main challenger for the place, team-mate Marco Andretti, retired with a brake fire and was overtaken by both Kanaan and Graham Rahal in the standings.
Patrick said: "It looked like the first six cars were really going out there, and it was good to be in that mix. The car was getting better every stop. But we came in for what would have been our final stop, and Dan Wheldon was coming out of his pit box.
"He went, then he stopped, then he went and he hit me. His team sent him, and they shouldn't have. It's pretty unfortunate because it took me out and it took him out.
"As far as the season goes, I'm happy. We've got some work to do over the winter. We know what we need to do, and we'll be ready for next year."
The pitlane incident cost Wheldon ninth in the final standings as it allowed Justin Wilson to draw level with him on points, winning the tiebreak because of his race victory at Watkins Glen.
Wheldon, who is far from certain to return to Panther Racing next year, said: "It was one of those things, and unfortunate for everybody on the National Guard Panther Racing team, but in a lot of ways it sums up the luck we've had this season.
"The National Guard car was very well balanced at the start and we moved to the front very quickly. We were being pretty aggressive in terms of trying to get to the front as quick as possible. Once it settled down I got into fifth, but I had just a little bit too much understeer to stay there and dropped back a little bit and was fighting with Hideki Mutoh for seventh [when the pitlane accident happened]."
Wilson suffered from understeer until his final pitstop, after which he was able to make some overtakes and finish 10th. He said: "I'm really pleased with today's result and it's a good way to finish the season.
"It was tough at the start and we struggled with understeer for the first three stints. But the Z-Line Designs team gave me great stops and each time I came in we made adjustments and it got better and better. Once we got on top of the understeer the car was fast and the last 50 laps were fun.
"All in all it's been a good year. We can take a lot of satisfaction from knowing that every race we've made progress and moved forward. Everything we've learned this year will put us in a strong position for next season and if we can continue this rate of progress then I'm confident that we can challenge for wins more often than not."
Alex Lloyd, driving in his first IndyCar race outside of the Indianapolis 500, dropped through the field at the start from his high qualification place but battled back to take eighth. He said: "We lost a quite a few places on the start, and I think that was just me being overly cautious. I've never raced an Indy car on a 1.5-mile oval, and I wasn't quite sure what to expect in turn one. Everybody just nailed it, and I lifted too much and we got swarmed by people.
"In the second half of that stint we had a good car and came through quite a few cars, so I thought, 'OK, this is looking quite good'. I felt like we could race with some of the quick guys. And then as the race went on, every stint we started to get more and more understeer that we couldn't get rid of, and that really cost us.
"All in all, it was a good day. There are a lot of things that I am learning as I go along, which is an extremely good thing. We had a good car all weekend. We certainly could have been a little bit better in the race, but I think we came away with some really good things, a lot of positives. There were a lot more positives than negatives, so I'm definitely happy."
Mike Conway, who has not always shown the best form on ovals this season, drove a steady race to improve from his qualification position of 20th to finish 15th. He said: "At the beginning of the race we didn't quite have the pace to keep up with everyone because we were struggling a lot with under-steer. Slowly but surely we kind of got the car a little bit better each time. At the end the car was quite good.
"I just want to say thank you and good job to all of the guys they have worked so hard all season long. I also want to thank Dreyer & Reinbold Racing for the season and I look forward to coming back next year. With the last race of the season I wanted to finish the best that I could and I think we did that by bringing the car home safely."