Jenson Button made the most of a first-lap mistake by Sebastian Vettel to sweep into the lead of the Turkish Grand Prix and off down the road to his sixth win from seven races this season.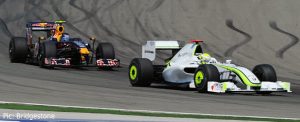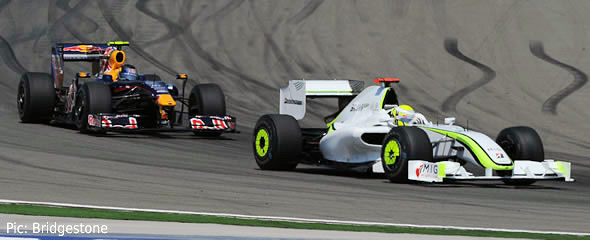 The Englishman will arrive at the British Grand Prix with a 26 point lead in the drivers' championship, ahead of team-mate Rubens Barrichello whose dismal day at the Istanbul Park Circuit saw him suffer a clutch problem on the start line and eventually retire from the back of the field.
"Today the car was the best it's felt all year," said Button after becoming the first driver to win at Turkey without also claiming pole position. "It was immense and I have to say a massive thank you to the team. It just keeps getting better. The rubber on the circuit helped but it was a great day."
Vettel had qualified on pole but was due to stop two laps before Button, setting up what was expected to be a tense strategic battle to emerge in the lead after the first round of pitstops.
Instead he ran wide on turn nine, over-corrected onto the grass of 10, and could not recover in time to prevent Button from passing him, effectively ending his hopes of victory.
His planned three-stop strategy gave him a lighter car during his middle stint and he was able to catch the Brawn GP car, cruising up to Button's rear bumper by lap 23 – but he couldn't get past, pitted a few laps later, and found himself behind his team-mate Mark Webber and destined for third place.
Button said the speed with which Vettel caught him during this period was unnerving – but he had not feared losing the race because of it: "It was okay, I knew that he was going short. We knew what lap he was going to stop on. It is still not a very nice feeling to see a car catch you eight tenths a lap.
"Today we were a step ahead and it is a nice feeling. The British GP is always special even when times have been tougher. Leading the championship by 26 points is quite a nice feeling and I am looking forward to it very much."
Vettel questioned later whether he should have been switched to a two-stop strategy after losing the lead: "When we have seen Jenson was not behind us, I thought we were switching to two stops. Then in the second stint I was in traffic to Jenson, I nearly passed him, I had one chance but it was quite tricky and after that I lost a bit of time. It turned out three stopping was possibly not as quick as two stops."
And he said that Button would probably have got through even without his first lap mistake: "I nearly lost the car in turns 9/10, it was my mistake. All day it was difficult there – maybe there was a tail wind. I don't think it made a big difference as Jenson was too quick today. I don't think I would have been able to hold him."
Webber, whose second places was protected from a late-charging Vettel by team orders, said: "Both Sebastian and I knew that first place was gone and it was about who would finish behind Jenson – he was on another planet."
Away from the podium, Toyota showed signs of a recovery in form with Jarno Trulli fourth and Timo Glock eighth, BMW's Robert Kubica scored his first points of the season in seventh, and Kazuki Nakajima was cheated of the chance to do the same by a pitstop problem that dumped him down to 12th. Felipe Massa, winner of the previous three Turkish Grands Prix, finished behind Nico Rosberg in sixth.
McLaren's Lewis Hamilton was lapped during the race and experienced the unusual experience of being overtaken by both Nelson Piquet Jr and Sebastien Buemi. He later recovered to finish in front of them both in 13th place as the final unlapped car, one ahead of his team-mate Heikki Kovalainen.
Showing signs of coming to terms with his new status as a back-marker, he said: "It was quite an uneventful race but I actually enjoyed myself this afternoon. I was very heavy at the start but I just pushed and pushed. That's why I can smile – because I think I drove to my full potential.
"The most important thing is for us to keep our heads up and to keep pushing. I see my role from now on as helping the team to cure the problems with this year's car and to make next year's car the best it can possibly be. When the team gives me a car to win, I will win.
"Now we look ahead to Silverstone. I really wish Jenson all the best: he did a fantastic job today. Personally, I hope I can come away from my home race with a great feeling from my home fans. I hope they won't give up supporting me."
Race result
Jenson Button, Brawn
Mark Webber, Red Bull
Sebastian Vettel, Red Bull
Jarno Trulli, Toyota
Nico Rosberg, Williams
Felipe Massa, Ferrari
Robert Kubica, BMW
Timo Glock, Toyota
Kimi Raikkonen, Ferrari
Fernando Alonso, Renault
Nick Heidfeld, BMW
Kazuki Nakajima, Williams
Lewis Hamilton, McLaren
Heikki Kovalainen, McLaren
Sebastien Buemi, Toro Rosso
Nelson Piquet Jnr, Renault
Adrian Sutil, Force India
Sebastien Bourdais, Toro Rosso
Not classified
Rubens Barrichello, Brawn – 47 laps
Giancarlo Fisichella, Force India – 1 lap
Drivers' championship
Jenson Button 61
Rubens Barrichello 35
Sebastian Vettel 29
Mark Webber 27.5
Jarno Trulli 19.5
Timo Glock 13
Nico Rosberg 11.5
Felipe Massa 11
Fernando Alonso 11
Kimi Raikkonen 9
Lewis Hamilton 9
Nick Heidfeld 6
Heikki Kovalainen 4
Sebastien Buemi 3
Sebastien Bourdais 2
Robert Kubica 2
Adrian Sutil 0
Nelson Piquet Jnr 0
Kazuki Nakajima 0
Giancarlo Fisichella 0
Team championship
Brawn 96
Red Bull 56.5
Toyota 32.5
Ferrari 20
McLaren 13
Williams 11.5
Renault 11
BMW 8
Toro Rosso 5
Force India 0