We'd like to bring you an update on the Brits on Pole team's recent performance in McLaren's Grand Prix League 2008 fantasy F1 competition – but there's a slight hitch.
Pending the team's appeal into the result of the Belgian Grand Prix, in which no-one has forgotten how Lewis Hamilton was demoted from first to third place after allegedly gaining an unfair advantage from cutting a chicane, it has declined to update the standings for that race.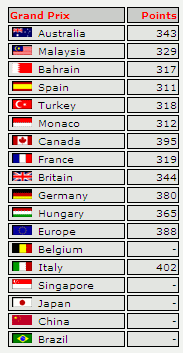 Monza's results are in – and they're welcome ones for us since Vettel is one of our drivers and he's delivered our biggest points haul of the season – but Belgium remains a blank.
Now it's very easy to see why McLaren may have developed a certain bunker mentality in the last year or two.
And, given the way that the rules are sometimes applied in this bizarre world, it's also unfortunately not beyond the bounds of possibility that updating the results of a fan competition risks prejudicing an appeal hearing by confirming that McLaren has accepted the result as it stands.
Hang on. Just stop for a moment and read that last sentence again. Is is just us, or have things gone rather seriously wrong in this sport?
(If anyone else is playing in alternative competitions, for instance the ITV or Fantasy League ones, we'd love to know how they've handled this – drop us a line in the comments.)
– – – – –
Anyway. On to the greener pastures of Lombardy. To our great surprise, the Italian Grand Prix netted us 402 points – our first 400+ points total of the entire season, and enough to propel us 1,147 places upwards in the standings.
This means that the Brits on Pole team is currently at the undreamt-of heights of 5,439 out of 19,657 players with a total of 4,523 points.
To give some context, as we always try to, the highest score for Italy was 474 and the leading player currently has 5,288 points.
The third and final transfer window is open, but we can't think of much to do with it, so will probably leave our team as it stands – since it seems to be doing fairly well for us right now.