The 1000km of Silverstone saw Audi snatch unexpected victory in the Le Mans Series championships – and it also saw Indy Car driver Darren Manning return from the United States to compete for Embassy Racing.
He took time out after Saturday qualifying to chat with Brits On Pole about his career, his future plans, and how Formula One is failing fans and drivers. Here's part one of the interview – part two will follow tomorrow.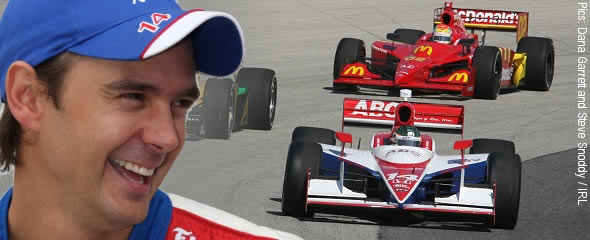 Yorkshire's Indy Racing League and Le Mans Series driver Darren Manning isn't sure where he'll be competing in 2009 – but he knows where it won't be.
From Anglo-American stock cars to the Formula 3 Macau Grand Prix, if it's got wheels then the affable Manning has raced in it.
But he's not going anywhere near Formula One again.
"Formula 3000 and GP2 and Formula One? To be honest, it's just pathetic what they do and how they treat the fans," he says.
"Racing in Europe is very political and it's hard to get in touch with the drivers – and it comes down from Bernie [Ecclestone] trying to create this elitist kind of atmosphere.
"It's not like that in American racing, or the majority of racing outside of Europe."
Manning, interviewed by BritsOnPole.com in the Le Mans Series paddock after qualifying seventh in his class for the 1000km of Silverstone, is well-placed to know.
His early career followed the classic path of an ambitious British youngster, progressing from karting to Formula First, Formula Vauxhall and F3, culminating in a crushing victory in the 1999 Macau Grand Prix.
He earned recognition along the way in the form of the Graham Hill Trophy and a finalist's place in the McLaren Autosport Young Driver award and, in 2000, was rewarded with a coveted Formula One test driver role for BAR Honda.
Team St George
But after that the upward trajectory stalled, and when the North American racing series CART created a one-off "Team St George" for its 2002 Rockingham race, Manning successfully lobbied for the drive.
His success in that outing impressed the Americans and he's been racing with them ever since, revelling in the more open atmosphere and occasionally venturing into other projects, such as A1GP's Team GBR, the Le Mans Series with Yorkshire's Embassy Racing, and a second place in the Grand Am Series' Rolex 24 at Daytona.
It was a dramatic change of direction – but one that suited him.
He told BritsOnPole.com: "In my Champ Car race in Rockingham I came ninth, led a couple of times, finished on the lead lap and it got me before all the Champ Car and IRL team bosses, and they saw it was a good job.
"If that was a Formula One race and I finished ninth, I wouldn't get to speak to any of them. It'd be 'oh, you're ninth place, you didn't win, you're crap, where's your chequebook, where's your bar of gold?'
"That's what's frustrating – there's great racing, great talent, there's great teams and tracks and championships over here but they don't give back what they should."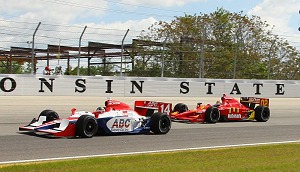 Fan friendly
By focusing his career on America for the last few years, he's traded the politics for a more fan-friendly series with a wider variety of challenges. He said: "In IndyCar you've got a lot of different disciplines – you've got street courses, road courses, short ovals, big ovals, you've got high downforce tracks, low downforce tracks, a lot of different disciplines."
The IRL experience has turned him into a fan of oval racing, which is sometimes sneered at by Europeans for its single-direction circuits and its supposed monotony.
Manning strongly disagrees. He said: "They think it's boring, but if they watched even once they wouldn't be off the edge of their seat for two hours. It's a great spectator sport at the track because you see it all and you don't know where to watch because there's so much going on, all the overtaking.
"Just take the last race in Chicago, 15 cars finishing within half a second or something, you don't get that anywhere else in the world. So it's super exciting and they just need to open their minds and understand it.
"That's the big thing, people don't understand the yellow flags and the safety cars and the pit stop strategies and saving fuel and the drafting – if they did they'd really start to embrace it and enjoy it."
'I tell everybody I know the Queen'
While Manning has embraced and enjoyed America – first at Walker Racing, then with Chip Ganassi, and now driving for Texan four-time Indianapolis 500 winner AJ Foyt – it's not so clear that America has succeeded in coming to terms with his broad Yorkshire accent: "They can't understand a word I say, it's great. I tell everybody I know the Queen – they all believe me."
However, at AJ Foyt Enterprises, he seems to have found some kindred spirits: "They're Texan you see, they're like the Yorkshire of America so they've got the strongest personalities. They eat steak for breakfast, dinner, and tea like Yorkshire people do so it's pretty similar, really."
The similarity goes deeper than diet – Manning struggled for his early success, sleeping on floors and on friends' sofas and working as a driving instructor to fund his racing. It's a background that has struck a chord with the self-made Foyt, whose website notes: "His story is reminiscent of another kid who hailed from modest beginnings but grew up to become an American racing icon."
That empathy didn't save the pair from disagreements during the recently-completed 2008 season, during which Manning took a second place at Watkins Glen and finished eighth in the Indy 500 as high points in a campaign that failed to live up to the team's and to Manning's expectations.
This was most notable at the Iowa Corn Indy 250, where Manning retired from the race with exhaustion caused by set-up problems, there were reports of a pit-lane row between driver and owner, and strong suggestions that the Englishman might be replaced mid-season.
Speaking at Silverstone, he recalled the day with vehemence: "In Iowa, we didn't have the steering wheel and the seat in the right place and I couldn't turn the thing."
A fortnight later it was all smiles after his podium in the Camping World Grand Prix at the Glen, and the team went on to post more top-10 finishes than it had the previous year in the smaller pre-merger IRL.
Missed opportunities
But Manning still rues the missed opportunities: "We just didn't realise our potential. There were races where we should have been on the podium, we had some mechanical failures where we were running really strong.
"Saint Pete we should have probably been fourth, if not third. Texas we probably should have been well inside the top 10. Indy we probably should have been fourth, and that would have meant battling for the win. Richmond we should have probably been well inside the top10 but we got taken out on a yellow.
"Even just those results would have put us well inside the top 10 for the championship."
Instead he finished 14th, a point behind Vitor Meira. In his first season with the team in 2007, with far fewer drivers in the standings, he had been two points behind Meira in 13th. Relatively, it was progress – but not at the hoped-for level.
"Our problem was not realising the potential that we had from year one," he said. "I think if we do carry on next year we will realise that potential, because it was very silly things that stopped us and it will only get better."
That's it for part one of the interview – in part two, Manning explains why it's definitely "if" he and AJ Foyt Enterprises carry on next season, not "when", and talks about the skills needed to thrive in a career that's embraced many different types of racing.