Much of the field that turned out for the first F2 event to take place for 25 years must be wondering why they bothered after Red Bull junior driver Robert Wickens dominated the weekend from start to finish.
Canadian Wickens, 20, took pole position for the first round of the 2009 competition in Valencia ahead of Tobias Hegewald and Andy Soucek, setting a time early in the session and claiming the top spot by just 0.014s in an evenly-matched field.
In second-round qualifying he produced a stunning late lap with just four minutes of the session to go, securing himself a double pole and seeing off Spaniard Soucek and reigning Italian F3 champion Mirko Bortolotti. The session was red flagged with less than a minute remaining.
He turned his round one pole into a commanding victory following a flawless drive from pole position, leading home Carlos Iaconelli in second and Kazim Vasiliauskas in third.
Wickens got a good start off the line while the second-placed Tobias Hegewald found himself overtaken by Soucek and Iaconelli as Mikhail Aleshin and Kazim Vasiliauskas fought behind. The race began to stabilise by the midway stage, but Bortolotti made good progress from 12th on the grid and was lying in ninth, shortly before drama struck at the front of the field.
On lap 14, Soucek and Hegewald made contact, leading to a safety car. At the restart, Wickens and Iaconelli were able to preserve their positions while a spirited fight for third led to a number of incidents – but Lithuania's Kazim Vasiliauskas came through to collect the last podium spot. Top-placed Brits were Henry Surtees in seventh and Alex Brundle in eighth.
In the second round Wickens managed a repeat performance with a second pole to flag victory. His Red Bull team-mate Bortolotti finished second, with Austria's Philipp Eng completing the podium placings.
Wickens got a clean start from pole, but soon came under pressure from Bortolotti after Soucek made a poor start from second on the grid, and was passed off the line. The Italian tried to force his team-mate into a mistake but failed as Soucek and Eng duelled for third.
Wickens hung on for the top spot on the podium, Bortolotti kept a cool head to avoid wrecking his own race and Eng won out for third and his maiden podium.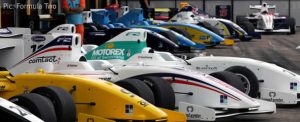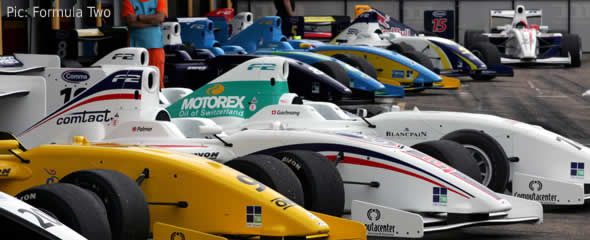 No Brits made it into the top 10 – Henry Surtees was 12th and Alex Brundle got tangled with Natacha Gachnang on the opening lap and had to pit for repairs, eventually coming last of the 23 finishers. Jolyon Palmer was tapped into the gravel and out of the race on lap one.
Patrick Head, Williams' director of engineering, presented the trophies. Following his victory, Wickens said: "It's pretty much the perfect weekend. From start to finish it has been good; we struggled a little in free practice but we didn't lose our cool and everything fell into place nicely – it's basically been a fairytale weekend."
Get a full run-down of results and standings on the series website here >>