Torrential rain called an early halt to the first Friday practice for the Italian Grand Prix in Monza, but by the end of the day the sun was shining on Kimi Raikkonen.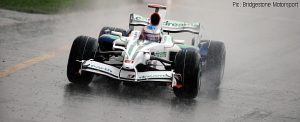 The Finn ended speculation over his immediate future with the announcement of a new two-year Ferrari contract – and celebrated by setting the day's fastest time.
He said: "I am pleased with how today went. The set-up is good and I don't think that any rain that might fall will represent a handicap. The contract? I am happy to be part of this team, otherwise I wouldn't have signed."
The day began with a damp track after early showers, but worse followed – half an hour into the session the heavens opened and the circuit was hit by a storm so bad that garages flooded and electricity failed.
Adrian Sutil led the timesheets at this point, ahead of Rubens Barrichello and Giancarlo Fisichella, but many of the more favoured drivers did not set a time in the session.
Felipe Massa did venture out but probably wished he hadn't, bringing back memories of his Silverstone nightmare by spinning repeatedly and setting the session's slowest time.
Normal business was resumed in the second session, with some sort of sun drying the track enough for the leading teams to set the fastest times – but no-one managed anything like the programme of testing they had expected.
Raikkonen set a late time of 1m 23.861s to jump ahead of the two BMWs. Lewis Hamilton was fourth-fastest, ahead of his old GP2 rival Nico Rosberg with Massa and Heikki Kovalainen next.
Hamilton said: "Obviously, it was very wet this morning so we only did the bare minimum of running – namely one installation lap.
"The afternoon's session started in slightly mixed conditions, the circuit was drying, but with damp patches, so there was little to gain from going out early. However, by the end of the session we got some useful mileage under our belts, and I'm happy with our progress."
David Coulthard set the 11th-fastest time, commenting tersely: "Bad weather, like we had this morning, condenses the practice sessions and running in changeable conditions is not ideal for analysing tyres, but it's the same for everyone so we just get on with it."
The Force Indias continued to perform well, and it was the Toyotas and Renaults who found themselves in the basement behind the Hondas.
Jenson Button, who was 15th, said: "The car feels very different today to the test here at the end of August. I have a lot more confidence in the braking stability and we have made other positive changes to the mechanical balance.
"Considering that we were not able to complete many laps today, we have certainly made a step in the right direction since the test. However there is still a great deal of work required this evening to look at how we can progress from here over the rest of the weekend."
Practice times
Times for session two
Kimi Raikkonen, Ferrari: 1:23.861 (31 laps)
Robert Kubica, BMW Sauber: 1:23.931 (26 laps)
Nick Heidfeld, BMW Sauber: 1:23.947 (29 laps)
Lewis Hamilton, McLaren: 1:23.983 (25 laps)
Nico Rosberg, Williams: 1:24.110 (33 laps)
Felipe Massa, Ferrari: 1:24.247 (34 laps)
Heikki Kovalainen, McLaren: 1:24.365 (29 laps)
Mark Webber, Red Bull: 1:24.521 (35 laps)
Adrian Sutil, Force India: 1:24.669 (22 laps)
Sebastian Vettel, Toro Rosso: 1:24.773 (35 laps)
David Coulthard, Red Bull: 1:25.100 (25 laps)
Sebastien Bourdais, Toro Rosso: 1:25.192 (39 laps)
Giancarlo Fisichella, Force India: 1:25.204 (24 laps)
Rubens Barrichello, Honda: 1:25.296 (25 laps)
Jenson Button, Honda: 1:25.309 (34 laps)
Kazuki Nakajima, Williams: 1:25.330 (28 laps)
Timo Glock, Toyota: 1:25.397 (28 laps)
Fernando Alonso, Renault: 1:25.481 (22 laps)
Jarno Trulli, Toyota: 1:25.753 (29 laps)
Nelson A Piquet, Renault: 1:26.195 (23 laps)
Times for session one
Adrian Sutil, Force India: 1:32.842 (18 laps)
Rubens Barrichello, Honda: 1:33.428 (14 laps)
Giancarlo Fisichella, Force India: 1:33.695 (19 laps)
Timo Glock, Toyota: 1:36.800 (13 laps)
Nico Rosberg, Williams: 1:36.900 (9 laps)
Fernando Alonso, Renault: 1:36.965 (10 laps)
Sebastien Bourdais, Toro Rosso: 1:37.142 (20 laps)
Jarno Trulli, Toyota: 1:37.214 (13 laps)
Kimi Raikkonen, Ferrari: 1:37.392 (5 laps)
Sebastian Vettel, Toro Rosso: 1:37.754 (13 laps)
Nelson A Piquet, Renault: 1:38.057 (11 laps)
David Coulthard, Red Bull-Renault: 1:38.303 (7 laps)
Jenson Button, Honda: 1:39.062 (12 laps)
Felipe Massa, Ferrari: 1:40.233 (5 laps)
Nick Heidfeld, BMW Sauber: no time
Kazuki Nakajima, Williams: no time
Robert Kubica, BMW Sauber: no time
Heikki Kovalainen, McLaren: no time
Mark Webber, Red Bull: no time
Lewis Hamilton, McLaren: no time