The similarities are striking – two Brazilian drivers trying to continue a recent run of good form and eat into world championship leads, both apparently on their way to commanding race victories.
Both commit illegal and potentially dangerous acts and, in each case, a punishment during the race would hand victory to an Englishman who would otherwise be unlikely to do better than second place.
But there the similarity ends.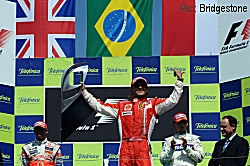 In Formula One's European Grand Prix Felipe Massa suffered no race penalty after he was released from a pitstop into the path of another car. Only the Ferrari driver's swift reaction prevented an accident that would have blocked the narrow pitlane.
Despite the obvious breach of regulations, the same stewards that had given a GP2 driver an immediate drive-through penalty for a similar offence waited until after the race to punish Massa's team with a fine.
An equivalent penalty to the one handed out to Karun Chandhok would have given victory in the race to McLaren's Lewis Hamilton.
By contrast, in the Detroit Indy Grand Prix Helio Castroneves suffered immediate retribution from race stewards when he was judged to have illegally blocked an overtaking attempt.
The Team Penske driver had lost a 16 second lead because of a yellow flag safety period and found Justin Wilson breathing down his neck. When the Englishman tried to take advantage of a faster run out of turn 12 to pass him, Castroneves twice cut across the track to block him.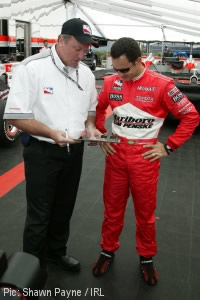 Chief steward Brian Barnhart responded by ordering the Brazilian to surrender the lead to Wilson, who went on to take his first IndyCar series win.
Barnhart – who issues a warning about blocking before every race – said: "He clearly moved his car to impede the progress of a following car and moved his car in response to the actions and the line taken by a following car.
"That's what we tell them in the drivers' meeting every week. We made the same decision early in the race with the Manning and Junqueira cars and, unfortunately, you have to call it like you see it."
But the F1 stewards failed to do that. Why?
Perhaps because Formula One does not have a figure like Barnhart, permanently in place and therefore able to build up the strong personal authority and self-confidence necessary to over-rule the vocal and strong-willed characters at the helms of the teams.
Back in 2002, Max Mosley said: "There is a body of opinion that says you should have permanent people dealing with these matters at every race. The problem is if you do that, they become part of the circus. They get to know everybody; they have got their friends and enemies in the paddock, and they are not independent."
Subsequent to that, Tony Scott-Andrews served as permanent steward for two years – but when he retired at the end of last season the system was changed again. Now, each race has a panel of three stewards with Mosley ally (and former Ferrari consultant) Alan Donnelly as permanent non-voting advisor.
It's not as if Formula One is incapable of producing respected administrators – permanent race director Charlie Whiting and former chief medic Sid Watkins spring to mind.
But the failure to replace Scott-Andrews with a strong, independent personality who could grow in stature over a number of seasons is enormously telling.
Critics of Barnhart's ruling say he was heavy-handed and should have allowed Castroneves to go unpunished to avoid meddling in the driver's slim hopes of challenging for the title at the season's final race next weekend.
And it's never good in any sport when the referees come to dominate the athletes.
But no sport can claim to be healthy if the people responsible for enforcing the rules appear to lack the strength of character to do what needs to be done, when it needs to be done, equally to all teams and all participants.
F1 breeds big characters. If it wants to avoid its good decisions being questioned and its bad decisions being ridiculed then it needs to breed one big enough to do what Barnhart did.
No matter whose feathers are ruffled in process.