This weekend the F2 championship kicks off its 2010 season with two rounds at Silverstone and a grid of 22 drivers including Brits Will Bratt, Dean Stoneman, Paul Rees, Jack Clarke, Tom Gladdis and Jolyon Palmer.
Yesterday we covered qualifying – and today we are here on the spot to bring you the sights and sounds of a brand-new season of motor racing at Silverstone. We'll update this post throughout the day with pictures, reports and anything else interesting that happens, so do check back.
– – – – –
Post-race quotes
Jolyon Palmer: "I just held back and saved some boosts at the start and let Philipp and Dean have a bit of a scrap and slow each other down, which they didn't actually. When Dean had his problem I went all out to catch Philipp. I had quite a lot of boosts left at the end but I couldn't get close enough in the corners before the long straights."
Johan Jokinen: "I spent two laps using the boost button to get close to [Clarke] and maybe make him make a mistake – which he did."
– – – – –
Race two
Philipp Eng, whose hopes in the first race were dashed by damaged aero parts, won race two from pole despite the dogged efforts of Jolyon Palmer.
Eng built a lead from the start, only to have Dean Stoneman – who had jumped Palmer at the start – close in on him. But just as Stoneman was close enough to strike he slowed to a halt out on the circuit.
Any hopes Eng might have had of an easy victory disappeared as Palmer gradually clawed back the difference, but the race one winner used the last of his power boosts without getting close enough to try an overtake.
Further back, Jack Clarke ran third for most of the race following Stoneman's retirement but lost the place to a late move by Johan Jokinen. He did, however, hold off Will Bratt to retain fourth.
Behind Bratt came Sergey Afanasiev, Kazim Vasiliauskas and Mihai Marinescu, with Armaan Ebrahim in ninth and Nicola De Marco 10th for the final point. Paul Rees came 13th while, for the second race in a row, Tom Gladdis crashed while running strongly.
Race two results
Philipp Eng (AUT): 38:07.958
Jolyon Palmer (GBR): +0.807
Johan Jokinen (DEN): +16.230
Jack Clarke (GBR): +20.571
Will Bratt (GBR): +21.418
Sergey Afanasiev (RUS): +28.067
Kazim Vasiliauskas (LIT): +33.443
Mihai Marinescu (ROM): +35.331s
Armaan Ebrahim (IND): +45.026s
Nicola De Marco (ITA): +46.869
Benjamin Bailly (BEL) +47.747
Natalia Kowlaska (POL) +52.187
Paul Rees (GBR) +53.632
Ricardo Teixeira (ANG) +55.003
Ivan Samarin (RUS) +56.655
Parthiva Sureshwaren (IND) +1:12.674
Plamen Kralev (BUL) +1:24.144
Ajith Kumar (IND) +2 LAPS
Benjamin Lariche (FRA) +3 LAPS
Not classified were Kelvin Snoeks, Dean Stoneman and Tom Gladdis.
– – – – –
Support races
Today, in addition to the GT Cup Championship and Trofeo Abarth races we saw yesterday is the Heritage Grand Touring Car Challenge, described as the the leading race series in Britain for sports, saloon and GT cars from the 1960s and 1970s.
If you like the sound of this you will be able to catch it supporting the BTCC at Snetterton on August 7-8.
This weekend represents a rare and wonderful opportunity for club racers. They are getting to run on the full Silverstone grand prix circuit and winners are getting a full international podium ceremony including champagne, national anthem and post-race interview.
Given the nature of club racing this means a number of outings for the British National Anthem as started off this morning by Jenson Button in Shanghai. But just put yourself in their shoes (or racing boots) for a minute and ponder just what this means for your part time or amateur racing driver.
– – – – –
Behind the scenes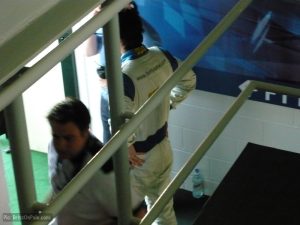 Top of today's sights has probably been eavesdropping from the stairs above the podium as Jonathan Palmer waited to award the trophies for race one – not just as a series promoter who has seen his first race of the season go off without major incident, but as a proud dad too. "That was alright, wasn't it," he observes happily as he prepares to hand the winner's trophy to his son Jolyon.
Palmer fils is the first British driver to win a race in the revived era of Formula Two and also the first to take a win since Palmer père won in Mugello, Italy, in 1983. As you can imagine, this statistic is giving considerable satisfaction.
On race day there are plenty of interesting people about. GP2 driver Sam Bird is here and one member of the F2 grid, Ajith Kumar, is trying his hand as a racing driver as a diversion from his first career as a leading Indian film star.
Admittedly he is just three months younger than David Coulthard and not very fast. But, needless to say, he is a particularly popular target for autograph-hunters, and he responds to all requests with graciousness and humility.
– – – – –
Race one press conference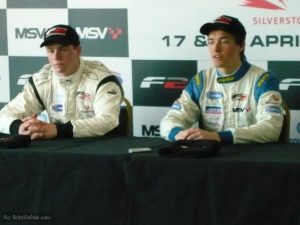 Jolyon Palmer: "It's fantastic, all I could have hoped for really. It was a good race, Dean was pressuring me at the start but I managed to hold it off and get a small gap. Then I was just concentrating on saving my tyres for the last laps, not making any mistakes and making sure I didn't lose focus, because that was the only thing that could have stopped me At the start Dean was just behind me so I used a couple of boosts early on to try and build a bit of a gap."
Dean Stoneman: "It didn't go to plan off the start line, I bogged down quite a bit, but overall the first lap was good. Second place is good enough. We built a gap from third place but unfortunately I span and had to use my boosts so the third-placed person didn't come close to me."
– – – – –
Race one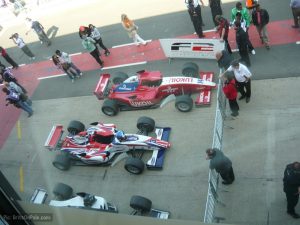 Jolyon Palmer took his maiden win from pole, keeping a cool head to control the race from lights to flag and becoming the first Briton to win a Formula Two race since his father Jonathan. Fellow Brit Dean Stoneman also drove a strong race to come second.
Stoneman kept the pressure on Palmer during the opening laps but lost ground after a spin at Becketts. He was, however, far enough ahead of third-placed Sergey Afanasiev to return to the track and hold his position. He eventually finished the race not much more than three seconds behind Palmer.
While Palmer got away well, second-placed Johan Jokinen had a dreadful start that plunged him down the field, handing Stoneman second. Soon after he retired.
Fighting for position in the early stages were Afanasiev, Phillipp Eng and Kazim Vasiliauskas after the Lithuanian got by Will Bratt. Their internecine battles allowed Palmer and Stoneman to open a gap.
But Eng and Vasiliauskas could not match Afanasiev's pace and, as the race wore on, all three drivers maintained position until the finish, handing Afanasiev a podium on his F2 debut.
Will Bratt experienced a lonely sixth place, more than 11 seconds ahead of Mihai Marinescu and Armaan Ebrahim.
With Formula Two following the new F1 points system for 2010 it means that points are awarded to the top ten drivers in each race, which will be some consolation for series returnee Nicola De Marco who took ninth ahead of debutant Benjamin Lariche.
Race one results
Jolyon Palmer (GBR): 1:38.985
Dean Stoneman (GBR): +3.011
Sergei Afanasiev (RUS): +7.084
Philipp Eng (AUT): +9.932
Kazim Vasiliauskas (LIT): +11.581
Will Bratt (GBR): +12.383
Mihai Marinescu (ROM) +23.825
Armaan Ebrahim (IND): +26.881
Nicola Demarco (ITA) +31.843
Benjamin Lariche (FRA): +34.242
Benjamin Bailly (BEL) +35.835
Kelvin Snoeks (NED) +37.416
Paul Rees (GBR) +45.008
Natalia Kowalska (POL) +49.185
Plamen Kralev (BUL) +1:05.155
Parthiva Sureshwaren (IND): +1:22.842
Ricardo Teixeira (ANG) 1 LAP
Ajith Kumar (IND) 1 LAP
Not classified were Johan Jokinen, Tom Gladdis and Jack Clarke while Ivan Samarin was disqualified.
– – – – –
Photo gallery