A1GP's British arm has been wound up in the High Court after creditors chasing unpaid bills applied for it to be shut down, leaving 40 staff working without pay and lending new urgency to the series' planned restructuring.
The series is blaming cashflow problems for its inability to pay suppliers such as Essex-based Shakespeare Engineering, which applied on May 12th for an order to wind up the UK company A1 Grand Prix Operations Ltd.
The liquidation is unconnected to the financial troubles of the British team, which went into administration during last season – although papers filed at Companies House show that Team GBR collapsed owing A1 Grand Prix Operations Ltd more than £220,000, which can't have helped the series pay its bills.
Shakespeare Engineering's petition to wind up the company was published on June 8 and heard on the 24th, with the Northampton Chronicle and Echo reporting that a compulsory court order to wind up the business was issued.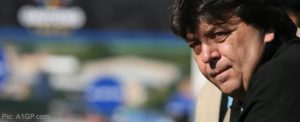 A1 Grand Prix Operations Ltd is a UK subsidiary of the British Virgin Islands-based A1 Holdings, while chairman Tony Teixeira operates out of South Africa and has bought land by the new Portimao circuit in Portugal to build a new European base for the series.
This suggests that A1GP's planned restructing, announced late last season and aimed at streamlining the series for its fifth year of operation, might well have included a withdrawal from the UK. A1GP has offices at Silverstone and employs 40 staff there and in London. Teixeira is a director of A1 Grand Prix Operations Ltd.
The Daily Telegraph suggests that Teixeira is talking about re-employing the staff through "another vehicle in the next few days", while the Northampton Chronicle and Echo report says that Silverstone staff are currently working unpaid, with a court appointment of an administrator possible soon.
It quotes series spokeswoman Ann Bradshaw as saying: "We are currently working on restructuring the whole series and are looking to reduce costs, as many motor racing series are.
"We are hoping to get the money in the very near future to be able to pay our creditors. Every member of staff is still working to make sure series five is up and running and we have absolute confidence it will be."
Despite that belief, question marks have hovered over the series since at least its New Zealand race weekend last season where reports suggested the event was only able to go ahead after the Team New Zealand seatholder, Colin Giltrap, personally dipped into his pocket to pay some of the costs.
Many of the factors surrounding A1GP are positive, with a notable upswing in the standard of drivers and commercial partners last year, and the expectation of several circuits paying fees to stage races next season. If the series can survive into its fifth season its future is bright.
But even if this latest development merely pre-empts a decision that A1GP was going to make anyway, the High Court's order will do little to inspire confidence among fans, investors or potential sponsors that it will indeed make it that far.