The world of F1 got its first, long-awaited look at the car that's a leading contender for the 2009 World Championship on Friday – the McLaren MP4-24 with Lewis Hamilton's number one on the nose.
The new McLaren was unveiled at the team's Woking headquarters – and then promptly overshadowed by the announcement that team principal Ron Dennis would be handing over to his deputy Martin Whitmarsh.
But there was plenty to see on the car front, after modifications designed to meet F1's biggest rules overhaul for a decade saw a lower and wider front wing, and a taller, narrower rear wing. The idea is that different aerodynamic specifications will encourage more overtaking.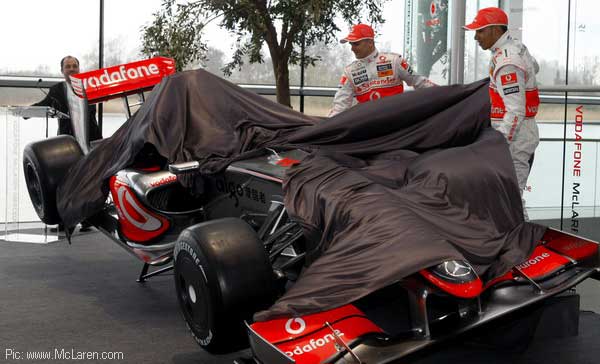 Other factors affecting aerodynamics include the banning of ancillary appendages, the addition of driver-adjustable front-wing flaps and a heavily revised diffuser.
Slick tyres are on their way back after an absence of more than a decade and there's also the option of the Kinetic Energy Recovery System – storing energy that would otherwise be lost during braking and serving it up in a power boost system.
KERS – curse or blessing?
It's unclear whether all teams will turn up at the Melbourne grid with the device installed – but McLaren is one team that is planning to do just that.
The MP4-24's KERS device has been developed in collaboration with and Mercedes-Benz which, according to the team, has been developing and refining the system for almost two years.
It says it has a fully-optimised KERS device capable of discharging a 80bhp boost for 6.7 seconds per lap and is now working on integration within the chassis in order to minimise performance loss elsewhere – for instance through the weight of the device, which is expected to cause even more problems for drivers who are taller or heavier than usual.
An optimised KERS package can generally be expected to deliver a 0.3-0.5s gain per lap.
New look: at least Lewis likes it
The new look has not been universally popular with fans, something acknowledged by the team, which says: "While still retaining the distinctive family look established with both the MP4-22 and MP4-23, this year's car is visually very different from its predecessors."
However Hamilton, speaking at the launch, said he supported the changes to the regulations: "I think it's important that F1 keeps moving forward and it's always been tough to overtake in the past so we need to get some of our competitiveness on the circuit back.
"Hopefully with the slick tyres, less downforce and Kers we'll be able to do that."
He also made it clear that he was targeting nothing less than a second consecutive world championship, saying: "This is now my third season and I've got my targets. I want the title again. The car looks beautiful and it's great to see the final outcome.
"But I certainly don't feel any extra pressure being champion. This season will be a whole new challenge for everyone, including me, because of the rule changes.
"I think this will be a very open season – no-one quite knows what to expect, and that should make it exciting – it's a great prospect for F1 fans."
The car has since been given its first run-out by McLaren's test and reserve driver Pedro de la Rosa, who put it though its paces in a private test at the Portimao circuit on Saturday.
And Ferrari, Renault, Williams and Toyota are all scheduled to join McLaren at the new Algarve circuit to start testing their 2009 cars this week.
More on the new car:
MP4-24 technical specifications:
Chassis: McLaren moulded carbon fibre/aluminium honeycomb composite incorporating front and side impact structures. Contains integral safety fuel cell.
Front suspension: Inboard torsion bar/damper system operated by pushrod and bell crank with a double wishbone arrangement
Rear suspension: Inboard torsion bar/damper system operated by pushrod and bell crank with a double wishbone arrangement
Suspension dampers: Koni
Electronics: McLaren Electronic Systems control units incorporating electronics for chassis, engine and data acquisition. McLaren Electronic Systems also supplies the electronic dashboard, alternator voltage control, sensors, data analysis and telemetry systems
Bodywork: One-piece engine cover and sidepod covers. Separate floor section, structural nose with integral front wing
Tyres: Bridgestone Potenza
Radio: Kenwood
Race wheels: Enkei
Brake calipers: Akebono
Brake master cylinders: Akebono
Batteries: GS Yuasa Corporation
Steering: McLaren power-assisted
Instruments: McLaren Electronic Systems
Engine:
Type: Mercedes-Benz FO 108W
Capacity: 2.4 litres
Cylinders: 8
Maximum rpm: 18,000 (FIA regulatory limit for 2009)
Bank angle: 90°
Piston bore maximum: 98mm (FIA regulation)
Number of valves: 32
Fuel: Mobil High Performance Unleaded (5.75% bio fuel)
Lubricants: Mobil 1 — for higher performance, lower friction and better wear resistance
Weight: 95kg (minimum FIA regulation weight)
Transmission:
Gearbox: Seven forward and one reverse
Semi-auto: Yes
Driveshafts: McLaren
Clutch: Hand-operated