For the second season running Sebastian Vettel has delivered his team their maiden victory with a stylish and composed wet weather drive, this time leading home a Red Bull 1-2 ahead of Mark Webber in China.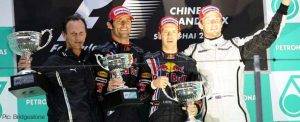 But unlike last year, when he gave underdogs Toro Rosso their first-ever triumph at Monza, his rivals will be uncomfortably aware that the young super-star has a car capable of challenging the front-runners in every race.
"It's unbelievable — I'm so, so happy," he said. "Ten laps from the end, I tried to control the gap between me and the car behind and adapt my pace. I was trying to have everything under control, but it was difficult.
"At some points, I was trying to bring the car home, but that meant I lost focus, so then I just tried to take it corner by corner, not looking too far ahead. On the last two laps I backed off a bit, as I didn't want to risk aquaplaning on the water at the side of the track.
"And then… well it's just fantastic. Winning my second race, one with Toro Rosso and one with Red Bull, makes me extremely happy and I hope we can continue working in this direction. I'm extremely proud and happy."
Webber, more subdued but no less sincere, added: "We were absolutely shitting ourselves that the cars wouldn't finish the race because, every time we ran yesterday, they stopped."
Behind the two Red Bulls and the two Brawns came the two McLarens, with Heikki Kovalainen shrugging off his previous failure to complete a single lap in the previous two races to beat home Lewis Hamilton. The defending world champions span repeatedly in the course of a race that also saw him overtake Kimi Raikkonen three times.
The final points went to Timo Glock for Toyota, who started from the pits, and Toro Rosso's Sebastien Buemi, whose impressive charge to the front was halted when he whacked the back of Vettel's car – fortunately without causing lasting damage.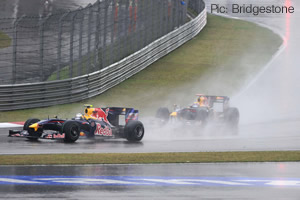 It wasn't meant to work out quite like that – rather, the story of the Chinese Grand Prix was supposed to be a battle between two different race strategies.
The Brawn GP cars of Jenson Button and Rubens Barrichello, poised at fourth and fifth on the grid, would run long with their greater fuel loads and hope to overhaul the lighter Red Bulls and Renault's Fernando Alonso at the first round of pitstops. Meanwhile, the runners carrying less fuel would use their short first stint to get rid of the unloved softer tyres and hope to benefit from a longer run on better rubber.
Instead, for the second race in a row, the FIA's determination to ignore local weather conditions when planning its schedule threw the script out of the window. While never hitting Malaysia's monsoon levels, the Shanghai showers were heavy enough to force the field to start under the safety car. Alonso's chances of victory – as well of those of the useful-looking Nico Rosberg – were over even before the racing properly began.
At the front, Vettel was untroubled. Button headed him briefly as the differing fuel strategies played out, but the Brawn GP cars never looked a match for the Red Bulls in the wet, and the Englishman's main battle turned out to be an unsuccessful defence of second from Webber.
He said: "It was a difficult race and every lap you thought you were going to throw the car off, so to finish the race is an achievement and to come home on the podium is great. We couldn't challenge these two guys today, they were immensely quick. But it's great to get six points on the board."
Webber enjoyed the head-to-head with Button: "After the second safety car stint, I had a good scrap with Jenson. On my official lap at the front, I couldn't believe how clear it was – I thought 'Oh my God, it's beautiful!' I then pushed like hell to make up as much time as possible — it was fantastic.
"When Jenson re-passed me, I was very keen to try win the race, so I passed him around turn seven as I knew he wouldn't know I would be there, it was one of the best moves of my career."
Barrichello spent first third race with the added handicap of only having three working brake discs, and showed signs of disappearing back into the chasing pack before hauling himself up to fourth: "We got the car to the end of the race in difficult circumstances and I scored as many points as I could have done, so we have to be happy with that," he said.
Ross Brawn added: "Congratulations to Red Bull for their one-two performance today. We know from Australia what a fantastic feeling that achievement is and I'm sure they will enjoy every minute of it."
Kovalainen felt he had done as well as he could have hoped: "The visibility was unbelievably poor — especially during the first few laps after the safety car came in. Our strategy was spot on: finishing higher than fifth was not possible today and I'm very pleased to have scored four solid points without making a single mistake, despite some massive moments."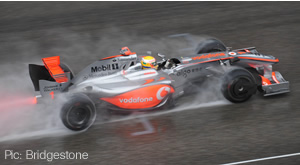 Hamilton put his repeated off-track incidents down to not properly looking after his tyres: "It was almost too difficult to drive at the beginning of the race, but I found a good pace and had some fun in the opening laps – although unfortunately I destroyed my tyres quite early on.
"I made a few too many mistakes today. It was very slippery and my front-left tyre was finished long before the end but I still gave it my best. This afternoon was a real struggle but I'm glad I got some points for the team."
Ferrari, along with BMW and Renault, had a miserable day. Felipe Massa's car simply died on him and he cruised to a halt on track from third place. "Without warning, the accelerator would not work and the car went quiet," he said. Raikkonen disappeared down the field in the pit stops and finished out of the points to continue the team's worst-ever start to the season.
"I would say to our fans that they should not give up on us, as this is a difficult moment, but the championship is still long," said Massa optimistically.
The BMWs both saw their race positions wrecked by accidents. Robert Kubica hit standing water at the very moment he needed to slow to avoid a braking Jarno Trulli, hitting the Italian's tail and being sent rearing up into the air. He was able to continue racing, Trulli was not.
And Heidfeld lost four places – and a points finish – late in the race when he was hit by debris from Adrian Sutil's disintegrating Force India.
Just as in Monaco last year, Sutil drove an impressive race in the wet and was due to score his team's first-ever points when the conditions caught him out and he crashed from sixth place. The nose of his car was left embedded in the tyre wall and a wheel, complete with suspension arms, bounced across the track in the path of Heidfeld.
"It's a shame – you focus so much and think you can do it, but the car was just out of control at the end. I had the same feeling as Monaco – it's hard to believe when you are in the car and then suddenly you lose it and it's all over from such a great position," said Sutil.
Final classified positions
Sebastian Vettel
Mark Webber
Jenson Button
Rubens Barrichello
Heikki Kovalainen
Lewis Hamilton
Timo Glock
Sebastien Buemi
Fernando Alonso
Kimi Raikkonen
Sebastien Bourdais
Nick Heidfeld
Robert Kubica
Giancarlo Fisichella
Nico Rosberg
Nelson Piquet Jnr
Adrian Sutil
Not classified
Kazuki Nakajima
Felipe Massa
Jarno Trulli