It's a comparison that had come to us more or less as soon as we heard the bitter-sweet news that Justin Wilson had rescued his 2009 IndyCar season by landing a drive with Dale Coyne Racing – yet another team struggling to stay afloat in difficult times.
Anyone who followed Formula One over the last few years was immediately reminded of his time at Paul Stoddart's Minardi team, where Wilson's fight to earn the right to lap at the back of the field included selling shares in himself to fund the drive.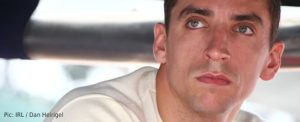 Minardi has long since been transformed into Toro Rosso, which even wins the occasional race, and Formula One has moved on.
But here Wilson is, in a remarkably familiar situation, with his role as Sebastien Bourdais' heir apparent wrecked by the Champ Car / IRL merger and his race-winning drive at Newman/Haas/Lanigan gone due to his perennial sponsorship woes.
In the circumstances Dale Coyne must have seemed like a godsend – but wasn't it horribly familiar?
This question was recently put to Wilson following his remarkable trip to a third-place finish at the recent St Petersburg race, where he turned the form-book on its head and came close to winning.
He told Marshall Pruett, in an interview for SpeedTV.com on the eve of the Long Beach race, that some of the experience was indeed similar: "We have to fight like we did at Minardi, and everyone is trying really hard.
"We see this more as modern challenge; Dale's been here for a while, but we see it as a young programme which we're building on right now.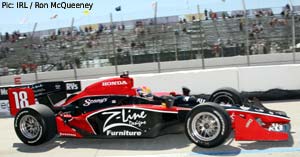 "We've got a new sponsor this weekend with Z-Line and they've committed for the year, which was similar to the deal at Minardi. All the dollars we could find went into improving the car and improving our odds.
"We're just working on going forward, trying to build the team up and trying to put everything in place for us to be strong throughout the rest of the year. So in some ways I think what we're doing here it's similar."
He said that the Minardi comparison broke down when it came to the car he's driving – IndyCar, unlike Formula One, uses a series car common to all competitors. But slim resources can still mean a big performance disparity between the frontrunners and back-markers.
"I'd not really thought about Coyne and Minardi in the same respect you have, but we see this in similar terms – as a building process – and you've got to put the foundations in first.
"It's fun, providing you're building a team the right way. And that's the nice thing we have right now, is you feel like you can make a difference but you feel like the whole team is growing and gaining strength and that's fun to be a part of."
He said that the St Pete podium had been great for team morale and for helping to build a determined unit.
"There's nothing worse than being on a team that's just stagnant and you're not going anywhere, you're not doing anything. Everyone here is pretty determined to get up there and make last week a regular occurrence and make sure we can do that week in, week out."
It's a battle that resumes later today around the streets of Long Beach, where Wilson qualified fifth – directly ahead of reigning champion Scott Dixon, his successor in the #02 McDonald's car Graham Rahal, and returning two-time Indy 500 champion Helio Castroneves.
He built his career on dragging his Minardi into positions on the track where no-one expected to see it – and, in that sense, it's business as usual for the Yorkshireman.