Three races into the season and we're back in China already – where it's raining and all bets about tyre strategies are off.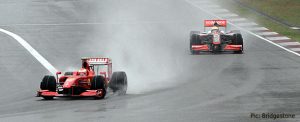 The engine to have in qualifying was the Renault, with the Red Bulls and Fernando Alonso up the front – but the Brawns are lurking dangerously, and both Nico Rosberg and Jarno Trulli are well placed to gatecrash the party too.
Further back, the Ferraris and McLarens are lined up next to each other – which should be fun at the first corner – while Robert Kubica and Timo Glock will be trying to charge through from the back.
Follow all the action with us live here – the most recent updates will be just under the line below, so keep refreshing for the latest updates.
– – – – –
Post-race: We wonder if Mike Gascoyne, unemployed aerodynamicist supreme who has spent the weekend in the paddock for the BBC, has had an offer to sort out the back end of anyone's car yet…
– – – – –
Podium: Vettel celebrating like mad. Webber, as is not uncommon in these circumstances, considerably more subdued – shades of Nick Heidfeld's terrible disappointment in Canada last year. Commentators remind us that Webber has done this coming back from his horrible bike accident and smashed-up leg in the winter.
And here's Jense coming through to join them, smiling and very good-naturedly shaking hands with Christian Horner, who is hugging his drivers like a crazy man. The movement of young Vettel to Red Bull means that we've lost the Schumacher anthem combination – well, it used to annoy us. Instead, Milton Keynes' finest get their moment of recognition.
It's great to see Webber on the podium celebrating his best-ever Formula One result – it's been long enough in coming, poor man. Coulthard, very nobly, says he's delighted for them.
– – – – –
Lap 56: And the Red Bulls, Brawns and McLarens come home in formation. Dietrich Mateschitz has certainly spent a few billion getting here. For us, the revelation that he is known as 'Didi' to Gerhard Berger easily matched Australia's Smedleygate. Desperate relief on the face of Christian Horner. Incoherent noises and profuse thanks come over Vettel's radio. Alonso ninth and Raikkonen tenth, both having failed to make anything of their day. The race has finished with just a couple of minutes to go before the clock was due to run out on it.
– – – – –
Lap 55: Yellow flag, out for Sutil's crash, comes in. Christian Horner, pictured on the pitwall, looks like he's laying an egg. Legard quote of the day: "Just because you've done 54 laps doesn't mean you are going to do 56." Unarguable logic… Vettel one lap away from the chequered flag.
– – – – –
Lap 54: Hamilton is coming up on Kovalainen but you would hope that they will be sensible enough to hang on for the available points now.
– – – – –
Lap 53: Hamilton is back to sixth with Glock, Buemi, Heidfeld, Alonso, Bourdais, Raikkonen, Kubica, Fisichella and Rosberg behind him. Four laps left. Looks like Charlie Whiting is holding off on the safety car.
– – – – –
Lap 52: Sutil is OK but there's not much more of the car left than the safety cell and the nose is spiked into the tyre barrier like a dart aiming for double top. No-one else implicated – he just lost the car and the race could end, as it started, under the safety car. Looks like he hit a patch of water.
– – – – –
Lap 51: Rosberg 20 seconds off the pace on his inters. Heidfeld aquaplanes but doesn't lose the place. And suddenly there's a car in bits in the gravel, heartbreakingly it's Sutil.
– – – – –
Lap 50: Hamilton is now behind Sutil! That's about his fourth spin of the race – but great news for Force India…
– – – – –
Lap 49: The two McLarens are hunting down Rubens Barrichello who, for whatever reason, is not getting the optimum performance from his car at present. Rosberg has just taken a huge sideways trip across the trip and into the gravel but manages to keep going. A damn good thing that Button stayed off the inters. Order is Vettel, Webber, Button, Barrichello, Kovalainen, Hamilton, Sutil, Heidfeld. Glock and Buemi are hard on the heels of Heidfeld.
– – – – –
Lap 48: Lewis Hamilton's been off which means he's swapped places with team-mate Kovalainen and is now running sixth.
– – – – –
Lap 47: Piquet is parked up again – he spins going into the pitlane donuts the car to get it going after what sounds like a slide down the barrier. A moot point as to whether he intended to enter the pit lane at all. Another lap, another new nose…
– – – – –
Lap 46: Heidfeld and Glock are right up behind Sutil, which means the Force India points dream finish is looking very shaky. Red Bull looking good for the kind of dream one-two first win that Brawn GP enjoyed in Australia.
– – – – –
Lap 45: Nakajima has retired – but is unlikely to be sorely missed by anyone, frankly. Roughly 25 minutes of the race time allocation left.
– – – – –
Lap 44: Rosberg's inters decision looks a bit poor, as he is slow. Barrichello pits and comes out fifth.
– – – – –
Lap 43: Button pits and puts on wets. He comes out in fourth behind Nakajima. Ahead of him are Vettel, Webber, Barrichello, behind him Buemi, Hamilton, Kovalainen and Sutil. Then Heidfeld, Glock, Alonso, Raikkonen, Bourdais, Rosberg, Kubica, Fisichella, Nakajima, Piquet. Two retirements: Trulli and Massa.
– – – – –
Lap 42: Nico Rosberg pits for a very brief stop. He's gone onto inters – canary in the mine? If he triggers a stampede to the pits, that could change things…
– – – – –
Lap 41: Vettel is straight past Button on the straight. Button defends but can't do a lot, despite having the dry line. Vettel is leading.
– – – – –
Lap 40: Glock has overtaken Raikkonen but it's less certain whether he's managed to make it stick.
– – – – –
Lap 39: Vettel is really taking it to Button, meaning the result is still completely open. If Sutil scores, Ferrari will be the only team with no points. Webber pits, but Vettel is flying, setting fastest laps and taking a second out of Button. Webber will rejoin in third, ahead of Barrichello. Red Bull are telling their drivers they believe Button will have to stop again but they are less certain about Barrichello.
– – – – –
Lap 38: Top eight are Webber, Button, Vettel, Barrichello, Buemi, Hamilton, Sutil, Kovalainen. Alonso spins and is parked up as lots of other cars drive past him. He winds up in ninth behind Kovalainen. Webber is probably going to have to stop again, so this is actually now looking very nice for Button.
– – – – –
Lap 37: This looks increasingly like Red Bull's race, as long as the Luck of Webber doesn't strike, and the two drivers keep their heads and don't start duelling for position. Vettel pits at the end of the lap with plenty of time in hand. Quite a long stop, Button has taken the lead.
– – – – –
Lap 36: Alonso pits. Buemi and Kovalainen go through. He comes out ninth. Speculation that Hamilton will finish fourth or fifth. Kubica finally comes in for a new nose and the mechanics have a fair old job getting the old one off. Bourdais spins and beaches the car right in the middle of the circuit – manages to get it onto the verge – not clear if he's running or not. Not a superb season start for him either.
– – – – –
Lap 35: Brundle points out that if Kimi Raikkonen fails to score a point today, this will be Ferrari's worst start to a season for 27 years. And they have never, ever, taken no points from the first four races. This may well let Kimi Raikkonen off the hook – he can claim the problems are the car's not his, but equally he's not giving Ferrari any excuse at all to hang on to him, is he? Jean Todt viewed on the grid earlier, which was an odd throwback. If Heidfeld finishes this race he will equal Schumi's record for the highest number completed. If he finishes – Kubica is being childish, refusing to retire his damaged car, holding up Heidfeld and quite a number of other drivers too.
– – – – –
Lap 34: Hamilton finally pits, comes out eighth.
– – – – –
Lap 33: Hamilton lapping among the fastest on the track – but he hasn't pitted yet, so we can imagine he is on fumes and about to come in. Ditto Heikki.
– – – – –
Lap 32: Could this be Webber's maiden win? Button is glimpsed through the spray doing a tyre-warming manoeuvre on the straight – or he could be trying to dislodge Piquet's bits of polystyrene…
– – – – –
Lap 31: Button has rather cheekily taken a Red Bull – Webber, but the Aussie is having none of it and he has retaken the place. This looks like being a running battle. 25 laps remaining.
– – – – –
Lap 30: Kimi pits – now well out of the points. Whoops – Jenson Button has fallen back to third – he's gone wide and recovered quickly but it was enough to let Webber through. With Vettel leading, this looks excellent for Red Bull, who we rather guiltily swapped in for McLaren in our fantasy F1 league last week. Hamilton and Kovalainen are fourth and fifth with Barrichello sixth, then Buemi, Alonso, Bourdais, Sutil, Kubica, Fisichella, Heidfeld, Rosberg, Raikkonen, Glock, Nakajima, Piquet.
– – – – –
Lap 28: Nakajima ends up in the gravel and yellow flags fly – but not for him. In fact, it's Piquet in pieces – it's like having teeth pulled as he struggles to get his car back on the rode., he's got no nose but manages to drag it back onto the circuit – along with acres gravel and carbon fibre. Off he went in standing water, smashing through an advertising hoarding that was the same colour as his car. Polystyrene debris flying everywhere like popcorn popping out of a saucepan. The man has no dignity whatsoever, does he? Meanwhile, a Force India wobbles – are the tyre all going off or is driver skill (or lack of) starting to show?
– – – – –
Lap 26: Alonso is hassling Buemi who seems to have lost his spark in the recent troubles. Alonso has to fall back. Visibility is still terrible.
– – – – –
Lap 25: Kubica has just been cruised past by a Force India – not what he was expecting from 2009. His car is monumentally messed up after his assault on Trulli.
– – – – –
Lap 24: Glock has had to pit again with some of his front wing gone. Commentators speculating that something has been amiss with Barrichello's car since his last pitstop.
– – – – –
Lap 23: Another little bit of drama as a Toro Rosso jigs all over the track trying not to overtake under the safety car. Another chapter in the Hamilton – Raikkonen duel with Hamilton currently in front. Kovalainen nearly loses it but hangs on. Vettel clearly the fastest driver at the moment. Button looks slower than Webber behind him but that could be the fuel he's just put in. Alonso has a place off Nakajima – he's been very quiet, could come to life later in the race. Hamilton is now up to fourth. It would be good if he could hold the position – as we have seen before this season, KERS gives him a boost to get a position but he can't then necessarily hold it. Massa has made it back to the pits.
– – – – –
Lap 22: Safety car comes in at the end of this lap and the race is on. While we're approaching the half-way mark on time, we're only a third of the way through on laps, so we might be on the clock rather than the lap counter.
– – – – –
Lap 21: Telly reduced to showing shots of the safety car drivers again. We hope they have been enjoying their moment in the spotlight. Brundle theorises that Buemi was caught out by Vettel busily not overtaking Button under the safety car. Massa has come to a sudden halt and is getting out of his car. Sounds like engine failure. We hope he's not got too long a walk to the pits… Top five was Vettel, Button, Massa, Webber, Raikkonen but now the Finn has inherited fourth.
– – – – –
Lap 20: Button has a spot of drama behind the safety car as, warming his tyres, he nearly takes them over a big bunch of carbon fibre. It looks like Buemi might have retired, or at least gone significantly down the field. We are expecting a post-race outburst from Der Seb along the lines of "this is what happens when you put ****ing kids in ****ing Formula One cars…"
– – – – –
Lap 19: Jense takes advantage of the safety car to pit. Sebastien Buemi either has the debris of someone else's car embedded in his rear wing or he's had a shunt as well. Barrichello arrives in the pits as Button leaves and come out seventh, ahead of Kovalainen. Whoops – it looks like Buemi and Vettel had a little incident. Trulli has been retired, it has been obvious for a while his car was sick.
– – – – –
Lap 18: Jarno Trulli's in the pits with no rear wing. Robert Kubica's in with no nose. Draw your own conclusions. They've found a replay and Kubica has given his Toyota colleague a hell of a rear-end shunt, the kind that makes 'shunts of the season' highlights packages. For a moment it looks remarkably like they are trying to make little Formula One cars… Carbon fibre all over the track, safety car is back out.
– – – – –
Lap 17: Buemi is suddenly alarmingly close to the front – in P4. So surprising is this that everyone takes him for Mark Webber. Top eight is Button, Barrichello, Vettel, Buemi, Massa, Webber, Raikkonen, Hamilton. So the Ferrari driver has got his place back and there is speculation that Hamilton's had another spin. Trulli still going backwards – Kovalainen, Bourdais and Glock are all past him.
– – – – –
Lap 16: Vettel pits, which should put Button at the front of the field. It would have been Barrichello, but the Brazilian had a slight off earlier and let his team-mate past. Vettel, dangerously, is back in third. Hamilton's past Raikkonen again, or is he? Yes, although Raikkonen gave a scary wobble as Hamilton was going past. Too much history here to take these incidents lightly.
– – – – –
Lap 15: Mark Webber pits from the dizzy heights of second. That is earlier than expected. Vettel is off up the road and putting in very fast lap times. Raikkonen is having a fight with Trulli and straight past, taking Hamilton with him.
– – – – –
Lap 14: Heidfeld has spun and come to a stop, but he recovers and manages to carry on. Possible damage to his front wing. Massa has had a go at Trulli but failed to make it stick. Sounds like it was Glock who nudged Heidfeld and he's the one, not the BMW Sauber driver, who now has a dodgy car. Massa has got past Trulli. Hamilton has got past Kovalainen.
– – – – –
Lap 13: Still actively raining – the two biggest winners so far are Hamilton and Massa who have both pulled up four places, to arrive at fifth and ninth respectively. Buemi gets past Raikkonen and suddenly Hamilton is going backwards and is now behind Kovalainen, both Ferraris and Buemi. He's been too optimistic and had a spin on the standing water. Buemi now challenging Trulli. Straight past him.
– – – – –
Lap 12: Buemi up behind Raikkonen again. Hamilton and a Brawn have also gone wide – or is it just that the racing line has changed in the wet?
– – – – –
Lap 11: Now Buemi is having a crack at Raikkonen but isn't close enough to do it. Hamilton is now trying to get past Trulli. Buemi has another go, still gets nowhere. Don't take on Kimi Raikkonen lightly – Buemi goes desperately wide at the next corner and, courtesy of the spray, the next two cars follow him. Then Nick Heidfield goes wide, but everyone more or less hangs on to their places. Lewis Hamilton now up to fifth after taking Trulli. "Brave," says Brundle. Hmmm.
– – – – –
Lap 10: Hamilton passes Raikkonen and makes it stick. Shades of Spa as Raikkonen tries to take it back but doesn't hang on to it – that's the price of taking the KERS out. Hamilton is some three seconds down on Button in the four-car midfield train.
– – – – –
Lap 9: The two Red Bulls lead the field, with the two Brawn GP cars behind them. But Alonso's now revised his strategy, and could be dangerous… Buemi is having a look at the back of Hamilton, while his colleague Bourdais eyes Nakajima.
– – – – –
Lap 8: Alonso pits. His strategy is already all over the palce but it would be wrecked if he didn't do this no. Especially as the safety car is FINALLY coming in. He's got to hack it round to the back of the pack without coming off in one lap. Vettel is backing up the pack. Green flag and he's off like a rocket. The first four, at least, have made it round turn one.
– – – – –
Lap 7: Rosberg, having pitted, is now doing fastest lap times as he races round to catch up with the back of the pack. That could be the most exciting news we get for a while. McLaren's forecast says rain for another half an hour or more. If this goes on then we're looking at racing on a two-hour limit rather than a lap count. Martin Brundle: "We should be getting on with this now, surely."
– – – – –
Lap 6: The spray is looking awful. The telly, deprived of anything resembling hot on-track action, has been reduced to showing shots of the safety car drivers and of Charlie Whiting at Race Control. McLaren have just informed Lewis Hamilton that it's raining – we guess he knows that…
– – – – –
Lap 5: Sutil, making the best of a bad job, pits. Kimi Raikkonen takes a little trip on the circuit's final corner – the exact same spot as team-mate Massa. Drivers, especially Alonso, are getting impatient to get on with it. Rob Smedley, as my esteemed colleague has just pointed out on Twitter, is doing a better job than usual of being a weatherman.
– – – – –
Lap 4: Camera streaked with rain. The grandstands are deserted – good luck, Race of Champions, although we do understand that's due to be held in Beijing, not Shanghai, effectively across a continent. The stands are being used for great big adverts – each has about 10 people ranged along the front row. Hello – Adrian Sutil's taken a hell of a detour across the gravel trap. He gets back on track but his tyres can't have been improved by the experience. He's now at the back and, of course, can't overtake.
– – – – –
Lap 3: An overhead shot shows just how wet the track is. The first morsel of drama comes when Massa locks up and goes wide, but it is without consequences. Vettel, when asked about conditions, says: "There is water on the track, but we've had worse."
– – – – –
Lap 2: Conditions still far too bad for the safety car to come in – standing water all over the track. But Heikki Kovalainen has completed his first lap of the season!
– – – – –
Lap 1: And the race is underway, with none of the first-corner drama that we were expecting yesterday. The most astounding news is that Alonso seems happy with his tyres. Everyone is feeling their way round cautiously, trying to get the hang of things.
– – – – –
Parade lap: We hear from Pat Symonds of Renault that the race will be starting under the safety car. Commentators discussing how the rain will have sent everyone's strategy to hell. James Allen on Twitter (because it's just not the same without him) is starting to rate the chances of two wily wet-weather foxes, Kimi Raikkonen and Lewis Hamilton.
Ferrari is giving its drivers a briefing about the safety car regulations. Watch it, Felipe baby – could be treacherous out there!
Cars underway and no-one left on the grid. Plenty of spray.
– – – – –
Grid: We hear that Kubica and Glock, both stranded at the wrong end of the grid, will start from the pits.
Martin Brundle and DC head off on a joint gridwalk, using the Red Bull connection to get through to Sebastian Vettel. Fernando Alonso is harder to get to, despite DC letting slip that he'd arranged access beforehand – so much for living on the edge in live TV!
When the intrepid duo finally break through the crust of PRs around him, Alonso confides that he thinks conditions aren't quite bad enough for a safety car start – but come close to it.
– – – – –
Pre-race: The combination of DC and Mike Gascoyne is working well – they have good chemistry together, shame it's only temporary. Much joshing about the relationship between engineers and drivers, with DC referring to Malaysia's quote of the season: "I never had that sort of intimate relationship that Felipe Massa obviously has with Rob Smedley."