Richard Kent saw off a spirited challenge from Conor Daly to win round 11 of the Star Mazda Championship at Mosport International Raceway in Ontario by more than six seconds.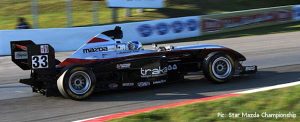 Championship contenders Adam Christodoulou and Peter Dempsey finished third and fourth, the Englishman closing the gap on the "Irish Steamroller" to seven points despite two big crashes in Thursday testing. Kent moves up to sixth in the standings.
"I was pushing hard right from the start and my win was a combination of a good car and good luck," said Kent, who took his fourth pole of the season. "I made a small mistake in turn 5b that allowed Conor to pass me on the outside in turn 8 and I wasn't able to close the gap.
"When I saw the nose of his car disappear into the grass in Turn 10 about mid-way through the race, I knew the race was mine. Its been an off-and-on season for me, but hopefully this will give me some momentum headed into the final two races and give me a shot at the championship."
Kent, from Clifton Reynes near Milton Keynes, missed a race earlier inthe season with a broken foot, and has also had some first-lap retirements. He said the drizzly, foggy qualifying session in Ontario was like competing at home – only warmer.
"There were two red flags in the first two laps, which made you cautious and made you realise that you had to put a fast lap in early in case something happened and the session ended. Towards the end the track was drying a bit and there was a dry line most of the way around, but there wasn't time to experiment with dry tyres."
Christodoulou paid tribute to his team for rebuilding his car twice during testing: "I've got to thank everyone from the JDC Motorsport team for all their support and help putting the car back together, every one chipped in, the crew worked late hours, and the car was fixed by the morning."
Qualifying at all was an achievement, although he didn't see it that way: "Several red flag periods chopped up the session and I was a little bit annoyed only qualifying 4th, but we had the car set up for the wet conditions and the track dried up quicker than expected. Still, I was happy that I out-qualified Peter."
Like Kent, he took advantage of Daly's error to pass him – but he was unable to hold the place as they lapped backmarkers: "I was now in second but it wasn't going to be easy as Conor didn't lose much time and was chasing me down. Traffic was all about timing and trying to get around the lapped traffic without losing time or speed.
"Conor was getting closer lap by lap and I could see him trying to get the draft down the straight, unfortunately he finally got the run he needed and went down my inside. The flag came out and I brought the car home in third.
"It wasn't quite the win, but I was more than happy to finish third after the disastrous start to the weekend and the main thing was I closed up the gap in the championship."
Dempsey went into the race aiming to score the best result possible, rather than play safe and protect his championship lead, after a disappointing previous outing in Quebec.
"Our aim, under the circumstances, was to come here and just try and get some points, but if we could take home a race win and build our points lead back up after what happened at Trois-Rivieres, that would be great.
"I know I could go out and just try to be in the top five at the last races and that would win the championship, but for me, I always have to go out and try to do the best I can in every race, and if that brings the championship to me, then so be it."
The 2009 Star Mazda season will end with the series supporting a final pair of ALMS races – at Road Atlanta on September 25 and at Mazda Raceway Laguna Seca on October 10, a race Kent won in 2008 as a complete unknown making his series debut.
Championship leaders with two races remaining
Eight drivers from 32 remain in mathematical contention for the championship.
Peter Dempsey, 399
Adam Christodoulou, 392
Conor Daly, 342
Joel Miller, 336
Alex Ardoin, 329
Richard Kent, 317
Anders Krohn, 316
Caio Lara, 311