Brits on Pole's roving correspondent Scott McCarthy last spoke to Sam Bird about a year ago at the Turkish Grand Prix. Since then, the GP2 front-runner has shown impressive speed and overtaking – followed by an overdose of bad luck in more recent races. They met again at the Hungaroring to catch up and to discuss the future.

Last year, Sam Bird's focus was on working towards a place on the F1 grid for 2011 if a suitable drive could be found. But despite winning his first GP2 race in Monza and impressing in the Mercedes GP car during the post-season young driver test, he was unable to find a Formula One seat.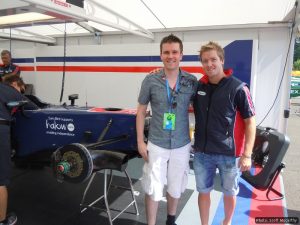 I started by asking Sam how close he got to an F1 seat, and what's the likelihood of getting an F1 drive for 2012.
He said: "It was always going to be tough to get an F1 drive. It's such an elite group of people – it's the most exclusive club on the world and I was going to have to do something extremely special.
"I finished the season in fifth place but could have easily finished second, third or fourth. I did manage to get the rookie tests for Mercedes Petronas Grand Prix, and I continue to work with them – that's something very good that happened out of last year."
Sam now drives for Norfolk's iSport International. I asked him how that drive came about after having raced with French team ART last year, and how he felt the season was going so far.
He said: "I just felt that it was the right thing to do. They're a great bunch of lads and we've worked very well so far together. We led for the first three or four rounds of the season and things have been going very well.
"We're still fighting together for a top three position in the championship although we've had a couple of hiccups recently. There's been no reason why we couldn't have picked up podiums at every round, just circumstances stopped us a little bit."
The running joke in GP2 this year is 'the curse of championship leader', as each driver to take that position has immediately been felled by bad luck. In Sam's case, he has seen a pole position at Monaco and a race lead at the Nurburgring go begging.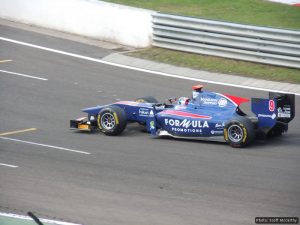 "It's one of those things, you just have to bounce back from it," he said. "There've been plenty of opportunities that we've missed. At the moment we're going through a slightly harder time where it's not quite as easy as it was at the beginning of the year, but we're still very quick and we need to capitalise on points now."
For drivers looking to make the step-up to F1, it's not just the results they need. Just like you or I need a licence from the DVLA to drive our road cars, racing drivers also need special licences to compete on track – culminating in a Formula One Super Licence. I asked Sam how this works, and how he goes about getting the licences he needs to race in GP2 and eventually in F1.
He said: "To get your first licence you need to do a short mini-test. Once you've done that you need to have raced in specific races either nationally or internationally to get the licence needed to move up the ranks. I've recently acquired a Super Licence so, if I'm required to drive in a Formula 1 race, I'm ready to do so."
This is excellent news for Sam as the formalities cannot be overlooked in his search for an F1 drive. He has the licence, he's had some testing – all he needs now is the car.
Since the test with Mercedes GP at the end of last year, Sam has maintained close ties with Ross Brawn's team. His GP2 team iSport even borrows the Mercedes pit spot when they do their sessions on the track during F1 weekends.
Sam wasn't able to discuss the specifics of this arrangement, but to an outside observer it seems clear that Mercedes is Sam's most likely route into F1, even if initially as their test driver. I asked if Sam would be satisfied with a test driver role with an F1 team even though if could mean a year without doing any real racing?
He said: "If the circumstances meant that the following year we'd be in a race seat, then that would be something we'd have to look very closely at. Two years of GP2 is enough."
With back-to-back races, Sam has certainly been racking up the air-miles in the last 10 days. I was interested to know if he actually gets to see any of the places he flies to, and how much sightseeing time he gets.
"I get none! I was here until 8:30pm last night, I left and went straight to bed. You don't get any time to look around the cities. I've never been to the centre of Budapest – I'd love to go but my job, and my purpose in being here, is to get my car to go as quick as I can around the track. So that's my primary focus."
And Sam certainly is a focused young man. He may not get to see the streets of Milan when racing at Monza, or to wander through the cafés in downtown Budapest. But the only sights he's interested in seeing are the inside of an F1 garage, with "S. Bird" written on the side of the car.
If his relationship with Mercedes continues to grow, he may soon be taking the holiday snaps he's always dreamed of.