Adam Carroll thought he'd fought back from a drive-through penalty to score a pair of second places for A1GP's Team Ireland in Portugal at the weekend – only to lose one of them to a post-race steward's decision.
The Irish are now second in an extremely tight title race, two points behind defending champions Switzerland and four ahead of the Portuguese.
However, this season's rules allow all teams to drop their worst weekend of results – and when that is taken into account Ireland are leading the championship.
Carroll, from Portadown, was best of the rest behind Dutchman Robert Doornbos in the first race, overtaking the pole-sitting Italian F1 campaigner Vitantonio Liuzzi during the pitstops.
In the second, he was effectively handed pole when Doornbos suffered an electrical failure on the parade lap and had to drop out.
Carroll got away well but was adjudged to have jumped the start and served a drive-through penalty. Despite this, he fought his way back up to second place by late in the race – only to be hit by a second penalty, for passing under the safety car during a restart.
The race finished before he could serve the penalty, so stewards gave him a 25-second post-race penalty that dropped him to fifth.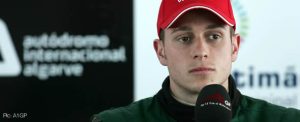 The team said it accepted the penalties, but Carroll was left unimpressed.
He said: "In the Feature Race I knew the car had rolled a little on the grid but I definitely did not start until the lights went out.
"After we got the drive-through penalty I just put my head down and we climbed back to second — so I am very disappointed we got a 25-second penalty.
"What happened at the second safety car restart was that everyone in front started to brake, slow and fan out. Australia pulled across suddenly, and slowed, and I did the safest thing which was to keep going. If we'd all hit the brakes there'd have been a motorway-style accident.
"Not much of a choice."
Team boss Mark Gallagher believes the penalty could end up losing Ireland the championship. He said: "Adam drove brilliantly in what was possibly one of the most perfect drives anyone has seen to recover from the initial drive-through penalty.
"The safety car restart was a mess, and we were penalised. The stewards have a hard job to do, so we accept their verdict even if we find the outcome extremely frustrating. We aim to win this title.
"If we don't I suspect we will look back at today's outcome as being pivotal. For now, though, it's history. Roll on Brands Hatch."