Four-time Formula One World Champion Alain Prost is due to make his debut at the Race of Champions this year, according to organisers, who announced his presence at the event's official launch yesterday.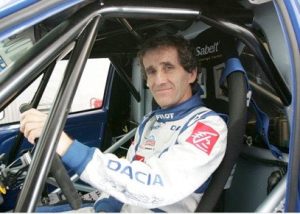 It will give fans who want to rate the greats of the past against the talent of the present a particular thrill, as seven-time world champion Michael Schumacher and 2010 title contender Sebastian Vettel are already confirmed as taking part.
Schumi is the only man in history to have won more grands prix than the Frenchman.
The 2009 Formula One World Champion Jenson Button is also a regular Race of Champions competitor – and it will be extremely interesting to find out whether his McLaren contract allows him to compete this year too.
The annual end-of-season competition brings together top drivers from across motorsport disciplines to battle head-to-head in identical machinery.
Prost said of his involvement: "I'm very happy to be able to participate in The Race of Champions at last. It will be an absolute pleasure to race with great drivers from different disciplines and different generations. I'm really looking forward to the experience."
And Schumacher said of his participation: "I'm really looking forward to defending our title in front of our home crowd. I'm thrilled to hear Alain is joining in too, making the fun even bigger."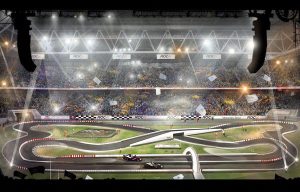 Prost took his four world championships during the 1980s and early 1990s alongside legends like Nigel Mansell, Nelson Piquet and Ayrton Senna, with whom he is most closely associated.
He has recently returned to competitive action at the Andros Trophy ice racing championship in France, securing two titles in the process. Organisers say this shows the 55-year-old has lost little of the pace that brought him so much glory.
(Of course, Our Nige is back on track himself at the age of 56, sportscar racing in the Le Mans Series with his sons Leo and Greg.)
This year's Race of Champions is due to be held at the ESPRIT Arena in Dusseldorf, in Germany, on November 27-28 – one day later than originally advertised.
It has been staged every year since 1988, founded by IMP President Fredrik Johnsson and Michèle Mouton, the world's most successful female rally driver.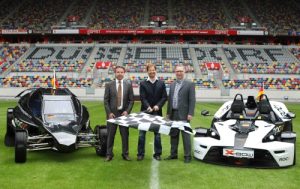 Johnsson said: "We're delighted that the German crowd will have the chance to see Michael and Sebastian performing in this unique stadium environment. But we're not stopping there.
"Today Alain Prost confirmed he will be taking part too and there are plenty more superstar drivers on the way. Indeed we're confident that the 2010 line-up will be one of the best in the history of The Race of Champions."
The race is due to take place on a specially-constructed tarmac circuit with two parallel lanes. The track will be 7.5 metres wide, an increase of a metre on previous tracks constructed at London's Wembley Staduim and Beijing's Bird's Nest Stadium.
Mouton, who is responsible for the track design, said: "The new wider track is great news both for the fans and the drivers – as they will have even more freedom to fly and show off their incredible skills."
Tickets for the Race of Champions went on sale today – and you can find out more by visiting the event website here.