Lewis Hamilton's had his first go in the new McLaren MP4-23 during a testing session at Jerez – and he seems pretty pleased with the outcome.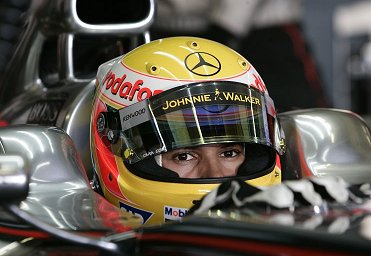 Photo credit: Vodafone McLaren Mercedes
He hailed the session as 'fantastic' – and was clearly keen to take his turn behind the wheel after finding himself third in line behind fellow drivers Heikki Kovalainen and Pedro de la Rosa for a crack at the circuit.
He said: "It was fantastic to get my hands on the MP4-23 this morning in Jerez. I saw the completed car for the first time on Monday at the team's launch in Stuttgart and I have been pretty impatient since then!
"My first run was at 09:10 and my first impressions are good. You can't really read all that much into a car after so few laps, but the feeling is positive.
"Up to 13:00 UK time, I had covered 34 laps and my fastest time was a 1:19.132."
Yesterday Hamilton joined Kovalainen at the Spanish circuit for the first of four days of testing. The Finn clocked up a total of 101 laps and was also pleased with progress.
He said: "We are all still spending time learning about the car and starting to get used to it. That we were on track for 204 laps in total today is definitely helping us to learn and progress with the car.
"For me in particular the car is very different from last year, and I have been focusing on that side of things. Settling into the team has been very easy, and I am looking forward to continuing our preparations for Melbourne."
According to McLaren, following Wednesday's session which saw Kovalainen and test driver de la Rosa take both MP4-23 chassis for their initial runs, work at the test saw the focus on both drivers and team familiarising themselves with the 2008 car.
And Thursday was the first time in the history of the team that it had completed two chassis for the first day of testing.
McLaren says that Hamilton and Kovalainen remain in Jerez today (Friday) for a last session before the weekend.
Meanwhile de la Rosa and fellow test driver Gary Paffett will take over testing duties on Monday with Lewis and Heikki returning to the wheel for two days on Tuesday and Wednesday.
Read Autosport's technical analysis of the new McLaren here >>