Another Sunday, another pole position for Jenson Button as he fended off Jarno Trulli and dominated the rest of the field to set the fastest time in qualifying for the Malaysian Grand Prix.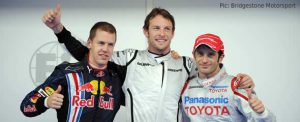 The Brawn GP racer scored a second consecutive pole for the first time in his career with a 1m 35.181s lap of the Sepang circuit, after spending most of the weekend back in the pack thanks to a car that wasn't balanced to his satisfaction.
"This one's probably more special than in Melbourne because it's not easy to get one pole position but I've never achieved two on the trot in my F1 career," he said.
"Looking at yesterday's times, the Ferrari seemed to be the quickest car, so it is a big turnaround today. Yesterday I was struggling with the balance of the car. We changed the car overnight and we have improved it a lot. I feel comfortable in the car and excited for tomorrow."
Team boss Ross Brawn, never one for wild over-enthusiasm, seemed cautiously optimistic: "We've managed to save some tyres with Jenson, running him on the hard tyre for most of qualifying to the end, so he's in good shape for the race now. But it is tough, particularly Jarno looked very quick.
"Jenson has looked very strong. Once we got the reference time in Q1, he looked very strong. We don't want to take any chances but the fact that we have now got two new sets of tyres for the race is great.
"There is no one around us with KERS at the start which is a help, because we were dreading that. They certainly have a gain here.
"I think Jarno looks in reasonable shape if you look at his long runs and the Red Bulls look strong, so I think it will be a great race tomorrow."
Toyota driver Trulli, fighting for the team's future after the word came from the Japan head office that a win was needed in the first six races, explained after the session how he intends to take the fight to Brawn GP.
He said: "The team has done a fantastic job, we stayed away from traffic and the car was feeling good, so it has been a very successful day for us.
"The car feels strong now but I have to admit I wasn't sure I would be in this position after practice yesterday because it was quite difficult.
"I worked hard with my engineers to analyse the data and make some improvements to the set-up and we got it spot-on in qualifying. In a way it's a little disappointing to miss pole position by just a few hundredths but that's how close Formula 1 is at the moment.
"Compared to last year we are much more competitive this season and instead of fighting for the top six we are now here fighting in the top three. I hope for a strong race tomorrow and I will fight as hard as I can."
Behind Button and Trulli in qualifying were Red Bull's Sebastian Vettel and Brawn GP's Rubens Barrichello, but neither will start where they qualified because of penalties.
Barrichello's dodgem ride through the Australian Grand Prix field cost him a change of gearbox, and the five-place penalty that goes with it. Vettel loses 10 places in what is widely felt to be an overly harsh punishment for his tangle with Robert Kubica in Melbourne.
Promoted to the second row in their place are the Toyota of Timo Glock and Nico Rosberg's Williams. Mark Webber, just behind them, again shows that the only car able to live with the pace set by the three teams with radical diffusers is Adrian Newey's innovative Red Bull design.
By contrast, McLaren, Ferrari, BMW and Renault all struggled. Robert Kubica, Kimi Raikkonen, Fernando Alonso and Nick Heidfeld managed places eight to 11 on the track, although all gain a place for Vettel's demotion – Barrichello will slot into the middle of this group after his.
Neither McLaren made the final qualifying session, Lewis Hamilton taking 13th place and Heikki Kovalainen 14th. They will find the unfortunate Vettel between them on the grid, with Hamilton moving up a place.
Team principal Martin Whitmarsh – no doubt delighted to be talking about racing again after the nightmare of the previous day – said: "We always knew that qualifying would be difficult around Sepang because the MP4-24 lacks the aerodynamic downforce needed to match the top teams.
"That's no fault of either Lewis or Heikki, who have driven faultlessly all weekend: they just lack the grip needed to get the most from the car through the high-speed corners.
"Of course, starting 12th and 14th is not where we are accustomed to starting grands prix, but we are confident that the improvements we are preparing for the forthcoming races will allow us to quickly move into the midst of the tight pocket of cars competing for times in Q3."
The day's biggest disaster befell Felipe Massa, whose slight mistakes in his Q1 lap came back to haunt him when Ferrari complacently left both its drivers in their garage for the final frantic minutes of the session. While Raikkonen scraped through in 14th, Massa found himself 16th and eliminated.
"I am very disappointed – if I had ended up sixteenth because of a lack of performance then I could have accepted the result, but like this it hurts even more," he said.
"The track improved so much with each passing lap and my first run was not perfect and nor was it enough. We did not react in time and lost the chance to have another go. No one person is to blame: we are a team and we lose or win all together."
The Malaysia grid
Jenson Button, Brawn GP
Jarno Trulli, Toyota
Timo Glock, Toyota
Nico Rosberg, Williams
Mark Webber, Red Bull
Robert Kubica, BMW Sauber
Kimi Raikkonen, Ferrari
Rubens Barrichello, Brawn GP
Fernando Alonso, Renault
Nick Heidfeld, BMW Sauber
Kazuki Nakajima, Williams
Lewis Hamilton, McLaren
Sebastian Vettel, Red Bull
Heikki Kovalainen, McLaren
Sebastien Bourdais, Toro Rosso
Felipe Massa, Ferrari
Nelson A. Piquet, Renault
Giancarlo Fisichella, Force India
Adrian Sutil, Force India
Sebastien Buemi, Toro Rosso