Mike Conway, the British driver airlifted to hospital after a horrific last-lap crash in yesterday's Indianapolis 500, will miss three months with fractured bones in his back and left leg, according to IndyCar Series medical staff.
But team-mate Justin Wilson sounded a positive note on Twitter this evening: "Just been to see Mike. I could not believe how well he looks. He's sat in bed chatting away. Left leg in cast and a neck brace for few weeks."
The Dreyer & Reinbold racer was injured when his car ran into the back of Ryan Hunter-Reay's as the American slowed due to lack of fuel. Conway's #24 machine was thrown into the air and against the circuit retaining fence, disintegrating on impact.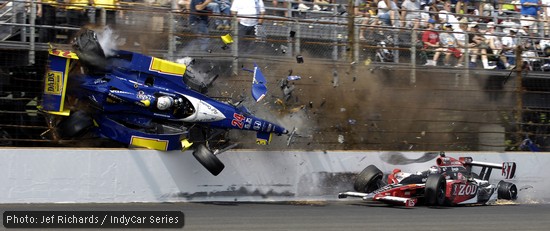 The Indy Racing League's director of medical services, Dr Michael Olinger, said the 26-year-old from Bromley, Kent, had surgery immediately after the race on the fractures in his lower leg and is likely to have another operation later in the week for a "soft tissue" injury.
He also has a compression fracture of one of his thoracic vertebrae and is being fitted for a back brace, which he will wear for three months.
A report in The Times said his leg injuries included a compound leg fracture and torn ligaments and tendons in his knee and ankle. It said they had been described as "gruesome", but did not provide a source for the quote.
Team co-owner Dennis Reinbold was quoted in the Indianapolis Star as saying doctors had compared the injury to the sort suffered from jumping out of a building. The team's Twitter feed said the operation on his leg had lasted five hours.
Reinbold told USA Today the accident happened while Conway was running significantly faster than many of his rivals, as they had slowed to conserve fuel while he had topped up just 25 laps previously and could go at full pace. Wilson, on a similar strategy, finished seventh and would likely have done much better without the final caution period.
Reinbold said: "Basically, I told him he was running 20 miles an hour faster than all the cars ahead of us and that he had caught the pack and was going to have to fight his way through the pack. And he was doing great job.
"I was just getting ready to remind him that some of those guys are going slow, give them plenty of room. I was going to wait until he got to the front straightaway. I never got the words out."
The accident injured two spectators, one of whom needed stitches to his head, and came close to collecting Hunter-Reay. He said: "That car should have come down on my head – I don't know how it didn't."
With Conway out of action and the #24 in pieces – Reinbold described it as "junk" – the team is nevertheless determined to field two cars at the next race in Texas. It's is not known who will drive alongside Wilson at the race, but Ana Beatriz and Tomas Scheckter both drove for the team yesterday, while Darren Manning turned out twice for it at the start of last season.