J.R. Hildebrand was confirmed as the 2009 Indy Lights champion during a fast-paced and closely fought Chicagoland 100 in which all the cars on the lead lap finished within three quarters of a second of each other.
The Californian needed to finish no better than 14th of the 16th starters to wrap up the title, but had only qualified 13th. Despite declaring his strategy was simply "not to crash", he was well on his way to hauling in the front-runners when a three-car crash triggered by Mike Potekhen guaranteed him the points he needed.
He said: "It's just a dream come true. I came into this year with Andretti Green Racing knowing I had every opportunity to make this happen. It feels great to bring it home to the boys and bring everything back together after the last few years. Hopefully, we can take this and move forward for next year."
At the front of the pack polesitter Brandon Wagner had proved unable to stand the pace and Wade Cunningham seized the lead, soaking up pressure from James Davison and Potekhen. Wagner sank back into the field until he clashed with Pippa Mann, losing his front wing and puncturing one of her tyres.
She lost three laps in the pits and emerged to set some of the fastest speeds of the race in a lonely ninth place.
Cunningham's lead lasted until Potekhen, who had been banging wheels with Daniel Herrington, dropped back and drifted wide, collecting both Ana Beatriz and James Hinchcliffe. On the restart Herrington blasted past both Cunningham and Davison to seize a lead that he would keep to the flag for his and Bryan Herta Autosport's first win of the year.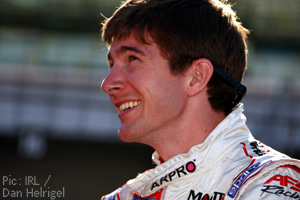 "Finally," he said. "We've had a rough couple of races in the middle of the season. At the beginning of the year, Bryan told us we would win a race. We didn't think it would be this late in the season before we won a race. It sure is nice to get that win."
Davidson took second while Andrew Prendeville, who had qualified 14th, was third ahead of Cunningham. The AFS Racing/Andretti Green Racing pair of Hildebrand and Sebastian Saavedra were fifth and sixth, while Charlie Kimball and Martin Plowman were the final cars on the lead lap.
The gap between winner Herrington and eighth-place Plowman was 0.7413 seconds.
Plowman said via Twitter: "Crazy race – three wide. Went from p8 to p5 to p10 twenty times. Got loose big-time, 70 degrees of opposite lock at 185mph! Ended up p8, so glad to finish in one piece."
Mann added: "Puncture early on. Came back to 9th with damaged car. Happy to have a top ten, but another tough race."