Brawn GP's rivals have finally managed to dislodge Jenson Button from pole – but at the cost of running so light you could practically pick their cars up and walk away with them.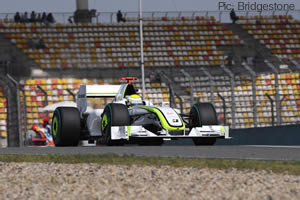 Sebastian Vettel was thrilled to take his first pole position for Red Bull in a session that saw him and colleague Mark Webber beat the diffuser teams in their highly-rated Neweymobile to line up first and third.
Renault's Fernando Alonso managed a surprise late charge for second in a week when team boss Flavio Briatore had complained that Renault couldn't possibly hope to compete with Williams, Toyota and Brawn.
But all three had to run on fumes to do it – see the figures in the chart at the bottom of this story for more detail.
Alonso's colleague Nelson A Piquet was less convincing, failing once more to make it out of the first qualifying session. The team has chosen to run without KERS but with a new diffuser.
Rubens Barrichello and Jenson Button lined up fourth and fifth, but with a fuel load that could easily see them comfortably at the front after the first pitstops, under the guidance of master tactician Ross Brawn.
Jarno Trulli, for Toyota, is sixth, while his colleague Timo Glock is in 19th place, partly due to a five-place penalty for changing a gearbox.
Nico Rosberg once again failed to capitalise on a superb practice performance – he topped the timesheet in the third session immediately before qualifying – but put his car a respectable seventh.
Ferrari's first appearance is made by Kimi Raikkonen, running a middling fuel load, in eighth place while colleague Felipe Massa, running heavy, lines up 13th. The team removed its KERS units for this race but does not seem to have gained the results it hoped for.
Lewis Hamilton and Heikki Kovalainen showed distinct improvement in their modified McLaren, lining up ninth and 12th respectively, but they failed to live up to the promise of an early practice session that saw them close to the top of the timesheet.
Sebastien Buemi makes a welcome appearance for Toro Rosso rounding out the top 10 while the highest appearance by a BMW driver is Nick Heidfeld in 11th. Robert Kubica, who cannot be welcoming the progress of his third full season in F1, is stuck down in 17th.
Grid positions and starting weights for the Chinese Grand Prix
Sebastian Vettel, Red Bull, 644kg
Fernando Alonso, Renault, 637kg
Mark Webber, Red Bull, 646.5kg
Rubens Barrichello, Brawn GP, 661kg
Jenson Button, Brawn GP, 659kg
Jarno Trulli, Toyota, 664,5kg
Nico Rosberg, Williams, 650.5kg
Kimi Raikkonen, Ferrari, 673.5
Lewis Hamilton, McLaren, 679kg
Sebastien Buemi, Toro Rosso, 673kg
Nick Heidfeld, BMW Sauber, 679kg
Heikki Kovalainen, McLaren, 697kg
Felipe Massa, Ferrari, 690kg
Kazuki Nakajima, Williams, 682.7kg
Sebastien Bourdais, Toro Rosso, 690kg
Nelson A Piquet, Renault, 697.9kg
Robert Kubica, BMW Sauber, 659kg
Adrian Sutil, Force India, 648kg
Timo Glock, Toyota, 652kg
Giancarlo Fisichella, Force India, 679.5kg