Sebastian Vettel took pole for the British Grand Prix ahead of Rubens Barrichello, as the battle between Brawn GP and Red Bull for supremacy showed signs of starting to swing away from the championship-leading newcomers.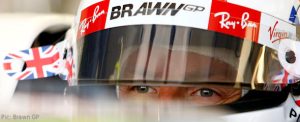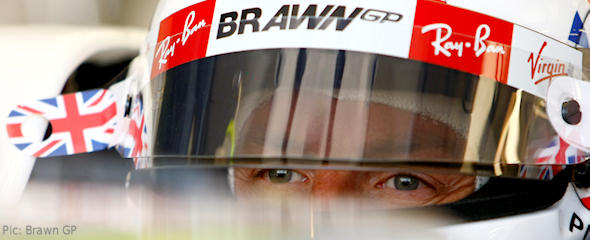 Jenson Button, beaten at Silverstone by his colleague Barrichello when their team was run by Honda, struggled with his car and managed only sixth. He conceded that victory in front of his home fans will be a challenge.
He said: "I think it is almost impossible to win. I just haven't had the pace all weekend. I was hoping for something a bit better. Being sixth is a lot worse than what I thought it would be, so it's going to be a difficult race tomorrow.
"I struggled massively with understeer in the high speed corners and then had oversteer at low speed so it wasn't the best balance for such a competitive qualifying session."
Team boss Ross Brawn said: "Unfortunately he was also affected by a misunderstood communication on the pitwall which resulted in us bringing him in a lap earlier than we perhaps should have and that cost him a place.
"If the temperatures warm up a little tomorrow, both cars should be in good shape for the race and we will do our best to ensure that we secure as many points as possible at our home grand prix."
Vettel hailed his team's developers for the success of the upgrades they had introduced to his car, but said Button could not be ruled out of contention, even though he was not taking part in the press conference for the top three qualifiers: "It is good that Jenson is not here in this room, but the Brawn has very strong pace, they have shown on Sundays they are extremely competitive, so even if he starts sixth he can come back and score a lot of points.
"Today we did the best possible job, we have a fantastic car and a chance to win, you never know what happens. We will definitely fight. I can only say a big compliment back to the guys in the garage, it is only half an hour away from Silverstone and they are working so hard to get this car ready, so it is down to them."
Underlining the extent to which Silverstone represents one of the hubs of Formula One, Barrichello also stressed his local links: "I'm really happy to be starting from the front row of the grid tomorrow on a track that I love and feels like home to me."
Vettel's team-mate Mark Webber qualified third, and believes he was denied a shot at pole by Ferrari's Kimi Raikkonen: "I would have liked a slightly cleaner run on my last Q3 lap. Kimi was, I don't know, drinking some vodka or dreaming or something, I don't know what hell he was doing but he should have been on the right and he was on the racing line, dreaming.
"That wrecked my rhythm really into Stowe, I was very tight into there. Kimi couldn't have done a better job of distracting me. He was right on the racing line, on the most important lap of qualifying and it ruined my rhythm."
Joining Webber on the second row of the grid is Jarno Trulli, while Kazuki Nakajima lines up on row three with Button, having qualified fifth.
Reigning world champion and defending Silverstone winner Lewis Hamilton was knocked out of qualifying the first session for the third consecutive grand prix, falling victim to the red flag that ended the session about 30 seconds early after a big crash by Force India's Adrian Sutil.
Hamilton, Sutil and Force India's Giancarlo Fisichella were all on laps that might have lifted them into the second session when Sutil's brakes failed in the Abbey chicane, sending him into the barriers at speed.
Hamilton told reporters there was no certainty he would have made Q2 even without the red flag: "It wouldn't have made any difference anyway. I did the best I could. I was pushing as hard as I could with the car and, what can I say, we're just dead slow."
Starting grid (time is fastest lap in the latest session competed in) and fuel weights:
Sebastian Vettel, Red Bull: 1:19.509 (666.5kg)
Rubens Barrichello, Brawn:1:19.856 (657.5kg)
Mark Webber, Red Bull: 1:19.868 (659.5kg)
Jarno Trulli, Toyota: 1:20.091 (658kg)
Kazuki Nakajima, Williams: 1:20.216 (652.5kg)
Jenson Button, Brawn: 1:20.289 (657.5kg)
Nico Rosberg, Williams: 1:20.361 (661.5kg)
Timo Glock, Toyota: 1:20.490 (660kg)
Kimi Raikkonen, Ferrari: 1:20.715 (654kg)
Fernando Alonso, Renault: 1:20.741 (654kg)
Felipe Massa, Ferrari: 1:18.927 (675kg)
Robert Kubica, BMW Sauber: 1:19.308 (689.5kg)
Heikki Kovalainen, McLaren: 1:19.353 (695.5kg)
Nelson A Piquet, Renault: 1:19.392 (682.5kg)
Nick Heidfeld, BMW Sauber: 1:19.448 (665.5kg)
Giancarlo Fisichella, Force India: 1:19.802 (668kg)
Sebastien Bourdais, Toro Rosso: 1:19.898 (687.5kg)
Adrian Sutil, Force India: 1:19.909 (692kg)
Lewis Hamilton, McLaren: 1:19.917 (666kg)
Sebastien Buemi, Toro Rosso: 1:20.236 (672.5kg)