Usually, the anniversary of a death is marked with a minute's silence – but when staff and management of the Formula One team that bears the name of Bruce McLaren gathered to remember his loss 40 years ago in a testing accident, quiet was not the order of the day.
[youtube:http://www.youtube.com/watch?v=9ZHMjdzw0w0]
Instead of the sort of sombre commemoration more usually seen on these occasions, the team rolled one of the legendary New Zealander's old Can-Am cars up to the doors of the McLaren Technology Centre in Woking and let rip with a minute's noise to celebrate his life.
In a statement on its website, the team said: "In just a few short, intense years, Bruce's legacy was writ so large that his loss wasn't merely felt within McLaren, but throughout the whole of motorsport.
"And even though many successful chapters in the team's history have been written since his death, Bruce's inquisitive mind, engineering know-how, pioneering spirit and racer's edge still remain as our principal values."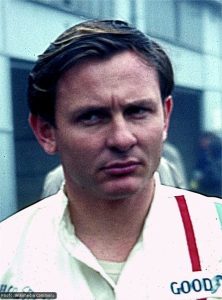 F1 team boss Martin Whitmarsh added: "The 40th anniversary of Bruce McLaren's death gives us the opportunity to reflection his legacy, and to appreciate just how much of his original vision still lives on within our team.
"Bruce made his name not only as a skilled and disciplined racing driver, but also as a pragmatic engineer with the inspiration, vision and determination to take on and beat the greatest teams in motorsport. It's an ethos that still holds true to this day.
"Bruce's values have seen us maintain a winning legacy throughout six decades of competition, and have rewarded us with victories in the Formula 1 world championship, the North American Can-Am series, the Indy 500, Formula 5000 and the Le Mans 24 Hours.
"Winning will always be central to the McLaren DNA. We are honoured to uphold the McLaren name. And, for many millions of people around the world, the name McLaren is motor racing – there can be no greater testament to Bruce than that."