Six hours of racing came down to a handful of seconds at the line – but for the drivers, celebrities, soldiers and grid girls at the first Race4Heroes charity karting event it wasn't the winning that was important.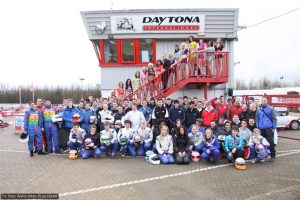 With the grid at the Daytona Milton Keynes karting centre set by a combination of qualifying times and amount of money raised for the armed forced charity Help for Heroes, it was clear from the start where the focus of the day lay.
As Chris Dymond, from the winning Axis Racing team, said: "It was great to have won the inaugural Race4Heroes event as the calibre of driver was very high, but we must remember the cause we all did this in aid of.
"The important thing is that together we raised a lot of money for a very worthy cause – one that is so evident everyday to us all."
Or, in the words of Matthew Pritchard, from TV's Dirty Sanchez: "Fucked wrists, fucked knees, fucked back, fucked arse, got soaked to the bone but it was all worth it as I had a blast. One of the grid girls caught my eye and I almost crashed. Bring on next year."
Organised by Angie Taylor, with Carolyn Mooney adding her marketing and promotions experience after originally volunteering as a grid girl, the race now looks like becoming an annual event by popular demand.
In words echoed by all the drivers, Dymond said: "The girls have done a superb job – it all ran so smoothly, and the calibre of driver they managed to get involved is impressive. It provided some fantastic racing, right down to the final seconds of the race."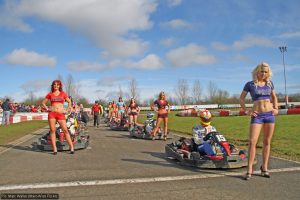 Carolyn said: "The event was Angie's brainchild. I originally came on as a grid girl – but it's such a worthy cause and, with my background, I felt I could offer more than just turning up and standing on the grid.
"After one day, me and Angie were an unstoppable team. From morning until night our lives revolved around karts, drivers, sponsorship and press releases. It was all worth it in the end.
"Me and Angie worked on this hundred of miles apart and met for the first time the night before the race. There were many people who helped us – Natalie Lewis, Jenny Hurford, Davai Goosey, Marc Waller, Ash Carter and Claire James. Drivers, grid girls, the public and everyone that donated.
"Since the event, we've been inundated with positive feedback, interest in next year's event from drivers, sponsors and general public, all wanting to know how they can help.
"The total raised has still to be announced as we still have an auction running on Ebay. We fully appreciate everyone's time, effort and support on Race4Heroes, we hope we have done Help for Heroes proud."
The race itself was partly fought out in heavy rain and saw a thrilling climax between Axis Racing and Duncan Tappy's Loose Cannons team, which had won the last big UK charity race when they triumphed in David Brabham's celebrity karting challenge at the Autosport International Show in January.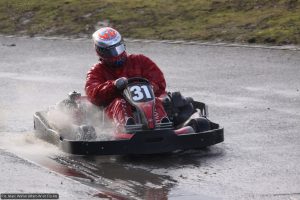 Tappy said: "I qualified the kart and with the money we'd raised in sponsorship we started third. I got the lead for a bit, then I tussled with Craig Dolby – me and Craig were pushing each other around. Paul Rees was next in the kart and he kept it in first.
"Ian Giles, our 'non-professional' driver, got in next and did a good stint – we dropped to fourth but were still there. Will Stevens did a storming drive and got back up to second, then Riki Christodoulou got back in the lead."
But the race changed completely when the team was forced into the pits for the last of their five mandatory pit stops and driver changes – a requirement that caused difficulties for some of the teams with fewer then six drivers.
Dymond said: "Richard Puddle was about 20 seconds behind for us and holding it there. Lap after lap went by and the leaders still had not made their stop.
"We thought they were pushing for a gap big enough to come out back in front, but when I asked Riki later on, it turned out they'd not known they needed to make five changes.
"They eventually stopped, but with not enough time in hand, and we shot past and into the lead with only about three laps left of time and a 25sec lead – unless something catastrophic befell us we were safe."
And, of course, something catastrophic is exactly what did befall them.
"From the pit wall we all tried to signal to Rich that he was fine and had it in the bag, but he was not aware," said Dymond. "On the final hairpin on the last lap he made a move on a back marker, tangled and they both spun.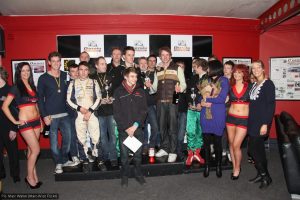 "I was going apoplectic on the wall as he struggled to get the kart back the right way, all the time P2 bearing down on us. Eventually he did and as he crossed the line all our emotions erupted – from utter disbelief and thinking we'd lost it to that winning feeling!"
A philosophical Tappy said: "It was a bonus to be on the podium. Winning would have been nice, but we were all there for one reason and one reason only – to raise money for Help for Heroes.
"It was a good event, well organised, and hopefully it'll be back next year – a six-hour race is a lot to cope with but obviously Daytona does it all the time. There were a lot of people there and it was a good craic."
Dolby's team went on to finish third, and the Superleague driver said: "It was great fun, with the weather making it interesting. It was fantastic to be involved and to be raising money for a good cause. The day was run very well and all the drivers were having a great laugh."
The Dirty Sanchez team brought up the rear, but still loved every minute. "What a great day – we had a great time," said team-member Bear. "The professionals put us to shame but we entertained ourselves and the other drivers. The Leyland grid girls looked great, and we can't wait for next year – bigger and better, if that's possible."
An Army team consisting of Lance Corporal Marc Holden and Signallers Craig Downes, Lynden Wheatley, Adam Stewart, Nathan Turner and Robert Finan finished one place ahead of the Dirty Sanchez boys.
To find out more visit the website at www.race4heroes.co.uk, or follow Race4Heroes on Facebook and Twitter. For general enquiries contact race4heroes@live.co.uk – any pro drivers, celebrities or soldiers wanting to register an interest in R4H 2011 should also email, including R4H2011 in the subject line.

All photos by and copyright Marc Waller, and used with his permission. See more on his Flickr photostream, or see his and other photographers' work via the Race4Heroes Facebook page, including this set by Matt Lynham.
Results
Axis Racing (Mike Broadhurst, Richard Puddle, Chris Dymond, Marcus Weller, Mike Moyers, Jody Firth)
The Loose Cannons (Ian Giles, Duncan Tappy, Paul Rees, Riki Christodoulou, Will Stevens)
In it to Win it (Craig Dolby, Max Wissel, Oli Webb, Matthew Mason, Pete Leason)
Barbie's Dream Team (Ricardo Teixeira, Chris van der Drift, Gabriel Dias)
You've Been Baileyed (Joe Bailey, Phil Glynn, David Scott, Barnaby Pittingdale, Nelson Mason)
Fruxton Boys on Tour (Ross Curnow, David Holmes, Paul Navesa, John Hoad)
BTCC Boys (Micky Doyle, Matt Hamilton, Stephen Jelley, Jono Bowers)
Lord and Legends (Danny Buxton, Tom Onslow-Cole, Tom Ferrier, Chris Swanwick, Mitch L Hale, Phil Glew)
Fast Fierce Females (Anna Walewska, Sarah Moore, Abbie Eaton, Alice Powell, Sophie Fisher, Sarah Playfair)
Team Victorious Secret (Matt Howson, Euan Hankey, Tim Bridgman, James Sutton)
If in Doubt Flat Out (JasonMills, Kieron Vernon, Archie Hamilton, Sean Gaffney, Rob Gaffney)
Jnr Ginetta Team (Jake Rattenbury, Tom Ingram, Alex Austin, Tom Howard, Jake Hill)
Kockney Koi (Dave Shelton, Del Shelton, Phil Quaife, Adam Clements, Paul O'Neil)
The Piston Princesses (Garry Simms, Pete Cole, Lloyd Everleigh, Max McGuire, Oli Knight)
Team Awesome (Simon Andrews, Gary Mason, Conall Mahon, Sami Gendy, James Edmeades)
Soldiers (Sig Craig Downes, Sig Lynden Wheatley, Sig Adam Stewart, Sig Nathan Turner, L/Cpl Marc Holden, Sig Robert Finan)
Team Dirty Sanchez (Buttsy Butler, Matthew Pritchard, Shane Lynch, Dan Joyce, The Bear, Tom Clarke)
The fastest lap prize was won by Jake Hill.