Donington Park has said that no details of the progress of its construction work and fundraising attempts are going to be released before September.
The circuit is also dismissing what it calls "internet reports" that Silverstone will step in to host the British Grand Prix from 2010.
The news comes as Silverstone CEO Richard Phillips is warning that he needs to act soon if his organisation is to step in and host the 2010 race, and a deadline approaches set by Formula One promoter Bernie Ecclestone for the circuit to demonstrate to his satisfaction that work is progressing.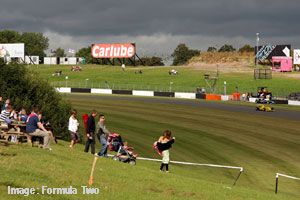 A statement to its local paper the Derby Telegraph said: "There has been no response to the internet reports as they have no substance or factual basis. Donington Park still holds the contract for F1 for 17 years from 2010.
"Due to the change in the project management and on-going work behind the scenes on finalising the funding, we are not currently in a position to provide a full round-up of the construction and plans.
"We understand that people are still interested. We expect to be able to discuss finances, construction etc more in September."
In fact the reports, stemming from remarks by Bernie Ecclestone made at Silverstone this year suggesting the race could return there next year if Donington is not ready, are based on a long interview given by Phillips to Autosport saying he needs to know quickly whether or not he is staging the grand prix.
This appears to be part of a carefully-conceived media strategy on the part of Phillips and British Racing Drivers' Club president Damon Hill designed to keep up pressure on Donington and Ecclestone and to make sure Silverstone and its own progress towards redevelopment and undisputed status as Britain's premier racing venue are kept constantly in the headlines.
In it Phillips says: "At the end of the day, I think there must be a contractual issue there to be resolved. At that stage, Donington Park will not have to stick its hands up, they will already be up.
"There was a suggestion at the [2009] grand prix that we should have a conversation with Donington Park, and we have tried to get into dialogue with them to see what can be resolved. But nothing has really come of those conversations to be honest, because they are still quite bullish in their attitude in terms of raising the money and organising an event for next year.
"To be honest, what I thought would probably happen was that they would put their hands up and say they cannot organise it in 2010, but try to work with Bernie to get an extension. Then I thought there might be a conversation about what will happen for one year. But even that seems to have gone quiet — so what is all this insistence about having to do it in 2010?"
In January, Ecclestone told the Daily Telegraph: "They [DVLL] have a contract with us that I am sure they understand, and I would imagine they have considered the state of the market and have a fall-back position.
"I am relying on what they told me they will deliver, and we have a September deadline, from memory, to see that all is as it should be. If it is not then we have four or five venues ready to stage a race."
News has also just broken that the BRDC may have found a way to secure its own multi-million-pound finance deal – not by following Donington's debenture route but by leasing the circuit to a wealthy Middle Eastern investment fund.
BRDC members will be asked at the end of the month to give permission for negotiations over the circuit's future, with the Arab wealth fund deal reportedly already being put together.
F1 at Donington: The story so far
In July 2008, during ITV's coverage of the Britsh Grand Prix at Silverstone and just after the announcement that the race would change venues, Gillett told Louise Goodman: "You're going to hear a lot more about this over the next couple of weeks. Unfortunately there's not a mystery fairy godfather with a £100 million cheque out there. I wish there was, and if there are any out there, please call. But we'll be announcing a fan-powered debenture scheme in the next couple of weeks."
In January 2009 Gillett said: "You will see things sprouting out of the ground quite quickly…" Following groundwork and the problematic tunnel between Coppice and McLeans, "the next phase then will be hitting the pit and paddock, and probably by the MotoGP in July you will see the complete building up on site." Read it here.
In February, Gillett told Autosport: "We are on track, we have got the money, we're going forward, and as we've said, at the end of March we'll be coming out and telling you exactly how it is all being done." Read it here.
In a separate interview with the same publication that month, he added: "We have always maintained we will reveal details of our financial package for the grand prix in quarter one of this year. True to Donington Park's belief in delivering on promises, we will make this information available at the end of March." Read it here.
With no March announcement forthcoming, by April the circuit was working hard to correct problems caused by construction work on the Mcleans-Coppice tunnel which left safety concerns leading to the temporary loss of various racing licences. Autosport pointed out the following: "Donington boss Simon Gillett has been difficult to contact in recent weeks due to medical problems." Read it here.
In May he said: "We're now having to go back and look at other alternative funding sources for the debenture scheme. But we're positive on that. We should have some answers on that very soon." Read it here.
In June, on the Friday of this year's British Grand Prix he said: "We'll be resolving our funding by the end of July and then we will start putting forks in the ground on the first of August." Read it here.
August saw visits from Superleague Formula – again, disrupted by problems at the new tunnel – and Formula Two. But little evidence of building work was visible to visiting fans during either meeting. Race tickets for the 2010 event are not on sale and there is no immediate sign of the debenture scheme going public.