The challenges of F1's first-ever night race have forced McLaren to abandon the search for aerodynamic perfection and fit headlights to Lewis Hamilton's MP4-23.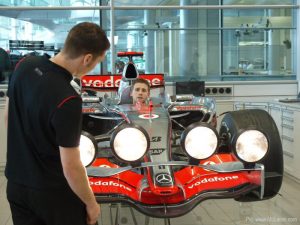 The new look for the car was unveiled last week with a video and photos from the team, and Hamilton told the Singapore Grand Prix Thursday press conference that he would be running with the bank of four high-intensity lamps to improve downforce.
Team-mate Heikki Kovalainen said he had discussed using them with his engineer but had decided against it, preferring not to sacrifice the aerodynamic advantages of his normal race car.
Asked by Tomas Richtr of Czech broadcaster TV Nova to outline the advantages offered by the lights, Hamilton answered: "For me, I thought I needed a bit more downforce, so I've opted to use them..
Kovalainen said: "Yeah, I had a chat about that with my engineer but I still prefer the aerodynamic advantage, so I will keep the lights off."
Photos of the prototype version of the light-equipped car show a retro 1970s World Rally Championships-style set of lights fixed to the top of the car's front wing, offset to each side to allow the driver forward visibility.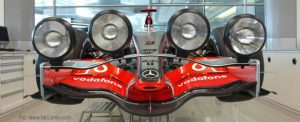 Needless to say, the whole thing is a hoax – and you can see McLaren's Martin Whitmarsh dead-pan his way through it in this video from the team: