Former Champ Car and A1GP driver Dan Clarke has widened his search for a 2010 drive by signing up for the Formula Two testing taking place this week at Valencia.
He said: "I'm excited that Jonathan [F2 boss Palmer] has invited me to the tests. I've been watching F2 closely this year and the cars look exciting and challenging to drive.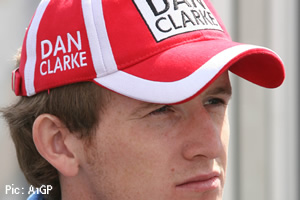 "My long-term sponsors Ticketmaster are also keen to investigate F2, so hopefully we may be able to put a deal together."
Clarke, who told Brits on Pole in August that "anywhere else besides IndyCar is not really what we want to do", has been US-based since he drove in the Champ Car World Series in 2006 and 2007 and was seeking the funding to return to full-time racing there.
He told us then: "I was at Mid-Ohio at the weekend, got to watch that race in the pit lane and meet a lot of people again and catch up. There were a lot of fans at Mid-Ohio that remembered me and everybody was well-wishing me to get into IndyCar. That's the place that I want to go to. The goal right now is to raise that sponsorship."
But he has also stayed on the look-out for other opportunities, driving for Team GBR in A1GP during the 2008-09 season, attending Superleague Formula's pre-season testing, and maintaining the contacts necessary to step back into A1GP contention should the troubled series continue.
Now he is investigating the prospects on offer at the re-launched Formula Two series, which is designed to be a low-cost alternative to GP2 and where three F1 superlicences and a Formula One test in a Williams are available to the winners.
2009's champion was Spain's Andy Soucek, who gambled correctly that he stood more chance of being noticed by dominating the comparatively weak F2 line-up than by jostling for attention in a crowded GP2 field. His Williams test was this week and resulted in the team singing his praises as a legitimate Formula One prospect.
According to the F2 website, a day's testing at Valencia this week or at Portimao on December 11th or 12th is costing each driver €9,500 plus VAT, while participation in all four days – which Clarke is reportedly considering – will cost €30,000 plus VAT. A full season's racing will cost 10 times that.
So far few other names of drivers taking part in the tests have been released. Those known include Denmark's Johan Jokinen, Benjamin Bailly from Belgium, and Angolan GP2 driver Ricardo Teixeira.