Veteran McLaren driver Gary Paffett may seem like a dad at a disco compared with some of the youngsters at the Jerez Formula One rookie test this week, but he proved he could still bust out some moves by topping the timesheets on day two.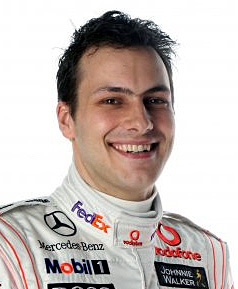 Many of the drivers in action are getting their first taste of F1 machinery, having never driven anything more powerful than an F3 or Formula BMW car – but Paffett, although a DTM champion and a long-time McLaren tester, is also eligible to take part because he has not yet raced in the top flight.
And he made the most of the opportunity to demonstrate his experience by improving on his third place yesterday and outpacing Williams' new signing Nico Hulkenberg by almost half a second.
The German replaced Andy Soucek as he builds up experience for his F1 debut, but could not repeat the F2 champion's feat of running fastest as the same four cars again came out top.
British F3 International champion Daniel Ricciardo and Paffett's touring car colleague Paul di Resta again put in impressive performances to set the third and fourth best times for Red Bull and Force India respectively.
Di Resta's rival JR Hildebrand, sharing duties with him in the hope of securing a spot as reserve driver with the Silverstone-based team, again drew the short straw with weather conditions and finished more than a second slower than the Scotsman.
California's Hildebrand went out in the afternoon session, which was struck by rain and saw times up to six seconds slower than the morning until conditions improved in the final hour.
Mexico's Esteban Gutierrez set the fifth-best time for Sauber, ahead of Mike Conway and Marcus Ericsson for Brawn. Hildebrand was eighth, with Ferrari's Jules Bianchi next.
The Frenchman completed 113 laps as the team tested for stamina rather than speed, and was delighted to be signed to a long-term development contract. "This is the first step on a journey that could turn out very nicely," he said.
Neither Lucas di Grassi nor Ho-Pin Tung could get much speed out of their Renault, beating only Mirko Bortolotti in the Toro Rosso. Some indication that the problem lies with the car and not the drivers came from Sauber's decision to offer Bertrand Baguette a test tomorrow despite his uninspiring ninth place yesterday for Renault.
Unlike Brendon Hartley yesterday, Bortolotti didn't crash the car – but he did bring it to a halt on the circuit by pressing the wrong button on his steering wheel, causing the session to be suspended.
Tomorrow sees the final day of the test, with Oliver Turvey returning to action for McLaren alongside Paffet and Ferrari splitting time between the top three finishers in the Italian F3 championship.
Day two timings
Gary Paffett (GBR), McLaren: 1m18.718s (80 laps)
Nico Hulkenberg (GER), Williams: 1m19.184s (94)
Daniel Ricciardo (AUS), Red Bull: 1m19.243s (93)
Paul Di Resta (GBR), Force India: 1m19.411s (58)
Esteban Gutierrez (MEX), Sauber: 1m20.190s (68)
Mike Conway (GBR), Brawn: 1m20.222s (83)
Marcus Ericsson (SWE), Brawn: 1m20.440s (37)
JR Hildebrand (USA), Force India: 1m20.517s (50)
Jules Bianchi (FRA), Ferrari: 1m20.585s (113)
Lucas di Grassi (BRZ), Renault: 1m20.898s (55)
Ho-Pin Tung (CHN), Renault: 1m21.492s (67)
Mirko Bortolotti (ITA), Toro Rosso: 1m21.761s (69)