It was all smiles between Jenson Button and Lewis Hamilton as the pair teamed up to launch McLaren's challenger for the 2010 season, the MP4-25.
[youtube:http://www.youtube.com/watch?v=jSLA_2J7QYg]
The reigning world champion said his new team's difficulties at the start of 2009 had spurred it on to great things for this year, while the 2008 champion predicted the two drivers would form a strong partnership for "years to come".
Button was given top billing in the introductions, ahead of Hamilton, and spent most his time praising how easy it had been for him to slot into his new team. He even fended off the opportunity to dwell on his title victory by indicating the new car and saying "we have to look to the future – and this is the future".
For his part, Hamilton managed to remind the media and guests assembled at Vodafone's Newbury HQ that this was his fourth such launch with the team, and that he had been involved in the car's development.
But he went out of his way to praise Button and his father John, reminding the audience that he had won one of his earliest championships with support from the elder Button and saying his ambition had been to follow in Jenson's footsteps as a driver.
And the pair even shared a joke about the previous year's car. As Hamilton dutifully said the new one would handle better Button, whose Honda years were blighted by a succession of evil-handling machines, interjected "I hope so!"
The reply was a heartfelt "You don't want to try last year's car".
Later Hamilton was asked what he thought of Button as a team-mate, and raised a laugh by relaying his colleague's whispered instruction: "He says 'be nice'."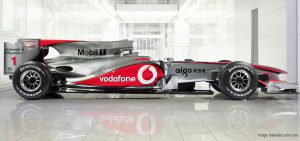 The car itself, when unveiled, revealed a development of last year's fashion for a sharks fin behind the cockpit – in contrast to the previous day's Ferrari launch where the car had more traditional lines in that area. Team boss Martin Whitmarsh said the MP4-25 had parts on it that he'd never seen on an F1 car before, but declined to elaborate when prompted.
The rear diffuser was covered up and the media was asked not to photograph it.
For the technical team, Paddy Lowe spoke about the extra pressure that came from designing for two world champions and said the car, which he described as "sophisticated and elegant", had represented an "extreme" aero challenge.
The drivers in quotes
Jenson Button: "I must say it looks pretty amazing, stood here looking at it. I've always thought the Vodafone McLaren Mercedes team have always put a car together properly, particularly meticulously, so to me it looks great. We've seen all the numbers and everything is very positive, and we've driven the simulator, but the real work for us will start in a couple of days in Valencia when we put this car through its paces."
Lewis Hamilton: "For me, obviously it's my fourth year here at Vodafone McLaren Mercedes and to see the car evolve every year and to see a new design and to see how the guys work, and to work with them, it's such a pleasure to see the final outcome. The car looks so much different to last year's car, completely different, and I feel very proud because I've also had quite a bit of input into it and I really can't wait to get on the track with it. I'm sure it's going to handle completely differently from last year's car."
JB: "I hope so."
LH: "You don't want to try last year's car. I think it's going to be very special for us."
JB (in reply to being asked if seeing the Number One on the car brought home his achievement): "It does. After the last race you obviously think about what you've achieved and it goes through your mind the road to becoming world champion. But soon after that you start forgetting because you're already concentrating on 2010 and the new challenge. I've been to a few events this season and award ceremonies and they bring back the memories of what I've achieved last year and here with Number One on the car it's very special but we do need to start forgetting about last year. In the back of your mind it'll always be there but we've got to start looking to the future – and this is the future."
LH: "We've been working on this car for a long time now, the guys are working flat out trying to build the components, trying to develop and improve the downforce and the aero efficiency we have with the car as it stands. Obviously through the winter testing – we don't have a lot of testing compared to normal, usually we would have 15, 20 days but now we only have seven days in the car each, and we have this big heavy fuel tank to get used to, these different tyres – this is the first time I've seen these narrower tyres – and so the important thing is the feedback we give to the team, the amount of running we get will hopefully… we need to maximise each of those days, do as much running as possible, and hopefully we'll go in the same direction in terms of our driver input and we'll get us to the first race in a great position."
JB: "It has been a very busy January and a very good January. You never know what to expect going into a new team, you have your opinion from the outside but you never know what the atmosphere is going to be until you go into that team. And I've been pleasantly surprised, I really feel that I've become a part of this team in the short period that I have been in it. It's been a good few days I've spent at the factory and the great thing about the team is, I think the start of 2009 was obviously a difficult period for them and for them to have such a difficult time is I think good for now, it makes them that much hungrier to succeed in 2010 and you can really see that as you go round the factory. Every person I've met and had a little talk to, they've said 'it's been possibly the busiest winter ever but I don't care, I'm producing something that is hopefully going to be very special'. It's been a good month. I've spent a lot of time in the simulator, which has been very useful, because I've spent time with my new engineers, it's always very difficult with new engineers, there's change, but it's all going very smoothly. January's been great, but I can't wait for February to start because I get to drive this car."
LH (asked what he thought of Button): "He says 'be nice'. We've been very welcoming to Jenson as a team, what he achieved last year and in his career in Formula One has been fantastic. I've known Jenson and his Dad for quite a long time now, I remember I won my first ever British championship on John's engines years and years ago and I always wanted to follow in Jenson's footsteps, so to finally be in the same team with him and both won a world championship, I think it's a really great partnership, it's great for our team and I really look forward to working with him for the rest of the year and the years to come. Hopefully we'll be able to push this team forward to both championships this year."