The raft of aero and other upgrades that Formula One teams have brought to Barcelona in the hope of overhauling the early season pace-setters seem to have made little difference, if practice is any guide.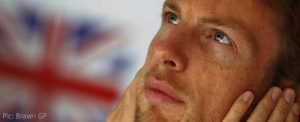 Most of the F1 paddock is still playing catch-up with Brawn GP, Toyota and Williams, if today's practice timesheets are to be believed, and the race is set to be a similar story to the 'flyaway' events that Jenson Button has dominated.
Button was fastest in the first session ahead of Jarno Trulli, while the Williams pair of Kazuki Nakajima and Nico Rosberg ran well in the first session and locked out the top two places in the second, Rosberg proving fastest as so often this season.
"Today was our first run with the new aero components on the car and they all seemed to work well," he said. "They're giving us a few tenths extra per lap so we've made definite progress."
The Brawns made less progress than they wanted, ending the day with Button fourth and Rubens Barrichello fifth in the combined charts despite the Englishman's clear advantage in the first session.
He said: "The balance of my car hasn't been quite right today with our new aero upgrade fitted. We have been struggling for grip which was a little frustrating but we believe that we have identified the reasons.
"The good thing is that Rubens has collected some good data today so we can look at that overnight and have a more positive day tomorrow."
Lewis Hamilton was unusually downbeat after first practice, saying that his team's latest attempts to improve the car's performance hadn't worked and had left him with no improvement.
He told Autosport: "We don't have the pace at the moment from what it looks like. But, tomorrow is another day and we hope that we can get better."
Describing the start of his weekend as "even worse than I expected," he said the weekend would be "a tough one for sure" and that he expected that it would be hard work for him to make it through to the final qualifying shoot-out session.
He added: "What we experienced in practice, we definitely have a few problems. But we will still battle our way through – we just cannot carry the speed through the high speed corners like the others can. We are so slow through Turn 3 and Turn 9, we lose a lot of our time there."
Friday practice
Session two times
Nico Rosberg, Williams: 1:21.588 (43 laps)
Kazuki Nakajima, Williams: 1:21.740 (40 laps)
Fernando Alonso, Renault: 1:21.781 (36 laps)
Rubens Barrichello, Brawn GP: 1:21.843 (39 laps)
Mark Webber, Red Bull: 1:22.027 (37 laps)
Jenson Button, Brawn GP: 1:22.052 (35 laps)
Sebastian Vettel, Red Bull: 1:22.082 (45 laps)
Nelson A Piquet, Renault: 1:22.349 (26 laps)
Sebastien Buemi, Toro Rosso: 1:22.571 (17 laps)
Kimi Raikkonen, Ferrari: 1:22.599 (40 laps)
Sebastien Bourdais, Toro Rosso: 1:22.615 (30 laps)
Giancarlo Fisichella, Force India: 1:22.670 (32 laps)
Lewis Hamilton, McLaren: 1:22.809 (31 laps)
Heikki Kovalainen, McLaren: 1:22.876 (29 laps)
Felipe Massa, Ferrari: 1:22.878 (35 laps)
Robert Kubica, BMW Sauber: 1:22.948 (40 laps)
Nick Heidfeld, BMW Sauber: 1:23.173 (39 laps)
Timo Glock, Toyota: 1:23.360 (46 laps)
Jarno Trulli, Toyota: 1:23.623 (47 laps)
Adrian Sutil, Force India: no time
Session one times:
Jenson Button, Brawn GP: 1:21.799 (21 laps)
Jarno Trulli, Toyota: 1:22.154 (30 laps)
Robert Kubica, BMW Sauber: 1:22.221 (24 laps)
Nick Heidfeld, BMW Sauber: 1:22.658 (14 laps)
Kazuki Nakajima, Williams: 1:22.659 (24 laps)
Nico Rosberg, Williams: 1:22.667 (26 laps)
Nelson A Piquet, Renault: 1:22.753 (24 laps)
Timo Glock, Toyota: 1:22.828 (29 laps)
Felipe Massa, Ferrari: 1:22.855 (15 laps)
Rubens Barrichello, Brawn GP: 1:22.859 (24 laps)
Kimi Raikkonen, Ferrari: 1:22.873 (20 laps)
Mark Webber, Red Bull, 1:22.934 (25 laps)/li>
Sebastian Vettel, Red Bull: 1:22.959 (24 laps)
Lewis Hamilton, McLaren: 1:23.077 (21 laps)
Sebastien Bourdais, Toro Rosso: 1:23.088 (30 laps)
Giancarlo Fisichella, Force India: 1:23.089 (25 laps)
Fernando Alonso, Renault: 1:23.157 (18 laps)
Sebastien Buemi, Toro Rosso: 1:23.185 (31 laps)
Heikki Kovalainen, McLaren: 1:23.522 (17 laps)
Adrian Sutil, Force India: 1:23.536 (19 laps)