It's a sunny spring day in a pretty market town in Hertfordshire's most northerly corner and, as shoppers bustle through Royston's winding streets, the hectic, fast-paced world of motor racing could not seem further away.
But it is here, tucked away among the well-tended flower beds and half-timbered buildings, that you will find the office of racer, driver manager and former TV commentator Mark Blundell.
Positioned handily for the clusters of high-tech companies and racing teams in Norfolk and in the East Midlands' motorsport valley, but with clients and contacts across the racing globe, his aim is to pass some of his hard-won knowledge on to a new generation of drivers.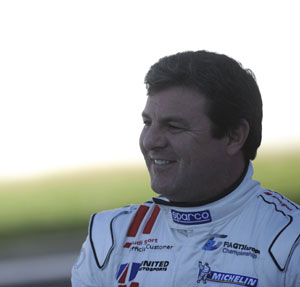 One of the most successful British drivers of his generation, Blundell's CV boasts a victory in the 24 Hours of Le Mans alongside his stints in Formula One and CART. Still actively racing, he and former business partner, team-mate and co-commentator Martin Brundle only narrowly missed the podium in January's Rolex 24 Hours of Daytona.
Blundell's TV persona during his eight years on ITV pitched him as a cheerful and easy-going summariser, knowledgeable but not terribly polished, and his London accent and occasionally-mangled syntax led to some unfair mockery.
In person, even though he arrives for his interview with BritsOnPole apologising for still being in casual work-out kit, he is far more nuanced – an assured and astute businessman with very clear ideas about what works in the world of racing and what doesn't.
He is also gloriously unapologetic in his attitude and views.
Telling it how it is
"I was never a TV guy and I'm still not, I was just a racing driver talking on TV about what I knew," he said. "I just tried to relay what I saw in layman's terms. That's how I always wanted it to be. That for me was the fun of it.
"I have a bit of a London accent and not much of an education. Some people it suited – some people liked it, some didn't.
"The only thing I would say is, whether it's driving a racing car or doing TV work, you've got ear plugs in with three different sources of information, you've got to absorb all that, then make out you're still sane and deliver something back that makes sense.
"For people to make comments and slam you is a bit short-sighted for me. Until you've actually done it then shut up."
Blundell's switch to television came during an enforced period away from the cockpit: "I'd been in America and doing IndyCar and because of legal issues within my contract I wasn't in a position to carry on racing. The opportunity arose to be part of the ITV team. I had filled in for Martin [Brundle] and was asked to be a pundit. I had to make a decision as, if I didn't do it, someone else would have."
When ITV lost the UK broadcasting rights to the BBC he left the team, passing on the benefit of his experience to his successor David Coulthard: "I told DC all the stuff I got told off about and all that I learned. He is absolutely the guy to have there, he has 13 Grand Prix wins."
Mulsanne to Monte Carlo
Although the criticism of his broadcasting style still clearly touches a raw nerve, it's obvious talking to Blundell that he's a man wholly aware of the strength of his racing achievements and how little they leave him having to prove.
He competed repeatedly in two of motorsport's 'big three' races, Le Mans – winning in 1992 – and the Monaco Grand Prix, and only the bitter politics of American racing during the 1990s kept him as a CART driver out of the Indianapolis 500.
"I've probably done more than most in modern day racing driver terms," he said. "I've been quite lucky in that respect. Not always had the best cars at the right time, but that's the way the cookie crumbles. Not always made the best decisions. Does that affect the decisions I make with my drivers? Yes.
"For me and I think most guys there's three big races in the world – Monaco, Indy and Le Mans. If you threw them into conversation with someone in the pub, nine times out of ten they'd have heard of them.
"Le Mans is a great one to have on your CV – it's been kind to me. I was the youngest guy to put it on pole, and I won it with Peugeot and Jean Todt in the only race I took part in that year because I was testing for McLaren.
"It was a really great programme because it was factory-supported. In the race itself, you actually just want to get to the end of it and collapse but the adrenaline drives you on. Then standing on the podium in front of 50,000 people, Union Jacks waving under the podium on the pit lane – to win at Le Mans was actually quite special."
Big highs and big lows
Nor was it the only special moment in his career: "Going to F1 was a big thing," he said. "I got there on merit, I didn't get there on funding or the sponsorship I brought to a team.
"It's a tough call to pick one out – winning your first World Championship point in F1, getting a test drive at Williams, winning an oval race, winning Le Mans, there's a lot of different memories.
"All drivers understand as they go through their careers there are some big highs, but also some lows as well. When you get a big high, you have to make the most of it."
Leaving Williams for a less-then-stellar race drive at Ligier, when his former team was on the verge of catapulting another British driver – Damon Hill – to stardom, counts as a decision he looks back on and wonders about the wisdom of.
But Blundell is not one to live in the past, as his current adventures in sports car racing with American driver and businessman Zak Brown demonstrate.
The pair of them, plus Brundle and Mark Patterson, finished a close fourth at Daytona and Blundell has also raced with Brown in the Spa 24 Hours in 2010, finishing third in class at the circuit he names as, alongside Road America, his favourite to compete at.
Brown and Blundell will also attempt this year's race as part of a three-car, 12-driver line-up that also includes Arie Luyendyk, Eddie Cheever and Johnny Herbert.
Time to get the helmet back on
He said: "Zak is a real enthusiast and I've known him for many years. He created United Autosports with Richard Dean and that's how that all came about. He asked me to do it – said 'isn't it about time you got your helmet and boots back on'. I had been thinking about it.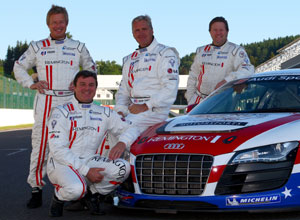 "The Spa race took place last year and from that Zak said 'any chance of getting Martin'? He had never been out of a racing car. I said I was sure he'd be up for it. He said 'I want the Daytona 24 and want Martin'. The deal came together quite nicely.
"For us, it was a good thing because we'd never, ever driven in the same car, we'd always competed against each other. We had a huge amount of fun.
"Sports cars have been a big influence in my career and I'm one of those guys who, if there was an A to CD, I went off to B for a while and eventually came back."
It might not have been the most direct of routes through motorsport, but Blundell's career demonstrates a level of versatility and adaptability that served drivers well in the days before restrictive sponsorship deals and corporate branding requirements hobbled their ability to hop between championships, cars and racing disciplines.
He believes it's a necessary skill – and one that might be making something of a return: "It used to be a hallmark of the greats like Jim Clark and Jackie Stewart. It's coming back – commercial reasons had stopped it. The younger guys are starting to get out and stretch their wings a bit.
"It's good to experience different sorts of racing. If you're going to be a top-flight driver you have to be adaptable, a motivator, a polished business guy who can talk to both the chief executive and the guys on the shop floor. It's a package and if you're missing one part of it you need to be bloody good behind the wheel."
Aspiration – and a winning CV
And with sponsorship so hard to come by in a global recession, he believes drivers have to be open-minded about where they're prepared to race and not focus on the road to Formula One to the exclusion of everything else.
He said: "You can't afford to put yourself in an environment where you're going to get forgotten – motor sport is all about perception. That can change very quickly, but if you've got budget, use it in the best way possible.
"If that means you're going to choose between a season in F2 or a B-class car in F3, I'd go F2 because I'd have a greater chance of having something on my CV that says 'winner'.
"Aspiration, that's what you should have. America is a great situation. If you go out there you can make a good career. Ask Dario [Franchitti]. Does he creep into Britain with his chin on the ground? No, he walks back with his head held high."
Franchitti, of course, has multiple IndyCar Series titles to his name – but in the most recent race at Long Beach he was powerless to defend against one of Blundell's clients, Mike Conway, as the Englishman blasted past the Scot on the way to victory.
Conway, along with McLaren F1 tester and DTM star Gary Paffett, are the two big-name clients currently being advised by 2MB Sports Management, the company founded in 2005 by Blundell and Brundle with the aim of offering guidance to promising young drivers.
Since then Brundle has left to concentrate on his journalism career, but the company has added a soccer arm. Clients include Jermain Defoe and its advisory board includes Anthony Hamilton and Les Ferdinand.
Putting something back in
Blundell said: "The reasoning behind why we set up 2MB was because we were part and parcel of the BRDC and we sat back and said, we're giving these cheques out and who's looking after it for us? We've got a huge amount of untapped talent out there, but who's looking after them? We wanted to put something back into the sport but could not do it on thin air."
As he points out, the 2MB package includes 25 years of racing experience and contact-building – but he's only prepared to offer it to those drivers who are dedicated enough to benefit.
His selectiveness is undoubtedly partly due to a feeling that, at this point in his career, he's earned the right not to be messed around by young wannabes who won't listen to his hard-won advice: "I won't represent anyone unless I am confident they are the right person – it's my name on the door."
But it's also a blunt recognition that even talented, hard-working and well-respected drivers – Conway and Paffett among them – won't necessarily make it to the very pinnacle of the sport, so others with less dedication don't stand a chance.
Blundell, who had CVs from more than 180 hopefuls awaiting his attention on the day we spoke, will only work with drivers prepared to put the work in on fitness, on developing all the necessary skills, and on maintaining a transparent relationship with their management.
"If they can't live by those standards they won't make it. I want to see hunger and determination – I'm not going to drive the car for you on a Sunday afternoon, I am only interested in people who will put the effort in."
Speculating to accumulate
At the heart of it is the sheer quantity of cash drivers must harvest from sponsors to progress their careers, often for little return to the sponsor and always with no promise of success. For British drivers, with no Government support or ready source of money such as a major national oil company, the task is even harder.
He said: "GP2 now is just a stupid amount of money and what do you get back? We don't do sponsorship acquisition. Been there, done that, wrote the book, seen the movie. Don't want the responsibility of looking at Mum and Dad at the end of the season.
"Nine times out of 10 you're not going to get there. Unfortunately it's one of those businesses where the amount you've got to risk is so high. The amount you have to speculate to accumulate is huge and the return is very bad.
"It's a very difficult situation and unfortunately there's no funding from anywhere coming back in. Like the MSA, only now they've started to do something and only what they do is small. It's not going to scratch the surface but it's something. Around the world there are other organisations equivalent to our MSA where they do put strong money behind their talent."
So, with all the odds stacked against them, why do people still chase the F1 dream? Perhaps because there's nothing else out there quite like it.
"It's always cutting-edge, always moving forward," said Blundell. "I will turn up and I will walk down the pitlane and I'll know they'll have progressed again. The attention to detail, it's a reaction and a problem-solving business 24/7.
"When you think about the way F1 operates, going round the globe and at the same time its function is to go on progressing – I don't know any other business that works that way."
A business, not a sport
The idea of F1 as a business, not a sport, is central to understanding its politics and development, and it informs everything from individual driver development to global marketing campaigns.
As a former brand ambassador for MG and a driver for Bentley at Le Mans, Blundell is well-placed to cast an eye over the treatment of classic British motoring brands – and particularly the two competing Lotus outfits, the sportscar-making, Renault-sponsoring, Hethel-based Lotus Group and the F1-racing, Tony Fernandes-owned Team Lotus in Hingham.
He said: "All of these brands are all owned by a handful of people and most are foreign-owned and that's a crying shame because we've got all of these brands and all this heritage and we don't actually own them.
"It's nice to know the people who own them care about them but, at the end of the day, you have to step back and look at Formula One. If you treat F1 as a sport you're a little bit naïve – it's big business. If there's some enjoyment and passion injected then so be it, but it's a business.
"The thing you've got to ask yourself in some ways, the Lotus in Hingham, where's the end game for them? The other Lotus, Lotus cars, that's fundamental to them."
For Blundell, though, what's fundamental is the opportunity to make a difference in a sport he knows intimately. "Ninety-nine per cent of racing drivers and sports people look forward. They reflect and move on rather than dwell on things. That is how I approach my business. I am more diversified than many and I am prepared to take a risk."
Like all businesses – and arguably somewhat more than most – the risk of failure is there but, in his words, "if I'm not in it, I can't win it".