Ryan Briscoe took a big step towards the IndyCar championship by winning pole position, the race and the bonus for leading the most laps at the Chicagoland Speedway – but the result was anything but the one-sided affair those statistics suggest.
The Team Penske racer beat championship rival Scott Dixon of Target Chip Ganassi Racing to the line by just 0.0077 seconds, one of the closest results in IndyCar history – and behind them was a cluster of rivals all hoping for the slightest slip by the leaders.
Less than half a second covered the first 10 cars, and all 13 that finished on the lead lap were split by just 0.8269sec. Only three IndyCar races have had a smaller gap between winner and runner-up.
Any hope Briscoe might have had of being shepherded home by team-mate Helio Castroneves, as he had done a year ago when the roles were reversed and Dixon was again a narrow loser to a Penske car, ended when the Brazilian suffered a front suspension failure on lap 184 of 200 and hit the wall, triggering the caution period that bunched the field up and created the final charge to the line.
With the series about to dramatically lose momentum as it approaches its final two races, one in mid-September at Motegi in Japan and the other in October at Homestead-Miami Speedway, Briscoe leads the championship by 25 points from Ganassi's Dario Franchitti with Dixon eight further back.
Briscoe said: "The Target cars are going to be there in Motegi and Homestead, so we just have to stay focused. We've had good cars on all the mile-and-half ovals this year. We've just got to keep it together. We had a couple of mistakes tonight but were able to come back. We've just have to try to avoid those situations."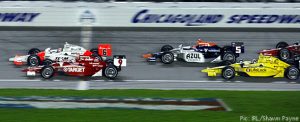 Dixon, who grabbed the lead in the pits three times but still lost the race, has now finished a close second at Chicagoland for four years running. He said: "We've all seen this movie several times. Unfortunately at Chicago, we just keep finishing second. We launched out there a few times but we just didn't have the speed. We need to play catch up with Penske – they clearly are a lot faster than us."
Franchitti contended for the lead during most of the race, at one point pulling away from the chasing pack with Dixon, but he faded to fourth at the end behind Mario Moraes who earned his first podium finish.
He said Moraes beat him because he was trapped in a position where any advance he made would have helped Briscoe in his battle against Dixon: "The problem I had at the finish, I was boxed in almost. My ideal thing would have been to get behind Briscoe, get a draft and try to go three wide and use the overtake [button] to pass.
"But I had my team-mate leading the race and the guy we're fighting against the championship on the outside and, with these cars, when you're sitting very close to the guy ahead of you, you give him a bit of a push, and I couldn't and wouldn't push anybody else apart from my team-mate in that fight.
"I was trying to push Scott, and that got me hung up there and allowed Moraes to get past. I had all these push to passes left but I couldn't use them because all I was going to do was run into Scott's gear box, so that was frustrating."
The early stages of the race saw Dixon and Ed Carpenter, who lost narrowly to Briscoe at the previous oval race in Kentucky, work their way up from their qualifying positions to join the Penske cars and Franchitti at the front.
Despite the side-by-side racing it was 92 laps before the first caution period of the evening, caused by Hideki Mutoh suffering a mechanical breakage and losing control of his car. Dan Wheldon, who had been running strongly, retired unexpectedly with a broken half-shaft during the sudden flurry of pitstops that followed Mutoh's accident.
He said: "We lacked a little bit of front wing and were a little bit conservative at the start, but we put the wing back in our first pit stop and then had a great race car. The car was working really well and once I got back to the front I was just sitting behind Tomas [Scheckter] and Ed just trying to save as much fuel as possible to open our window a little bit, so we could have a shorter stop to get some track position.
"But unfortunately when I went to leave the pits I had both drive shafts break, which is something I've never had happen before. It's unfortunate, and one of those things, but we'll just move on."
Further caution periods followed, including one triggered by Marco Andretti hitting the wall that worked in the young American's favour by stopping the leaders leaving him too far behind. He rejoined the race and challenged for a top five finish before suddenly fading at the end.
Although drivers such as Moraes, Carpenter, Scheckter and Oriol Servia all featured strongly during the race, both Penske drivers dropped into the midfield during pitstops and Franchitti lost valuable time when an air gun became caught under his car during a stop, the winner always looked like coming from the big two teams of Penske and Ganassi.
The final restart after Castroneves' crash saw the top of the field locked together in pairs with Dixon taking the shorter inside line to hold the narrowest of leads over Briscoe, who used his power boosts to keep on terms until finally nosing ahead at the line.
Further back – but not much further back – Justin Wilson was disproving the idea that Dale Coyne Racing could only compete on road courses by running with the lead pack all the way to 10th place.
Eighth at the final restart, he gained a place to briefly show in seventh but lost out in the final dash to the line – the team described the final order among the top 10 as "pot luck" and said they were pleased to have beaten traditional oval specialists Andretti Green Racing, which failed to place a car in the top 10.
Mike Conway, fresh from his podium at Sonoma and an award from tyre suppliers Firestone for his performance there, was unsurprisingly unable to maintain the same sort of pace on such a different circuit and was one of a small group to be dropped from the main body of cars early in the race. He nevertheless finished the race safely in 16th position.
He said: "It was a shame in the beginning – we lost touch with the lead group and it was me, E.J. Viso, Ryan Hunter-Reay, and Sarah Fisher battling it out. At that point the leaders were able to pass us before we pitted and it was disappointing that we went down a lap so early as, after that, the yellow flag came out and we couldn't gain the lap back.
"Overall, it was okay. I really learned a lot and it was good fun racing in the big packs. It's a shame we couldn't have finished a bit higher up, but a finish is a finish and we continue to learn. I'm really looking forward to the next race."