Andy Soucek's gamble of entering Formula Two as a backdoor route into F1 took a step closer to paying off today as he topped the timesheets for Williams in rookie testing at Jerez.
British drivers Paul di Resta for Force India and Gary Paffett for McLaren came second and third, with IndyCar driver Mike Conway sixth for Brawn and Oliver Turvey 11th of 12 after running for just 90 minutes as his prize for winning the McLaren Autosport BRDC Young Driver award.
The F2 champion's 1m19.158s was almost a quarter of a second faster than the best time set by di Resta, who is in a battle with American JR Hildebrand to be considered for the reserve driver spot at Force India. The Scotsman ran in the faster afternoon session and outpaced his rival by nearly 1.2sec.
Di Resta said the day had been constructive: "We achieved what we wanted to achieve, which was to get familiar with the car and build up to speed slowly to fully prepare for the rest of the test. We tried a few different things, worked on a few set-up items and certainly went forward – that was the main goal.
"I wasn't trying to go for a time as such, just to get the most out of the car and myself to set up for the coming two days. We were quite fortunate in that we got a lot of time and there weren't many stoppages. In the end I could set a good time, but this wasn't the overall goal for today.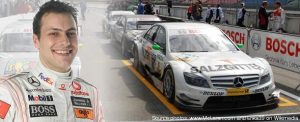 "The VJM02 is certainly impressive and, although I am still learning, I felt I could get to grips with it fairly quickly. I've driven a McLaren twice before and the experience helped me today, but there's a lot of difference. It's obviously a new circuit and the car is built to the new regulations with slick tyres and less downforce but it behaved as I expected and we didn't have any issues at all."
Hildebrand was happy to be fifth-fastest at the end of the morning despite some small errors, and said he was impressed by his first taste of F1 machinery: "It is different in every way to what I'm used to, both in terms of the outright speed, but also in terms of the characteristics of the car and how it behaves, brakes and drives through corners.
"Having raced on ovals I'm used to a high top speed, so that wasn't too much of a shock, but the amount of load it runs and how much speed you can carry through the corner took some getting used to."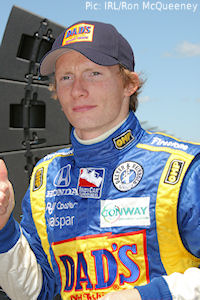 Soucek left GP2 to enter the first season of the re-launched Formula Two after a 2005 Toyota test and some ordinary seasons in the official F1 feader series had failed to land him a promotion to the main championship.
He told Autosport that he knew in advance whoever won the title would be pushed towards F1 by figures such as series organiser Jonathan Palmer and car designers Williams.
He said: "I went in thinking that if I won the championship, it was going to be good. If I didn't, I could retire. When you take everything in a pack, I won the title by 50 points and led an F1 test, so logic says I should have a seat in F1. Of course, motorsport is not logical at all, so we will have to wait and see to the last minute with what happens."
Behind DTM team-mates di Resta and Paffett were a pair of Formula Three champions. Red Bull's British F3 International winner Daniel Ricciardo, from Australia, ran the most laps of anyone on the day and used them to outpace the hotly-tipped Jules Bianchi in a Ferrari.
Conway, who admitted in an interview before the test that he'd been surprised to get the call-up from Brawn, was next. He spent the morning evaluating aerodynamics for the team before handing the car over to Japanese F3 champion Marcus Ericsson.
The pair were split in the final timesheets by American Alexander Rossi in a Sauber, with World Series by Renault champion Bertrand Baguette took his Renault to ninth, ahead of Hildebrand.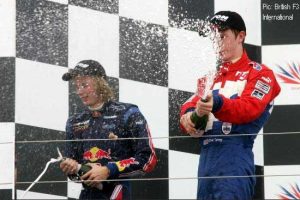 Turvey spent his 27 laps acclimatising to the car and circuit, but has been promised more time during the next two days. He improved his times during his run and was faster than former Red Bull reserve driver Brendon Hartley, who was slowest of all in a Toro Rosso after crashing early on.
The New Zealander may draw some hope from the official FIA entry list, which failed to name his WSR rival Jaime Alguersuari as the team's second driver – an omission that was described as "very surprising" by the Spaniard's management team who insist he's all signed up and in training for the season.
Day one timings
Andy Soucek (ESP), Williams: 1m19.158s (87 Laps)
Paul di Resta (GBR), Force India: 1m19.369s (46)
Gary Paffett (GBR), McLaren: 1m19.426s (54)
Daniel Ricciardo (AUS), Red Bull: 1m19.534s (112)
Jules Bianchi (FRA), Ferrari: 1m19.626s (90)
Mike Conway (GBR), Brawn: 1m19.920s (58)
Alexander Rossi (USA), Sauber: 1m20.227s (82)
Marcus Ericsson (SWE), Brawn: 1m20.333s (49)
Bertrand Baguette (BEL), Renault: 1m20.511s (105)
JR Hildebrand (USA), Force India: 1m20.537s (49)
Oliver Turvey (GBR), McLaren: 1m20.856s (27)
Brendon Hartley (NZL), Toro Rosso: 1m21.325s (69)