Clearly the best solution would be not to have to go down this road in the first place. But we think the prospect of no British race in 2010 is, unfortunately, very real. So, what might we be able to look forward to instead?
Why we fear Donington won't be ready: read the first part of this article here >>
So, what happens next?
Should Donington Park fail to deliver, the obvious solution would be for another circuit to step in and host the race. But which circuit? Neither of the two possible venues appear to be in contention.
There is a curfew plus noise restrictions in operation at Brands Hatch that could very well rule out Formula One racing, or at least make it very difficult. And Bernie Ecclestone has said quite categorically that he doesn't want to work with the Silverstone management in future.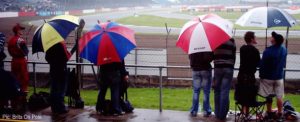 On July 7 The Times reported him as saying: "I am sure they [Donington] will be ready but, if not, we will sign with another country. There won't be a British Grand Prix. Pure and simple." Read full story here.
Our conclusion is that by 2010 Britain will probably have no venue that is capable of staging a Formula One race or that the series management is prepared to work with.
What could replace it?
If there's no scheduled F1 race that year, how will British fans get their fix of grand prix racing? Here are some possibilities:
Bernie changes his mind — if the holy Spa-Francorchamps can be knocked off the calendar, it was said, no venue is safe. But, two years down the line, we are about to experience racing at what is generally agreed to be the best F1 circuit in existence. The Nurburgring and Magny-Cours have also had last-minute reprieves 'by popular demand'.

Maybe Bernie will decide he's had his revenge on the BRDC, the government or whoever it is that has irked him so badly, and give us our grand prix back in 2011. This seems like the most likely outcome — on the other hand, Indianapolis still doesn't have a race.

The European Grand Prix comes to visit — nice idea, but with a big stumbling block – it still requires a suitable venue. But perhaps Bernie would feel forcing Silverstone to host the European Grand Prix instead of the British one would be sufficiently humiliating to allow an event to go ahead.

And it's also nicely impermanent and a very effective bargaining chip. It's got just the right air of nastiness (as demonstrated by announcing the new contract during Silverstone's 60th anniversary race) that makes us think it could actually happen.

A1GP steps up to the plate — the world cup of motorsport has tended to stage its British round at Brands Hatch in May. The series has plans to become more like Formula One — Ferrari-powered cars, Michelin tyres and rolling acres of sponsorship space on the engine covers.

It provides exciting open-wheel racing, is keenly alive to a good PR opportunity but is also capable of over-extending itself — hence its present difficulties. However, fans will want to see up close the teams and drivers that we follow throughout each season and A1GP can't provide either of these. A distinctly second-rate solution.

The teams agree to an exhibition event — two team principals, Ron Dennis and Sir Frank Williams, are vice-presidents of the BRDC. Force India is based so close to the Silverstone circuit that it is practically on the premises, and Honda is just up the road in Brackley.

This suggests that some teams, at least, might be persuaded to put on non-points-scoring racing or displays at Silverstone. However the chances of non-UK teams like Ferrari or Toyota cooperating seem quite small and everyone would regard it as a distraction from the racing season.

When McLaren sends Lewis Hamilton to events like the Goodwood Festival of Speed he usually takes last season's car along with him. So this could prove a pretty poor deal for fans. However, the idea of an exhibition race was mooted for Magny-Cours, so maybe it's not so improbable.
Got a better idea?
If we are left grand prix-less, what would you like to see instead? Can you think of a possibility we've missed? Or would you feel so fed up that a new-found interest in IRL or touring cars would keep you busy through the summer instead?
• You can share your suggestions by commenting on this post or by sending us an email.